Juli Briskman: People raise $55,000 for a woman fired for giving Donald Trump the finger
'They said, 'We're separating from you',' says 50-year-old single mother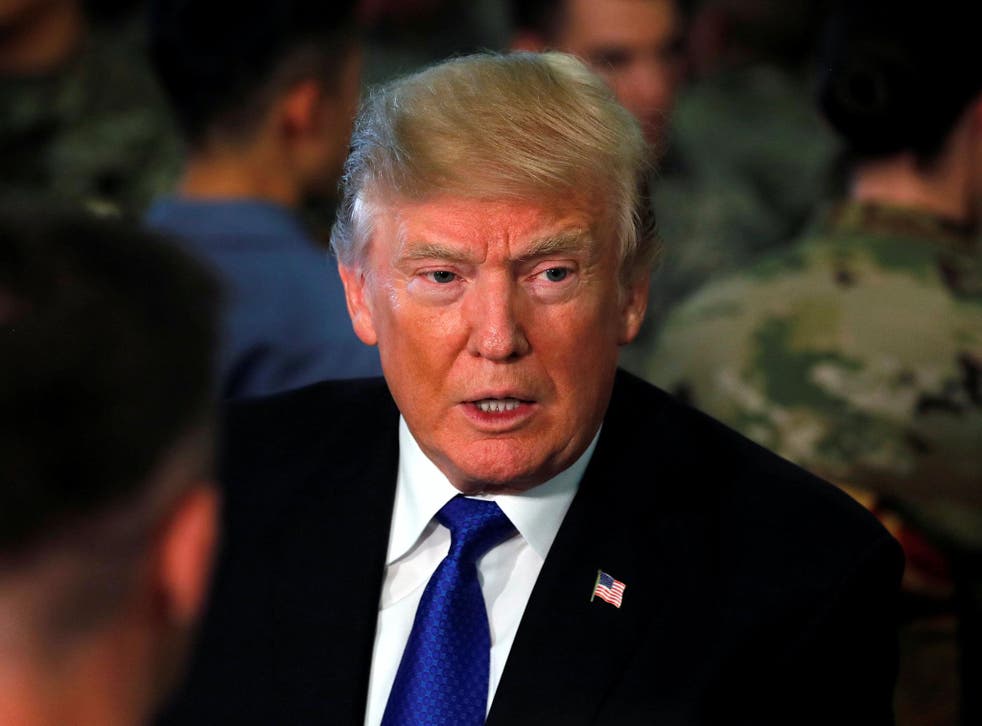 Supporters have raised £43,800 for the woman who was fired from her job after an image of her cycling past Donald Trump's motorcade to give him the middle finger went viral.
Juli Briskman grabbed global headlines after a White House photographer snapped her cycling past President Trump's convoy of cars as it departed the Trump National Golf Club in Virginia to bestow him with a one-finger salute.
The billionaire property developer's motorcade overtook the 50-year-old but she managed to eventually catch up and flip President Trump the bird for a second time.
Last week, Ms Briskman announced she had been fired from her job at a government contractor Akima LCC where she worked in marketing and communications. She said that after the image surfaced her bosses informed her she had breached the company's social media policy because she made the photo her profile picture.
A Go Fund Me campaign for Ms Briskman, who became something of a national hero after the image found its way into all corners of the internet, has now raised over half of its $100,000 target.
"Juli Briskman is an inspiration to us all. This week we learned that she was fired from her employer for exercising her first amendment rights," reads the fundraising page which was set up by Rob Mello.
"I have connected with Juli and she has been officially setup as the beneficiary of this GoFundMe campaign. All proceeds are being donated directly to Juli. As the campaign beneficiary, she will be able to post updates and comments, so stay tuned!"
Recalling the unlikely furore which took place on her standard cycling route, the mother of two said she became incensed when she set eyes on the US president's motorcade coming up beside her.
"He was passing by and my blood just started to boil," she told Huffington Post. "I'm thinking, DACA recipients are getting kicked out. He pulled ads for open enrollment in ObamaCare."
She added: "Only one third of Puerto Rico has power. I'm thinking, he's at the damn golf course again. I flipped off the motorcade a number of times."
Protest in Manila against Donald Trump's visit to the Philippines

Show all 14
She insisted that she does not regret her decision and said she was pleased to be a symbol of resistance towards the president, adding: "In some ways, I'm doing better than ever."
She said: "I'm angry about where our country is right now. I am appalled. This was an opportunity for me to say something."
Addressing the sacking process itself, the marketing executive said: "They said, 'We're separating from you.'"
She added: "Basically, you cannot have 'lewd' or 'obscene' things on your social media. So they were calling flipping him off 'obscene.'"
Ms Briskman said the firm was angered she had used the image as her profile picture on Facebook and Twitter, informing her it went against social media policy and could therefore damage the company's reputation as a government contractor.
She said she drew attention to the fact her social media pages make no mention her employer and that the incident took place during her own time. Nevertheless, Virginia has "at will" employment laws which allows private sector employers to be able to sack people for any reason they deem fit.
Social media users heaped praise on the image of Ms Briskman at the time, hailing her as a "Heroine!" and even going so far as saying she should run for president in the 2020 election.
Join our new commenting forum
Join thought-provoking conversations, follow other Independent readers and see their replies