Kajieme Powell: Missouri police release video of second man killed by officers
Powell was shot dead close to where Michael Brown was killed in Ferguson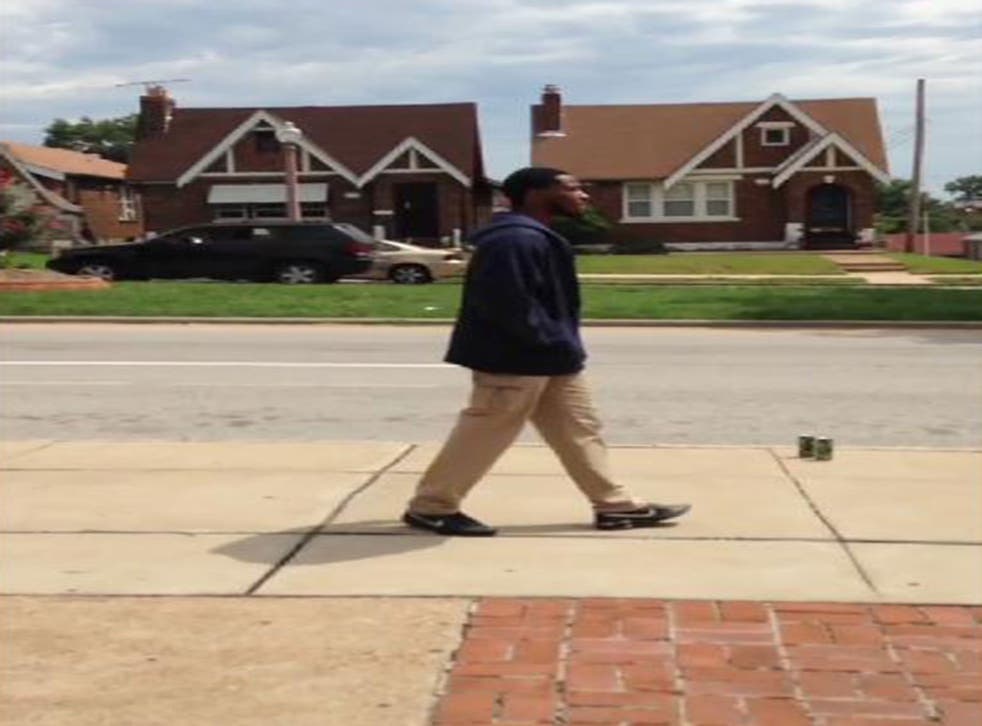 Police in St Louis have released video footage showing the moment a second black man was shot and fatally wounded less than four miles from where teenager Michael Brown was killed in Ferguson.
On Wednesday, the St. Louis Metropolitan Police Department released mobile phone footage taken by an eyewitness of the encounter between two police officers and the man, who has been named in local media reports as 25-year-old Kajieme Powell.
The video shows Powell was shot by officers about 15 seconds after they arrived on the scene.
The footage was released alongside 911 calls, an audio dispatch and security footage of the man allegedly shoplifting, in a bid for transparency, the St Louis Public Radio reports. However, the footage appears to show disparities between the police's account of the incident and the altercation itself.
On Tuesday, St. Louis Metropolitan Police said they had opened fire on Powell after he came within three to four feet of them while carrying a knife in an "overhand grip". The phone footage suggests Powell may have been further away than that, and his hands were by his side.
In the video, an agitated Powell can be seen pacing in a suburb, with two cans of drinks placed on the floor near him. Prior to this, an owner of a convenience store called 911 reporting that he suspected Powell had stolen two drinks from his store.
Another witness had described him as "behaving erratically" when officers arrive at the scene.
Officers then pull up on the curb where Powell is walking up and down with his right hand in his pocket. Powell can then be heard shouting "Shoot me! Shoot me, now!" At the same time, the officers can be heard shouting "drop the knife".
He then begins to approach police with an object in his hand, who respond by immediately firing their weapons multiple times. Powell drops to the floor and moves for a few seconds as both officers stand over him with their guns drawn until he remains motionless.
After a minute, they turn Powell over and place him in handcuffs, to the audible shock of witnesses. Back up cars responding to the scene then arrive, telling residents to move away as they cordon off the area.
His death comes amid protests and clashes between police and demonstrators over the shooting of black teenager Michael Brown by a police officer. Witnesses say Brown, 18, was shot with his hands in the air in a position of surrender, while police claim officer Darren Wilson shot him during an altercation.
The phrase 'hands up, don't shoot' has come to symbolise the demonstrations.
St. Louis Police Chief Sam Dotson later defended the officers to CNN, saying non-lethal methods may not be effective enough in a "lethal situation". "Certainly a Taser is an option that's available to the officers, but Tasers aren't 100 per cent,' he said.
"So you've got an individual with a knife who's moving towards you, not listening to any verbal commands, continues, says, "shoot me now, kill me now.
"Tasers aren't 100 per cent. if that Taser misses, that [individual] continues on and hurts an officer.
"In a lethal situation, they used lethal force," he added.
Join our new commenting forum
Join thought-provoking conversations, follow other Independent readers and see their replies