Kentucky: Child marriage ban delayed after opposition from conservative group
Girls of any age can marry if they are pregnant under current law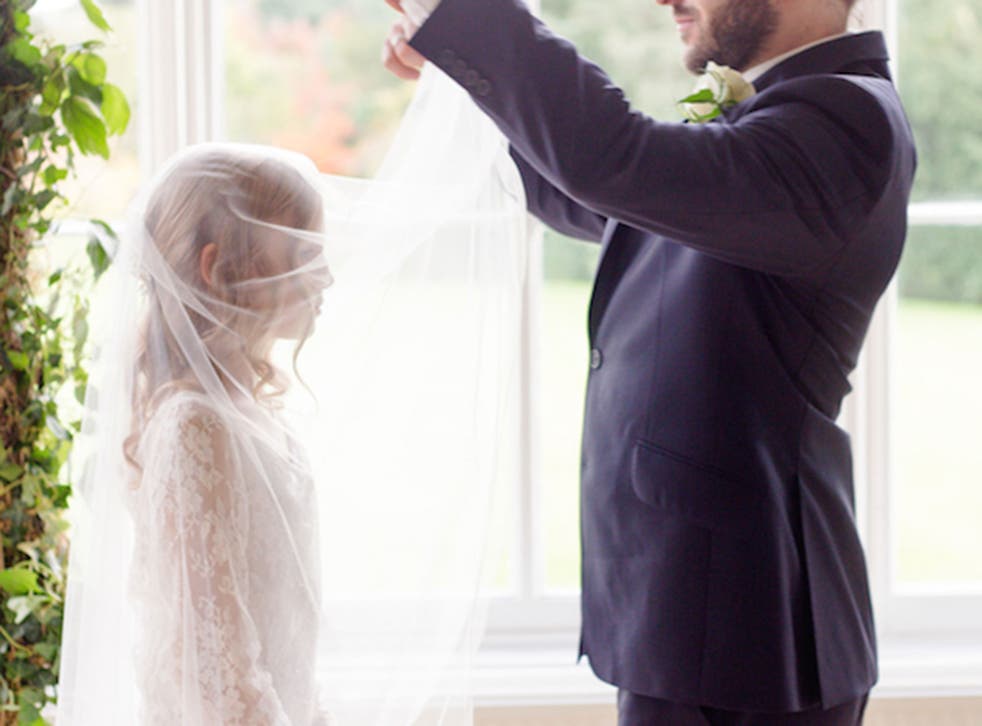 Politicians in Kentucky are stepping up their fight to end child marriage in the state after a planned vote on the matter was postponed because of opposition from a conservative group.
Under current law, 16 and 17-year-olds can marry with their parents' permission. Any age under 16 can also get wed, as long as they are pregnant and marrying the father of their child.
A new bill that would prohibit anyone aged 16 or under from marrying and prevent any 17-year old from tying the knot without the approval of a judge, who would have to be convinced that the minor is mature, self-sufficient and not being coerced into marriage.
A 17-year-old would also be prevented from marrying someone who is more than four years their senior.
Nationwide, more than 200,000 children under 18 – some as young as 10 – were married between 2000 and 2015. In most cases, the minor is a girl and her spouse is an older man.
During that period, 10,618 marriages in Kentucky, 279 of which took place in 2015.
"This bill would take Kentucky from behind the national curve to a leadership position in the movement to end child marriage," said Jeanne Smoot, senior counsel at the Tahirh Justice Center, a national organisation that advocates for legal and social justice for girls and women.
In the last two years, four US states – Virginia, Texas, New York and Florida – have passed legislation banning or severely restricting child marriage.
Despite strong support from Whitney Westerfield, Chairman of Kentucky's Senate Judiciary Committee, a vote in the new bill was delayed last week after the conservative Family Foundation of Kentucky expressed concern about the wording.
Although the group does not oppose a minimum age, it wants to see parents retain their rights to give permission for minors to marry.
World news in pictures

Show all 50
The legislation explicitly states that the "wishes of the parents or legal guardians of the minor" are not "sufficient evidence" to allow a 17-year-old to marry.
For advocates, this clause is a key part of the bill.
"Generally speaking, parents are responsible for their children," Mr Westerfield said. "However, we've been working on a draft that involves parental consent on the front end but requires judicial oversight in each case to prevent abuse like we heard about during committee testimony."
One such testimony was given by Donna Pollard. She got married at 16 to a man almost twice her age after growing up with a physically and emotionally abusive mother, who encouraged the relationship and consented to the marriage.
Forced to drop out of school, she was soon pregnant. "I felt completely and totally trapped," she told Courier Journal newspaper. "I had been raised by a very abusive mother who had never wanted me to begin with, and then this person comes into my life and starts paying me attention.
"It was so easy for me to be manipulated at that age."
Ms Pollard now runs Survivors' Corner, a national advocacy group for survivors of sexual assault, abuse and exploitation.
"Child marriage perpetuates cycles of poverty, interrupted educational opportunities, domestic violence, and sexual assault whether locally or internationally," the group tweeted in support of the bill. "Communities can't thrive with these problems."
Kentucky's Attorney General, Andy Beshear, is also a strong supporter of the bill.
"The General Assembly must pass SB 48, a bill that would outlaw child marriage in Kentucky," he wrote on Twitter. "A parent should not be allowed to consent to their child's rape and survivors of child marriage deserve a unanimous vote."
The vote is likely to be re-scheduled for this week.
Register for free to continue reading
Registration is a free and easy way to support our truly independent journalism
By registering, you will also enjoy limited access to Premium articles, exclusive newsletters, commenting, and virtual events with our leading journalists
Already have an account? sign in
Register for free to continue reading
Registration is a free and easy way to support our truly independent journalism
By registering, you will also enjoy limited access to Premium articles, exclusive newsletters, commenting, and virtual events with our leading journalists
Already have an account? sign in
Join our new commenting forum
Join thought-provoking conversations, follow other Independent readers and see their replies