Thomas Fire: Thousands forced to evacuate Los Angeles area homes after blaze rapidly spreads
'Mother nature is going to decide if we have the ability to put it out,' fire chief says 
Jeremy B. White
San Francisco
Tuesday 05 December 2017 18:01 Comments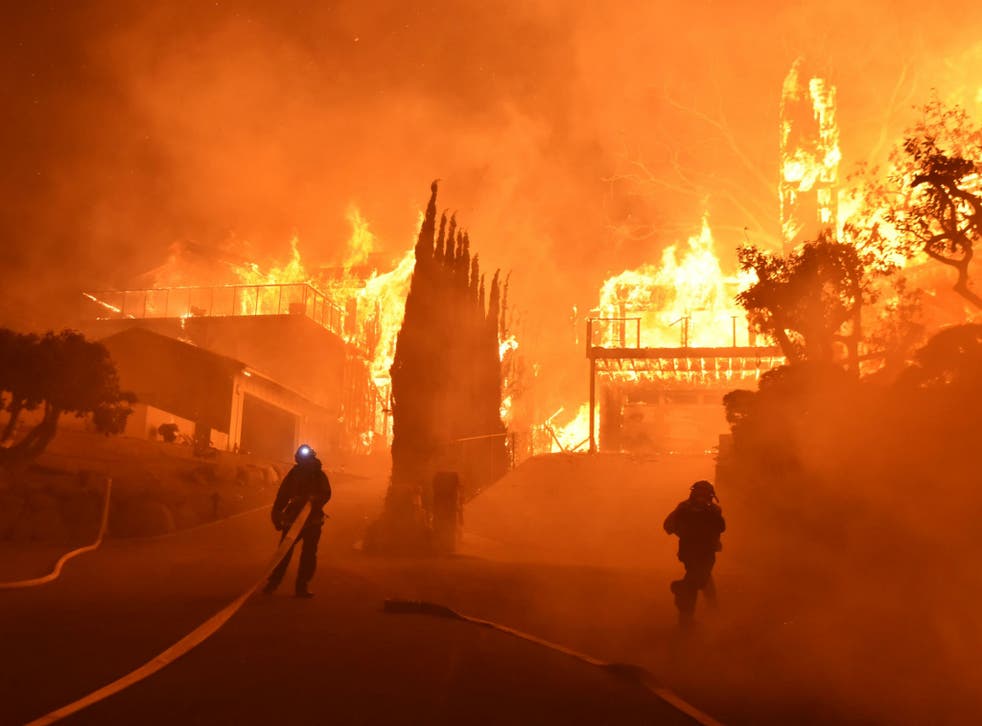 A wildfire in Ventura County, southern California has forced thousands of people out of their homes and scorched more than 50,000 acres, with second and third fires spreading swiftly over thousands of acres in Los Angeles County.
Whipped by high Santa Ana winds and feeding on dry vegetation, the fast-spreading Thomas wildfire prompted mandatory evacuation orders for some 27,000 Ventura County residents after igniting overnight. Tens of thousands of people are without power.
Officials estimated that at least 150 structures were levelled by the blaze and that one firefighter had been injured. The blaze encroached on the city limits of Ventura, home to more than 100,000 people, and burned within a quarter-mile of city hall. School districts across the county were closed.
A smaller fire erupted on the northern edge of Los Angeles where residents scrambled to get out as heavy smoke billowed over the city, while a third blaze also struck the same county.
Talking about the larger Thomas Fire, Ventura County Fire Department Chief Mark Lorenzen said: "The prospects for containment aren't good. Really, mother nature is going to decide if we have the ability to put it out".
Fire officials were settling in for a long battle. The National Weather Service said "very critical fire weather conditions," with Santa Ana winds continuing to gust powerfully, would likely continue through Thursday and contribute to "very rapid fire spread".
Recognising the scale of the peril, the California Governor's Office of Emergency Services announced it had secured a grant from the Federal Emergency Management Agency to assist in containing the fire, and Gov Jerry Brown issued an emergency proclamation for Ventura County.
Fires in Portugal and Spain

Show all 9
"This fire is very dangerous and spreading rapidly, but we'll continue to attack it with all we've got," Mr Brown said in a statement. "It's critical residents stay ready and evacuate immediately if told to do so".
The smaller brush fire had expanded to around 11,000 acres in the northern Los Angeles area by Tuesday afternoon, spurring evacuation orders and warnings about embers carrying the fire into residential areas.
"My message, very strong and clear, to the residents of Los Angeles, is to be ready to go," Los Angeles Mayor Eric Garcetti said, urging people to gather "critical documents" and possessions.
Noting that stiff winds were likely to persist, fire officials cautioned that flames could persist for days and that new infernos might ignite.
Punctuating that warning, Cal Fire announced that another blaze, known as the Rye Fire, had sprung up and burned across some 1,000 acres near the town of Santa Clarita, in northern Los Angeles County. By late afternoon it had exploded to more than 5,000 acres.
A blanket of thick smoke led to health warnings throughout southern California, with an air quality regulator urging residents to avoid vigorous exercise and suggesting that children and the elderly remain indoors. Some Ventura County residents were urged to boil tap water before drinking it.
California wildfires: Rescue of disabled woman caught on bodycam
The multiplying blazes extended a dire year for California firefighting. Residents of northern California's wine country are still reeling from a series of immense blazes that destroyed thousands of homes and killed more than 40 people.
As with the Thomas Fire, those blazes were sustained and spread by high winds and fuelled by dry brush that was the legacy of a half-decade of record drought. Scenes from Southern California echoed the wine country fires, with authorities issuing mass evacuation orders as an unremitting blaze threatened an urban area.
California wildfires have caused more than 1 million acres (1,500 square miles) burn so far in 2017, according to the latest data released by the California Department of Forestry and Fire Protection, which covers land under both state and federal protection. The total area burned in the state this year is bigger than the state of Rhode Island. The figures do not include blazes currently raging in Southern California.
State Fire Chief Ken Pimlott has said that climate change is spawning more and bigger wildfires.
Register for free to continue reading
Registration is a free and easy way to support our truly independent journalism
By registering, you will also enjoy limited access to Premium articles, exclusive newsletters, commenting, and virtual events with our leading journalists
Already have an account? sign in
Join our new commenting forum
Join thought-provoking conversations, follow other Independent readers and see their replies