Larry Nassar latest: Three USA Gymnastics board members resign after sex abuse scandal
The former physician faces a minimum of 25 years imprisonment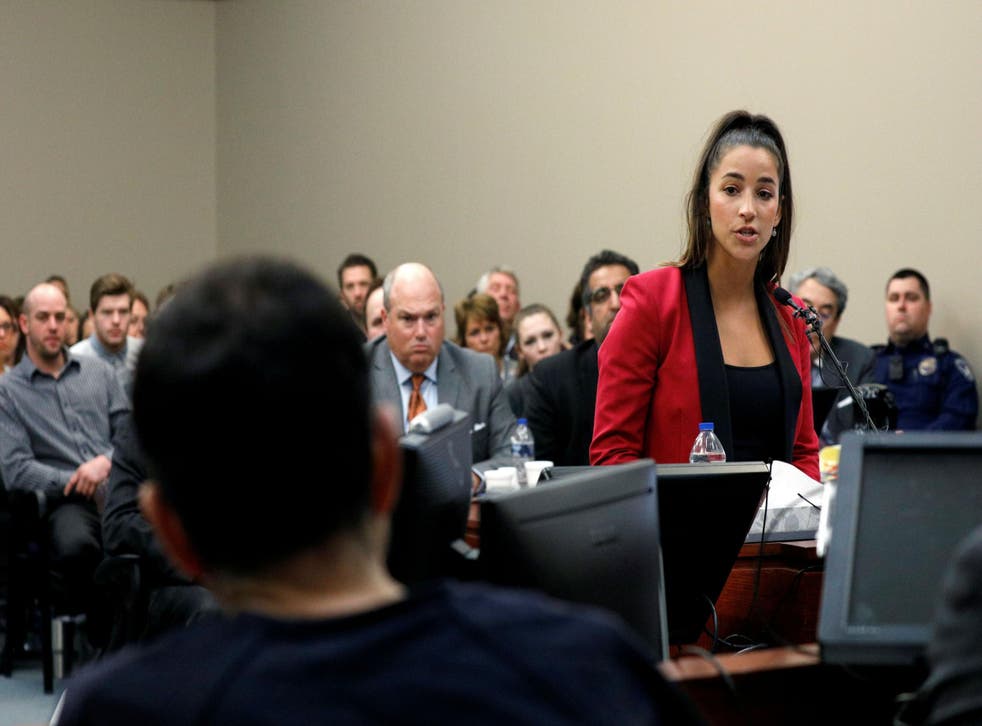 The top leadership of the body overseeing gymnastics in the United States has quit amid mounting outrage over the way a national team doctor was allowed to abuse and assault scores of girls and young girls in his care.
Three members of the USA Gymnastics' board of directors – chairman Paul Parilla, vice chairman Jay Binder and treasurer Bitsy Kelley – announced their departure as dozens of women continue to make emotional witness statements at the sentencing of former team doctor, Larry Nassar.
Under a plea deal, Nassar faces a minimum sentence of 25 years in prison, but the judge could set the minimum as high as 40 years. For five days in succession, athletes who were abused by him – among them Olympic champions Simone Biles, Aly Raisman, McKayla Maroney, Gabby Douglas and Jordyn Wieber – have confronted the 54-year-old former doctor.
The resignations come as the hearing continues in Lansing, Micgiba, where up to 120 women and girls could provide statement to the court about the impact Nassar's abuse had on them.
"We support their decisions to resign at this time. We believe this step will allow us to more effectively move forward in implementing change within our organisation." USA Gymnastics president Kerry Perry said in a statement.
The organisation had been criticised by several of the sport's top gymnasts during the sentencing hearing, claiming that top officials failed to act even after the abuse was reported to them.
Aly Raisman tells Larry Nassar 'you are nothing' during sentencing hearing
Aly Raisman, a gold medalist at the 2016 Olympics, called for Ms Parilla's resignation when she went public with her own sexual abuse by Nassar.
Survivors and others have described a culture of secrecy and a solitary focus on sporting glory at USA Gymnastics. In December, it was revealed that USA Gymnastics paid 2012 Olympian McKayla Maroney to stay silent about her abuse by Nassar.
USA Gymnastics has lost prominent sponsors such as Proctor & Gamble and Kellogg's.
World news in pictures

Show all 50
The criminal cases against Nassar followed reports last year in The Indianapolis Star about how USA Gymnastics mishandled complaints about sexual misconduct involving the doctor and coaches. Women and girls said the stories inspired them to step forward with detailed allegations of abuse.
Last week, Ms Raisman addressed Nassar in the court, saying: "I love this sport, and that love is stronger than the evil that resides in you, in those who enabled you to hurt many people."
The 23-year-old added: "The tables have turned Larry. We are here, we have our voices, and we are not going anywhere. And now, Larry, it's your turn to listen to me.
"There is no map that shows you the pathway to healing. Realising that you are a survivor of sexual abuse is really hard to put into words. I cannot adequately capture the level of disgust I feel when I think about how this happened.
"Larry, you abused the power and trust I and so many others placed in you, and I am not sure I will ever come to terms with how horribly you manipulated and violated me."
Join our new commenting forum
Join thought-provoking conversations, follow other Independent readers and see their replies