Lawyer named in Prince Andrew 'sex slave' allegations: 'I was never in the presence of a single underage woman'
'I was not a witness, I was not a participant, and I will prove it'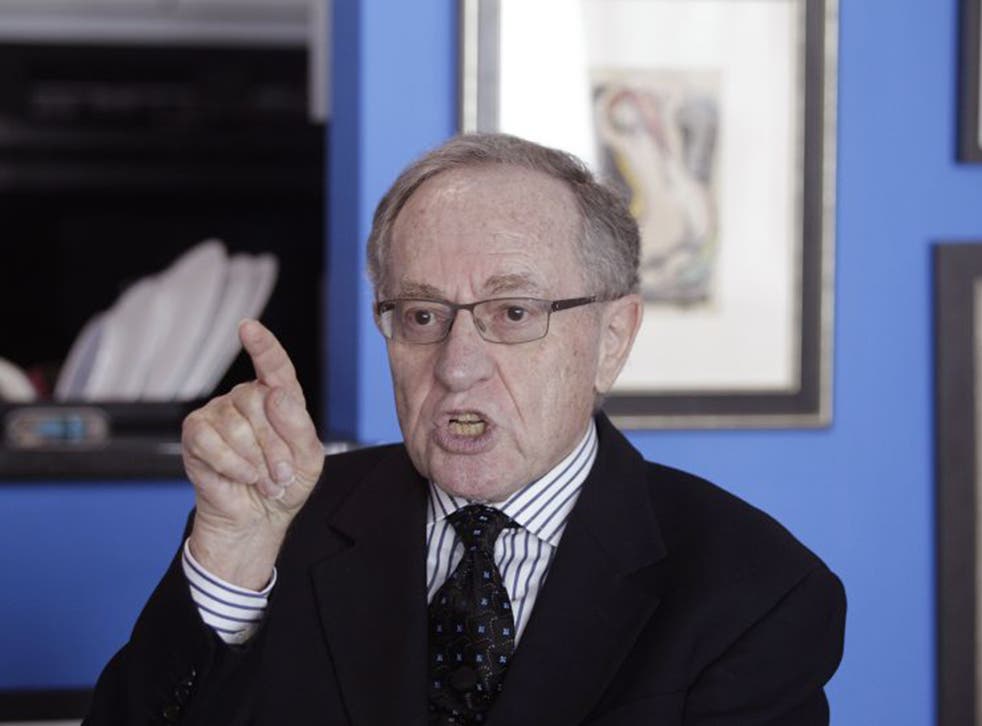 Law professor Alan Dershowitz – named in legal documents with Prince Andrew in a so-called sex slave case - has again rejected claims levelled at him and said he never saw anything improper at the home of their billionaire friend Jeffrey Epstein.
"I was never in the presence of a single underage woman," he said. "I never saw [Epstein] doing anything improper. I was not a witness. I was not a participant. And I will prove it."
Speaking on NBC's Today show, he added: "She is categorically lying and making the whole thing up. This is Pinocchio's nose growing longer and longer."
The strident denial from the Harvard academic came just one day after Virgina Roberts said in new court filings that the law
yer would chat with Mr Epstein as she performed a sex act on the billionaire.
Mr Dershowitz was named last month in court documents by Ms Roberts, who claims she was forced to have sex with friends of Mr Epstein, including the Duke of York, when she was just 17. Mr Epstein was later convicted of a single charge.
On Wednesday, she lodged fresh documents in Florida detailing the alleged abuse she suffered at the prince's hands, including how she had an orgy with him and eight other young girls.
Buckingham Palace has twice issued statements categorically denying the claims of Ms Roberts. "It is emphatically denied that the Duke of York had any form of sexual contact or relationship with Virginia Roberts," it said in a statement. "The allegations made are false and without any foundation."
There has no comment from the palace today. It said in response to Ms Roberts' latest filing that it had nothing more to add.
Mr Dershowitz said while Ms Roberts claims she had sex with him at Mr Epstein's Caribbean Island and his New Mexico ranch, he had only ever been there briefly, and with his wife and daughter.
He claims that the third accusation made of hi - that he had sex with Ms Roberts on a private plane - is false and that flight manifests would prove he was never aboard the plane with her.
"I've ever seen her and I've never met her," he said, explaining that he had agreed to be desposed by lawyers so that he can defend himself.
"Of course I will be deposed," he said. "I have been absolutely upfront. The lawyers are lying through their teeth when they say I have refused to be deposed."
"I'm happy to have this out in a court of law. I'm afraid of nothing, I'm hiding nothing. She is afraid of repeating this in public."