Deporting hope: Life in California's infamous immigration detention centre
This year six inmates have died in the Golden State's largest immigration detention facility, Adelanto, in San Bernadino – nearly 2,000 await hearings or deportation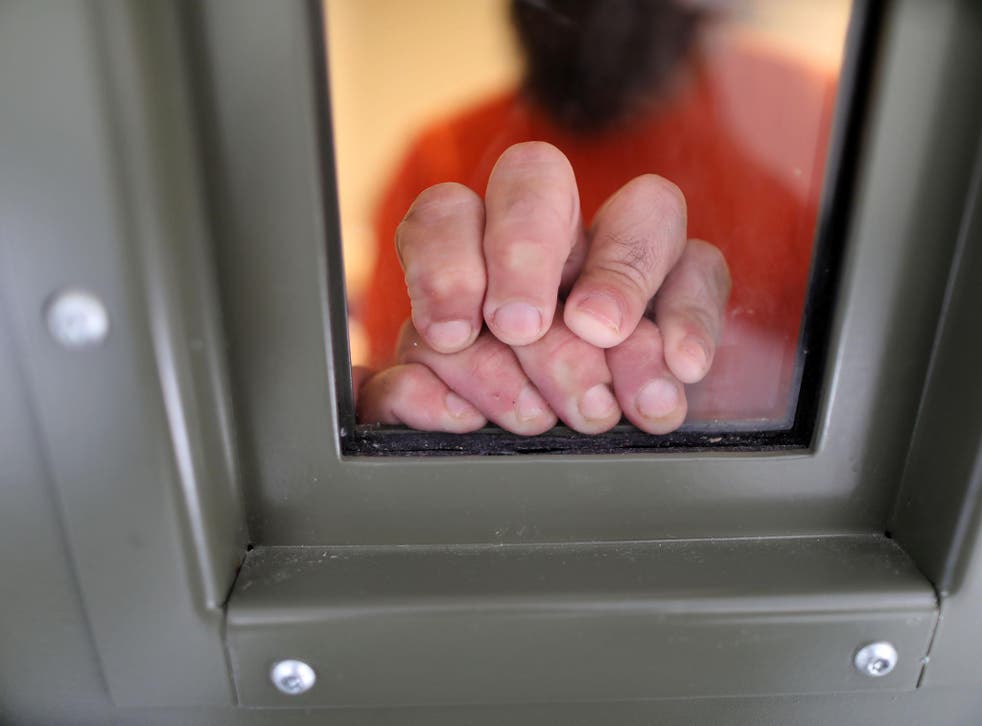 Roberto Galan, 33, paid a trafficker $3,000 to smuggle him into the US from El Salvador for the first time as a teenager in 1997.
Since then, he has been deported twice but has returned each time.
Now he is once again in deportation proceedings, being held at the Adelanto Detention Facility near San Bernardino, California, along with more than 1,800 other immigrants awaiting hearings or deportation after being arrested by US Immigration and Customs Enforcement (ICE) agents.
Galan, who has convictions in California for selling marijuana and possession of a firearm, wears a red outfit at Adelanto, showing he is a "high-risk" detainee, one who has committed a serious offence and spent time in state or federal prison. Others wear blue, signifying they have no criminal convictions or very minor ones on their record; orange denotes a more serious crime but not a felony.
"I don't want them to deport me... I want to stay in the United States with my family," Galan says at the centre where he has been in custody for 20 months. Galan's mother, wife and two young children live in the US legally.
"They feel bad because we want to live together."
Galan expects a decision on his latest appeal this month.
"I see people trying to stay here, fight their case for two, three, four years, more than four years, and then they are denied everything," he say of the centre, the largest immigration detention facility in the state.
After taking office in January, President Trump signed an Executive Order on border security that, among other measures, called for promptly deporting illegal immigrants after their apprehension, and keeping them in custody until that can be arranged.
A razor-wire fence rings Adelanto, which is run by Geo Group, a Florida-based company that owns, leases and manages correctional and detention facilities.
At the facility, some of the detainees can be seen chatting over meals of rice and refried beans, while others sit alone in silence. Two men share a pair of headphones to watch television, and others play dominoes.
About 240 of the detainees at Adelanto are women. In their dormitory, one is curled up on a bed reading a novel while another folds clothes. Two of the women read news reports about a hunger strike at an immigration centre in Tacoma, Washington state, 1,000 miles to the north.
Adelanto detainees have access to an on-site law library, a medical clinic, religious services, and a recreation area where they can play soccer and basketball. In the centre's visiting area, a large world map hangs on a wall.
The detention facility also has six courtrooms where federal immigration judges conduct removal hearings in person or by video link.
David Marin, a senior ICE official based in Los Angeles, said little had changed in day-to-day operations at Adelanto since Trump took office.
"There have not been any major changes since the change in administration," says Marin. "We are still focusing on arresting criminal aliens. That's our commitment to public safety."
Reuters
Inside California's largest detention centre

Show all 9
Register for free to continue reading
Registration is a free and easy way to support our truly independent journalism
By registering, you will also enjoy limited access to Premium articles, exclusive newsletters, commenting, and virtual events with our leading journalists
Already have an account? sign in
Register for free to continue reading
Registration is a free and easy way to support our truly independent journalism
By registering, you will also enjoy limited access to Premium articles, exclusive newsletters, commenting, and virtual events with our leading journalists
Already have an account? sign in
Join our new commenting forum
Join thought-provoking conversations, follow other Independent readers and see their replies