Los Angeles: Clifton's Cafeteria reopening recalls an older, communal spirit the city could benefit from once more
New generation learns to give and dine in LA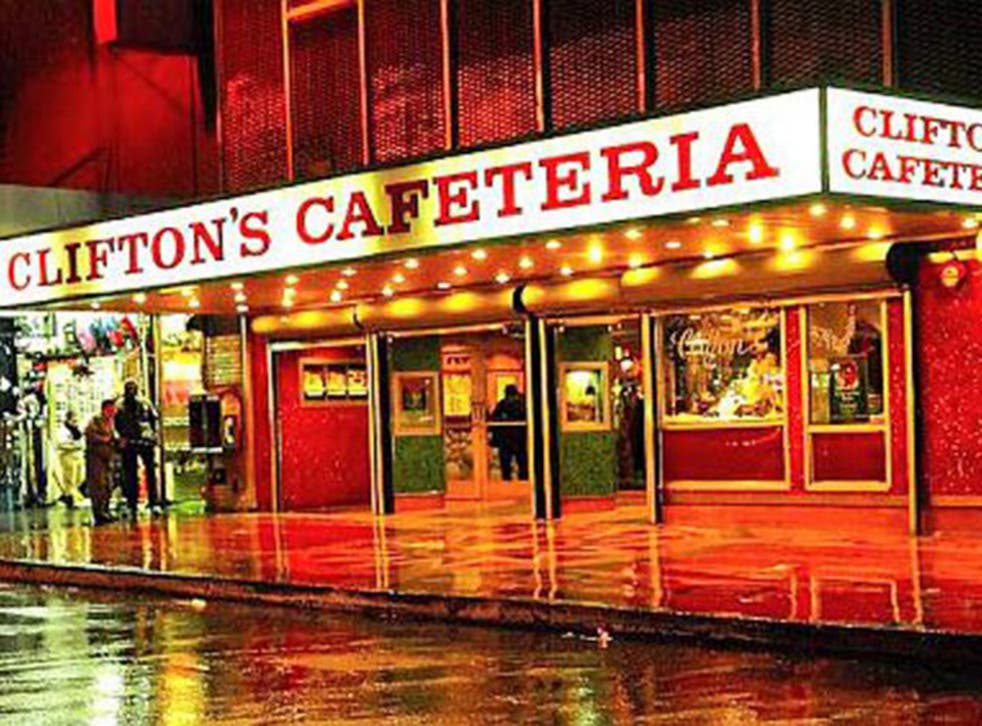 After decades of urban decay, Downtown Los Angeles is in the middle of a long, slow renaissance. Now, one of the city's most historic dining institutions has been restored to its former glory.
Lifetime LA resident Jim Thompson first ate at Clifton's Cafeteria in 1940, when he was five years old. "My mother and father would dress me up in something smart and we'd take public transportation to Downtown for lunch," he said recently. Given the chance to eat whatever he liked, he'd almost always choose roast beef, with strawberry shortcake for dessert.
Mr Thompson, now 80, will soon chow down again at the legendary LA eatery, which is due to re-open this week after a four-year, $10m (£6.4m) restoration. Invited to a sneak preview, he found the food hall-style cafeteria comfortingly familiar. "It's just beautiful," he said. "I was amazed; they have kept so many of the original details."
Those details include murals of woodland scenes, a babbling brook water feature and the warm, pervasive scent of roast turkey. The venue's owner, Andrew Meieran, has also made his own additions, such as a selection of vintage taxidermy and a 40-foot faux-redwood tree made from reinforced steel and concrete, which climbs three stories through the central atrium.
Once a mere cafeteria, the 47,000-sq ft space now encompasses two restaurants, a café, five cocktail bars and a shop. What's the appropriate noun for such an establishment? "We just call it Clifton's," said marketing chief Dan Cox. For nostalgic Angelenos, that name is resonant enough. In fact, the only thing missing from its new incarnation is the man it's named after.
In the mid-20th Century, Clifford Clinton ran a chain of 12 cafeterias across LA, the last remaining of which is Clifton's on Broadway, which opened in 1935, when it was believed to be the largest cafeteria in the world. Clinton commissioned its murals and turned its structural pillars into redwood trunks to evoke the splendour of California's national parks.
In its 1940s pomp, Clifton's served some 15,000 customers every day. Over the years, regulars included filmmakers such as Ray Harryhausen and David Lynch, and writers as varied as Ray Bradbury, Jack Kerouac and L Ron Hubbard, the founder of Scientology. It was used as a location in multiple movies and TV shows, not least Mad Men.
Clinton's parents were Salvation Army missionaries and he spent much of his childhood in China, where he witnessed poverty and starvation on a grand scale. When he opened Clifton's in the depths of the Depression, he introduced what became known as his "Golden Rule": people who could not afford to pay would be fed nonetheless. Black and white patrons also shared his dining room long before desegregation became the law of the land.
As if those good deeds weren't enough to earn a spot in the city's history, Clinton also became LA's leading campaigner against civic corruption. "Clifford Clinton is one of the most important men in the history of Los Angeles," said local historian Richard Schave. "He was the man who broke the pre-war crime syndicate that was being run out of the office of the mayor."
Clinton was appointed to lead a committee investigating vice in 1937, when the LA city government was riddled with sleaze. The health department tried to put him out of business with bogus sanitation violations, and corrupt officers from the LAPD even bombed his home. But Clinton was undeterred, and in 1938 engineered the successful recall of corrupt mayor Frank Shaw.
The top 15 world's unfriendliest cities

Show all 15
In the '40s, he founded the non-profit Meals For Millions, which developed a revolutionary food supplement derived from soybeans to be supplied to relief agencies worldwide. A famously gentle man, Clinton's children supposedly recalled their father getting cranky just once, when he took them to the opening day of Disneyland in 1955. Walt Disney was a frequent customer at Clifton's, Mr Schave explained, "and he felt as if Disney stole a lot of his ideas from the cafeteria for Disneyland."
It is not just the interiors at Clifton's that will remain authentic. Working from old recipe cards from the cafeteria's archives, the kitchen team led by executive chef Jason Fullilove has created a menu that is half new dishes and half Clifton's classics such as macaroni and cheese, jelly dessert and a nightly roast turkey dinner.
In the spirit of its founder, 10 per cent of the cafeteria's 300 staff have been hired from local charitable organisations such as Midnight Mission, which helps to rehabilitate the homeless, and Homeboy Industries, which works with former gang members. Diners will also be offered the opportunity to donate to those organisations on their bill.
Clifford Clinton died in 1969, and over the subsequent four decades the cafeteria's fortunes declined along with Downtown. Mr Meieran, 48, purchased the site from Clinton's surviving family members in 2010 and began its lengthy refurbishment the following year. The filmmaker and property developer is also the owner of the Edison, a popular nightclub in a former basement power plant, which helped to pioneer the recent revitalisation of LA's Historic Core.
Much as the neighbourhood is in the process of gentrification, however, the cafeteria is still just a stone's throw from the city's Skid Row district, which remains the largest concentration of homeless people in the US. A new Clifton's is one thing – but Downtown LA could do with a new Clinton, too.
Join our new commenting forum
Join thought-provoking conversations, follow other Independent readers and see their replies