Marijuana for 'recreational use' backed by voters in Washington DC and Oregon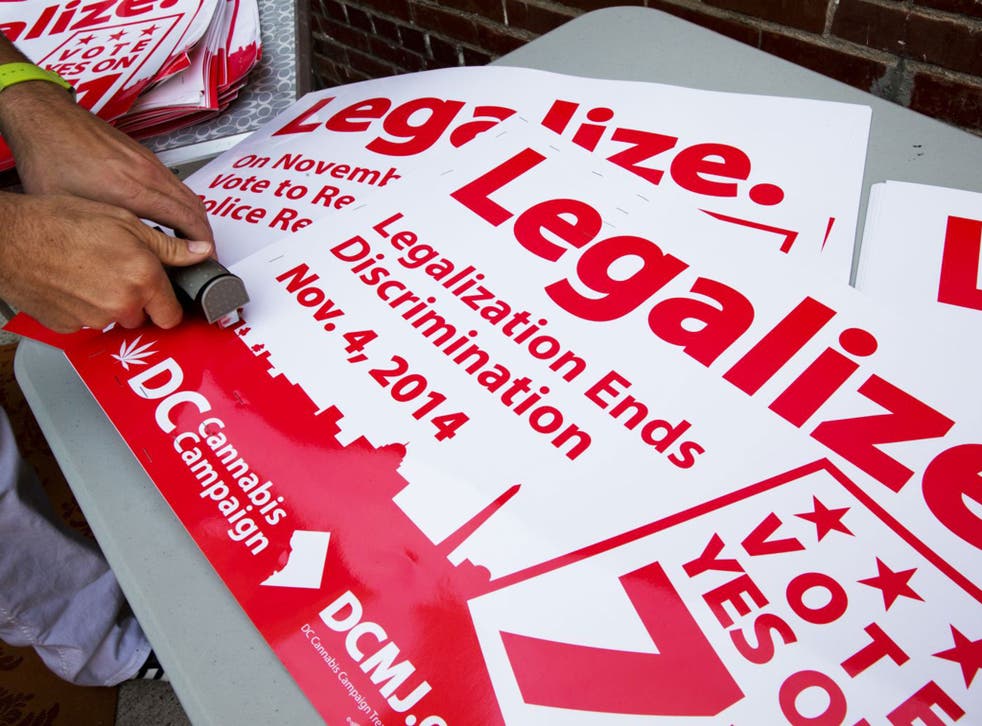 Voters in Washington DC and Oregon voted yesterday to legalise marijuana for recreational use, approving measures on the ballot at the US midterm elections.
As the polls closed, a similar vote in Alaska also appeared to be leaning towards legalisation, with early results showing more than 50 per cent of voters in favour of a measure to regulate and tax the drug on the Last Frontier.
Guam, the unincorporated US territory in the Pacific, voted in favour of legalising marijuana for medical use. In Florida, however, a constitutional amendment to legalise medical marijuana was defeated after receiving 58 per cent of the vote, to 42 per cent against. Constitutional amendments in Florida must win at least 60 per cent approval to pass.
Washington DC and 23 other states already allow medical marijuana, while Washington State and Colorado both voted to legalise recreational marijuana in 2012. The US capital, Oregon and, potentially, Alaska, will now join them in permitting adults to grow, purchase, possess and consume cannabis for purely recreational purposes.
The DC measure passed with 69 per cent of the vote, but may nonetheless prove controversial in the capital, where US Congressional lawmakers have the power to overrule local legislation. Initiative 71 allows the city's residents to grow up to six marijuana plants and possess as much as two ounces of the drug. But with Republicans winning control of both the House and Senate at yesterday's election – and some in the party ranks promising to push back on legalisation – the bill may face a fight to survive.
In pictures: Midterms 2014

Show all 14
Oregon's Measure 91 mimics the Washington state system, by handing regulatory control of cannabis to the state's Liquor Control Commission, and allowing Oregonians to grow as many as four plants at home. Alaska's Measure 2 would similarly introduce a regulatory system for a recreational marijuana industry, and make it legal for adults to possess up to one ounce of cannabis.
Join our new commenting forum
Join thought-provoking conversations, follow other Independent readers and see their replies