Martin Shkreli: CEO no longer merely vilified in press following arrest
The founder and chief executive of Turing Pharmaceuticals has been charged in court with seven counts of fraud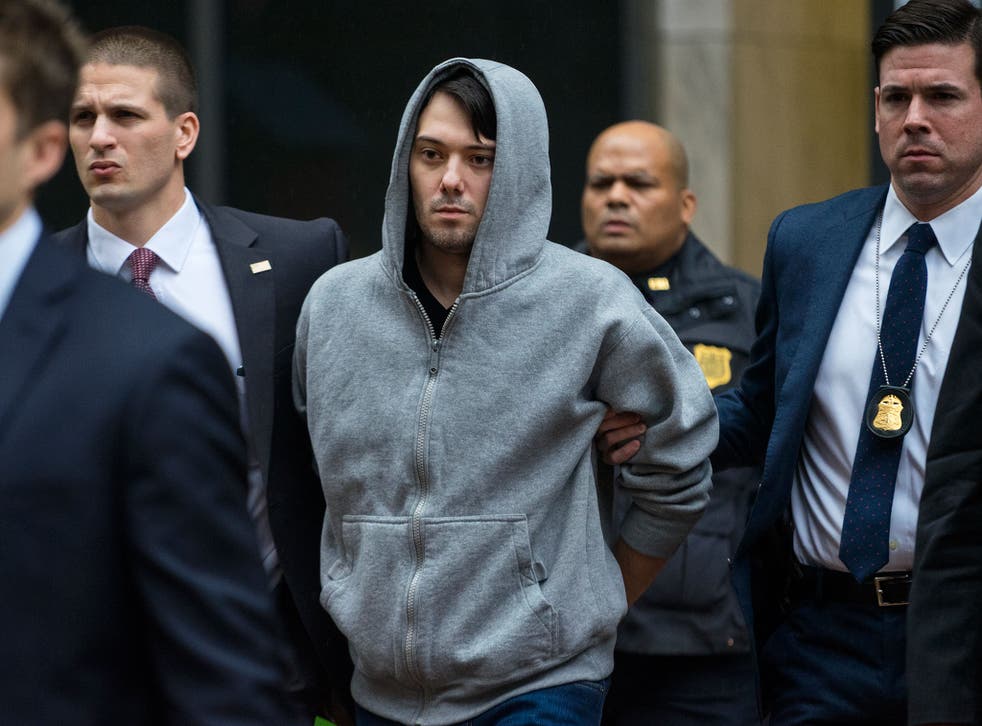 He was a young man in a hurry for money who shrugged off the tsunami of disdain unleashed when he bought a drug company and jacked up the price of a life-saving pill by 5,400 per cent, because he could. Just a week ago he spent $2m (£1.3m) on a one-off Wu-Tang Clan album. Because he could.
But today, the December dawn barely broken, Martin Shkreli found himself being cuffed and bundled out of his Manhattan apartment by the FBI. No longer merely vilified in the press as crass and compassionless, he was under arrest for alleged securities fraud, though unrelated to the pill affair.
Rather, Mr Shkreli, 32, the founder and chief executive of Turing Pharmaceuticals, owner of the rights to the now infamous HIV drug, Daraprim, was charged in court with seven counts of fraud stemming from his time atop MSMB Capital, a hedge fund he founded, and chief executive of another drug company, Retrophin. He pleaded not guilty and was released on a $5m (£3.36m) bond.
Prosecutors in Brooklyn alleged that Mr Shkreli had knowingly misled investors in the MSMB fund about his past record in the industry and subsequently lied to them about how it was performing, assuring them they were earning huge returns when, in reality, the opposite was true.
Also arrested was a New York lawyer connected Mr Shkreli, identified as Evan Greebel. According to the charge sheet, when the original MSMB fund started going awry, Mr Shkreli founded a second fund, MSMB Healthcare, and used money raised from investments for that fund to cover the losses of the first. Later, he founded Retrophin, and allegedly plundered its coffers, especially after successfully taking it public, to continue to cover his tracks and hide his hedge-fund losses.
"Essentially, he ran his companies like a Ponzi scheme where he used each subsequent company to pay off his investors from a prior company," the US attorney Robert Capers said in a press conference. He said the defendant had used Retrophin, which he founded in 2011, as his "personal piggy bank".
When it came to light in September that Turing had acquired Daraprim and raised the price from $13.50 per tablet to $750 each, the outrage extended even to the presidential campaign trail with Hillary Clinton joining those condemning the move. Mr Shkreli later promised limited discounts on the new price, which is also prescribed to cancer patients.
If Mr Shkreli felt burnt by the uproar, he didn't show it. This month, he courted still more publicity by revealing that he had been the mystery buyer at auction of the only copy in the world of Wu-Tang Clan's newest album, Once Upon a Time in Shaolin, delivered to him in a silver case with a leather-bound book of lyrics. Members of the group later publicly lamented that he had been the buyer.
He also announced this week that he would pay $2m to bail out rapper Bobby Shmurda, who is jailed in New York awaiting trial on charges he denies related to the activities of his rap group, up to and including alleged murder, according to prosecutors. Mr Shkreli's arrest was thus unfortunate news for the rapper.
Join our new commenting forum
Join thought-provoking conversations, follow other Independent readers and see their replies