Michael Brown: Mother of unarmed black boy killed by police writes book to tell the 'truth' about son's death
'Tell the Truth & Shame the Devil' tells the story of Lesley McSpadden's son's death and her fight for justice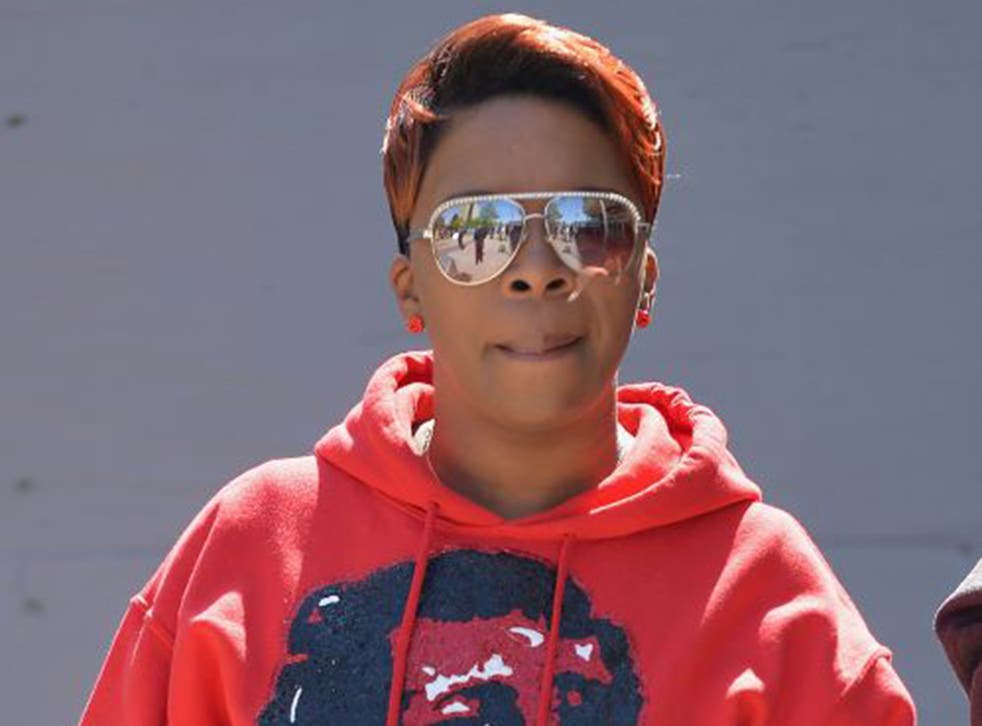 The mother of the unarmed black boy who was killed by a white police officer, sparking protests and exposing institutionalised racism within the police, is writing an autobiography to tell the "truth" about her son's death.
Lesley McSpadden was taking a cigarette break from her grocery store job in August 2014 when she got a call from a friend to say someone had been shot near her mother's apartment in Ferguson, Missouri.
Within minutes she found out the victim was her son. 18-year-old Michael Brown had been killed by 28-year-old white police officer Darren Wilson, and she has spent the last two years fighting for justice.
Her book, "Tell the Truth & Shame the Devil: The Life, Legacy and Love of My Son Michael Brown", released on 10 May, is co-written by Lyah Beth LeFlore. It details Ms McSpadden's upbringing in tough St Louis neighbourhoods, her becoming a mother at 16 years old, her devastation at her son's death and how her push to honour his memory catapulted her son's death into becoming a catalyst for the national Black Lives Matter movement.
Ms McSpadden, 36, told the Associated Press that she wants readers to know "what a sweet person he was and how gentle he was and that he always tried to do the right thing". She writes about her son reading out an essay on Martin Luther King at school and his hobby of fixing computers.
Mr Brown was leaving a store with his friend on 9 August 2014 when Mr Wilson pulled up in his police car and identified Mr Brown as a shoplifting suspect. They had a scuffle while Mr Wilson was still in the car.
Mr Wilson got out his car and said that Mr Brown charged towards him.
Chicago cop investigated after allegedly saying Michael Brown 'got what he had coming'
Details remain contested. Witnesses say the officer chased Mr Brown on foot and shot him after he put his hands up.
Mr Brown's body lay in the summer heat for four hours after he was killed.
The shooting sparked massive unrest in the city and led to two investigations of the city's police department. The first African American police chief in Ferguson, Delrish Moss, was sworn in this week.
Ms McSpadden's wrongful death lawsuit is still making its way through court after the US Justice Department cleared Mr Wilson, who resigned in November 2014.
She said she and a police officer argued at the scene of her son's death in the street, and they swore at each other.
"He put his middle finger up and he put it in my face and he took an assault rifle and he posed with it," Ms McSpadden said.
She has spoken at a United Nations committee in Switzerland, stood beside Hillary Clinton on the campaign trail and has featured in a Beyonce video with the mother of Trayvon Martin, a black teenager killed by a neighbourhood watch volunteer, holding photos of their sons.
In the book Ms McSpadden writes: "Never mind what you've heard or think you know about Michael Brown, or about me, for that matter. You don't know about Mike Mike. You don't know about me. Now, you might know something, some snippet, some half a moment in time, but you don't know my son's life and what it meant, and an eighteen-second video doesn't tell you anything about eighteen years."
Join our new commenting forum
Join thought-provoking conversations, follow other Independent readers and see their replies