Ferguson decision: Tea Party website mocks Michael Brown's family over T-shirt typo
A grand jury is deciding whether to indict the white police officer for death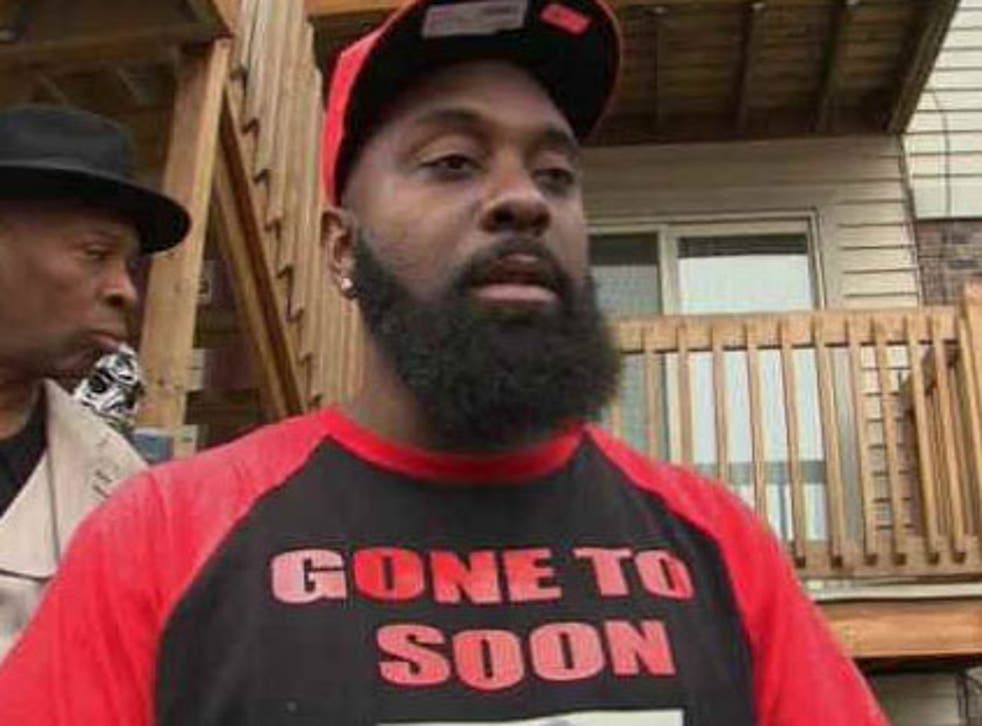 Conservative commentators in the US have mocked Michael Brown's father as they awaited a jury's decision on whether to indict a white police officer for the fatal shooting of the teenager.
The shooting of the black unarmed teenager ignited weeks of unrest in Ferguson, Missouri, and sparked protests across the US.
The grand jury eventually chose not to bring charges against Darren Wilson, the announcement being given on Monday evening, local time.
Earlier, right-wing media had focused on an alleged brawl involving his family members over the sale of memorial T-shirts in recent days.
Mr Brown's father, Michael Brown senior, was pictured wearing one as he made an emotional plea for calm on Saturday, knocking on doors and giving out Thanksgiving turkeys as the suburb braced itself for more unrest.
But the Tea Party News Network (TPNN), a conservative website calling itself an "antidote to mainstream media bias", mocked a spelling mistake on his T-shirt.
With a picture of his 18-year-old son, it reads "gone to soon", rather than "gone too soon".
The TPNN article said: "Many wondered who has been steering their actions, movements, and connections, and this simple t-shirt worn by Mike Brown, Sr. will heighten that pondered question.
"Gone to Soon? Where is Soon?
"Perhaps their handlers should tell them that they'd stand a better chance of selling t-shirts if they were grammatically correct."
Comments underneath the article included racial slurs and blamed his parents for his death.
"Wish the whole family was gone," one comment said.
In pictures: Michael Brown shooting

Show all 32
Mr Brown's death has continued to dominate headlines in the US for three months since the shooting, sparking debates over the treatment of young black men by police.
On Saturday, 12-year-old Tamir Rice, who was also black, was shot dead by police in Ohio after being spotted playing with a replica gun in a park.
Join our new commenting forum
Join thought-provoking conversations, follow other Independent readers and see their replies