Michael Brown shooting: Video shows witness saying Ferguson teen had his hands up when police shot him
Footage taken in the immediate aftermath of the shooting shows construction worker raising his hands in the air, appearing to immitate what he claims he's just seen
Callm Paton
Saturday 13 September 2014 16:32 Comments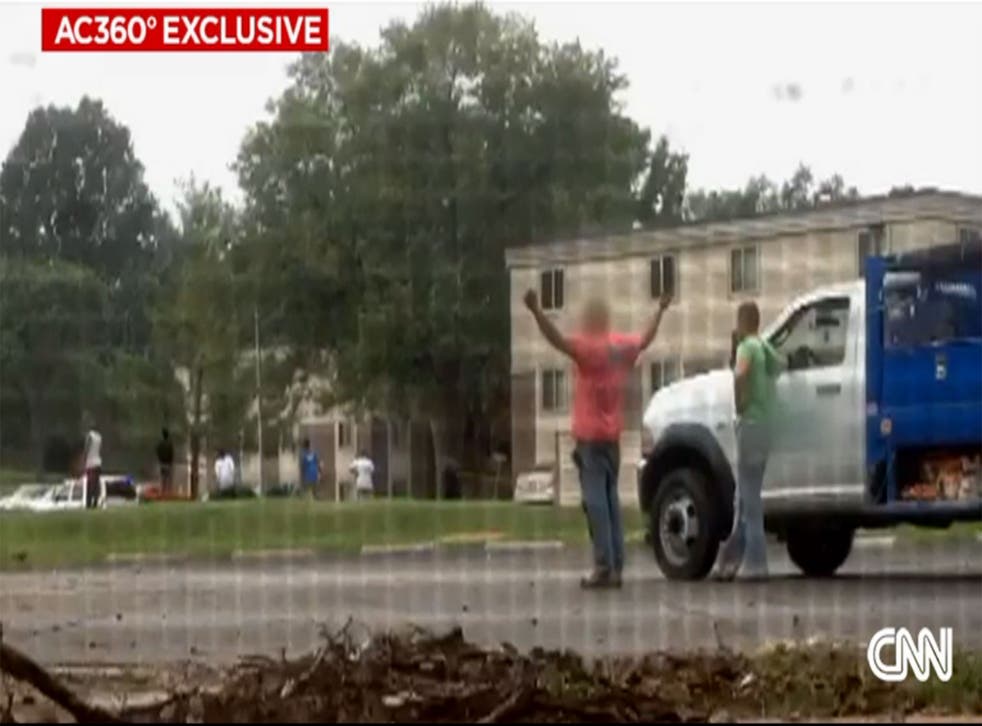 A video of the immediate aftermath of Ferguson teenager Michael Brown's fatal shooting by a police officer shows a witness raising his hands and saying the 18-year-old was surrendering when he was killed.
The footage, captured on a mobile phone, could bolster arguments and previous witness testimony that Brown had his hands in the air at the time of his shooting, US legal experts have said.
Aired on CNN, the video shows two white Jefferson County landscapers in the street where Brown, who was unarmed, was shot by police officer Darren Wilson on 9 August. One of the men raises his hands and then can be heard shouting: "He had his f***ing hands up."
The shooting of Brown, a young black man, by a white police officer has brought the issue of race relations in the US to the fore in Ferguson Missouri. It also sparked days of violent protests in the town where residents are suing the police for $40 million (£24 million) for the use of excessive force in unrest following the death.
Video: CNN
The comment on the video largely matches those of residents from the apartment complex near where the shooting occurred. They said Brown was surrendering when he was killed. A state grand jury and the Justice Department are investigating the incident.
Benjamin Crump, the attorney for Brown's family, said both workers had come forward and told the family their account of the shooting. He described the video as "of paramount significance".
"Not because they were not residents of Ferguson, and not because the construction workers were Caucasian, but because it is a contemporaneous recording of their immediate actions of what they had just witnessed," Crump said. "It's the best evidence you can have other than a video of the actual shooting itself."
The video likely would be admissible evidence before the grand jury along with the workers' testimony, said Peter Joy, a professor at Washington University School of Law in St. Louis.
"The thing that strikes me is we actually have a film of what's going on and while it's hard to hear the construction workers say what they're saying, you have one construction worker putting his hands up in the air, which appears to be him demonstrating what he's seeing," Joy said.
Lori Lightfoot, an attorney who previously worked as chief administrator for the Chicago Police division that oversaw officer-involved shootings, said the video could be significant but added that many questions remain: What was the vantage point of the workers? How far away were they from the shooting?
"Given the stakes, it's essential that all of these issues be tied down," she said.
Additional reporting by AP
Register for free to continue reading
Registration is a free and easy way to support our truly independent journalism
By registering, you will also enjoy limited access to Premium articles, exclusive newsletters, commenting, and virtual events with our leading journalists
Already have an account? sign in
Join our new commenting forum
Join thought-provoking conversations, follow other Independent readers and see their replies