Michael Brown shooting: Youth leads the fight in Ferguson protest movement ahead of grand jury verdict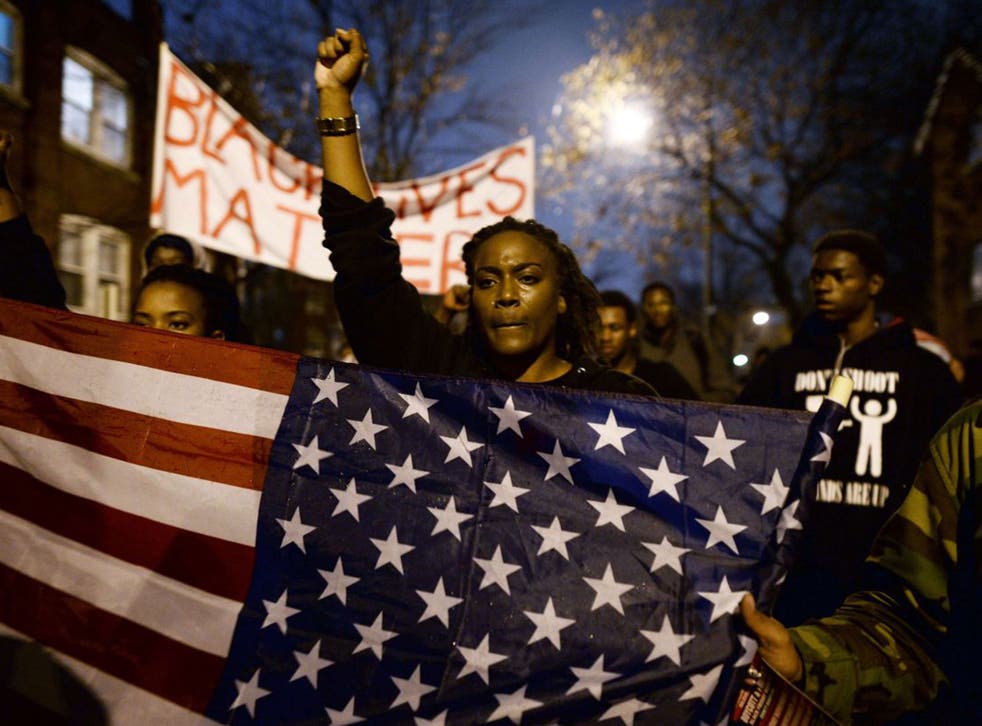 Police, protesters and the people of Ferguson, Missouri, were today poised to hear the verdict of a grand jury on whether to bring charges against Darren Wilson, the white police officer who shot dead unarmed black teenager Michael Brown in August, leading to weeks of unrest on the streets of this St Louis suburb.
On Sunday night, a large, peaceful march through the city's Shaw neighbourhood ended with a speech from protest leader Josh Williams, who concluded by praising the youngest of the demonstrators: "Young people," as he described them, "aged 16 or 17 years old, fighting for justice!" A heckler pointed out that Mr Williams himself is just 18.
A recent high school graduate who can often be seen wielding a megaphone at protests, Mr Williams is one of the many young people energised by Mr Brown's death to become activists. Since August, teens and 20-somethings have been at the heart of the protest movement over police shootings of young, black men: organising via Twitter, speaking out at council meetings or raising funds to maintain the momentum of their cause.
St Louis native Johnette Elzie, 25, began live-tweeting the demonstrations in the days after the shooting, and soon became a point of contact for those wishing to support the protesters. She has since trained in civil disobedience, and was involved in organising Sunday's march.
In pictures: Michael Brown shooting

Show all 32
"The youth are the ones who pushed this movement," Ms Elzie said. "When they saw Mike Brown die, they saw themselves on the ground. I saw myself, I saw my brothers, everyone who looks like me. That is the fuel that has kept us going." She added: "This is a leaderless movement. A lot of people play a part, but there's no one person in charge – other than Mike Brown."
Vincent Flewellen, 43, a St Louis teacher who attended the demonstration, said: "This has been a completely youth-led movement. They're the ones who have the passion, fire and drive. Older folks become a little bit complacent, but the youth see what's possible, and they fight for it."
He said he had been particularly impressed by the emphasis on peaceful protest.
The grand jury, which has been meeting weekly for three months, reconvened on Monday continue its deliberations behind closed doors. The panel of six white men, three white women, two black women and one black man could choose to indict Officer Wilson on charges ranging from second-degree involuntary manslaughter to murder, yet most protesters fear he will not be charged at all.
Supporters of Officer Wilson, who is 28, characterised the shooting of 18-year-old Mr Brown on 9 August as an act of self-defence. Yet some witnesses insisted Mr Brown had his hands raised in surrender when the fatal shots were fired.
Sunday's demonstration began and ended at the spot where another 18-year-old black man, Vonderritt Myers, was shot and killed by an off-duty St Louis police officer on 8 October. Police say that in that case, Mr Myers shot at the officer, who returned fire. Mr Myers's family claims he was unarmed.
Events in Ferguson have also taken on a new relevance following the fatal police shooting of a 12-year-old boy in Cleveland, Ohio, on Saturday. Tamir Rice, who was carrying a replica handgun in a playground, was shot twice by officers after he failed to comply with an order to raise his hands. Rice did not point the replica gun towards the officers, nor did he make any verbal threats.
Though many demonstrators are expected to turn out in Ferguson in the wake of the grand jury's decision, others may be deterred by the weather and the Thanksgiving holiday.
The authorities have promised a more measured response to any unrest, while protest leaders and Mr Brown's parents have pleaded for calm, whatever the outcome.
Join our new commenting forum
Join thought-provoking conversations, follow other Independent readers and see their replies