Five times Mike Pence has totally disagreed with Donald Trump since he joined the Republican ticket
The possible president and vice president have differed on key points from Nato to house speaker Paul Ryan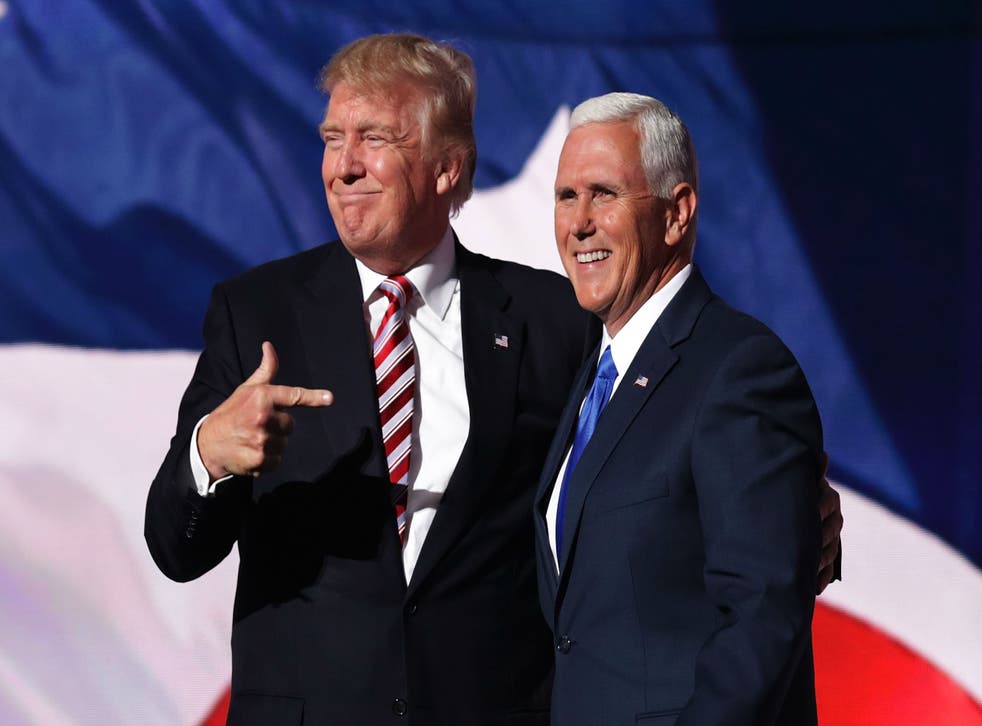 Within hours of appointing Mike Pence as his running mate, rumours were rife that Donald Trump was already regretting his decision. But did anyone think about whether the Indiana governor would come to regret his?
In just three weeks of being appointed as possible vice president to the New York businessman, Mr Pence and Mr Trump have clashed on everything from trade deals and the ban on Muslims to gay rights, abortion and the Iraq War.
Below are the five most important differences.
Nato
Mr Trump said in an interview in July that the US might not necessarily come to the aid of Nato allies if they were attacked, undermining a key commitment of the allliance, saying "they gotta pay".
"Have they fulfilled their obligations to us? If they fulfill their obligations to us, the answer is yes," he said, implying that his government would assign new terms and conditions to allies who were under threat.
Mr Pence later appeared to reword his colleague's comments in line with his own thinking.
"America will stand by our allies. We'll uphold our treaty obligations, including the mutual defense alliance that is Nato. ... America keeps its word, and you can tell Donald Trump keeps his word," he told PBS.
The Khan family
The parents of a fallen Muslim soldier, Humayun Khan, made a moving speech at the Democratic National Convention last month, urging Mr Trump to not smear Muslims' character and to read the US Constitution.
Father of Muslim-American soldier killed in action tells Donald Trump: You have sacrificed nothing
Mr Trump responded by saying he had made sacrifices such as "working very hard" and creating jobs for people.
A few days later he joked about being awarded a Purple Heart medal from a supporter, a controversial move as he has gained renewed attention for the reasons why he did not serve in the Vietnam War.
His comments prompted outrage among Gold Star families, who demanded an apology.
Mr Pence said later in a statement: "Donald Trump and I believe that Captain Humayun Khan is an American hero and his family, like all Gold Star families, should be cherished by every American."
House speaker Paul Ryan
Paul Ryan was accused of delaying his endorsement of Mr Trump after strongly criticising the businessman's remarks, saying Mr Trump's accusations of a federal judge due to his Mexican heritage was the definition of "textbook racism". And Mr Trump has been frosty in return, claiming he would not endorse Mr Ryan.
"I like Paul, but these are horrible times for our country. We need very strong leadership. We need very, very strong leadership. And I'm just not quite there yet. I'm not quite there yet," Trump told the Washington Post.
Two days later, in a show of one of the clearest differences between the two politicians, Mr Pence said that he strongly supported the house speaker, and would "strongly endorse his reelection".
Name-calling
Mr Trump has dipped into his dictionary of insults during his campaign for the White House, including calling women "bimbos" and "pigs". He also labelled his former rival ted Cruz as "Lyin' Ted" and Hillary Clinton as "crooked Hillary".
After Mr Trump re-tweeted an "unflattering" picture of Mr Cruz's wife, Heidi, CNN's Anderson Cooper accused Mr Trump of acting like a "five year old" for saying: "I didn't start it".
Mr Pence told Hugh Hewitt's radio show in July: "I don't think name-calling has any place in public life."
John McCain
The two politicians' views on war prisoner-turned-Arizona senator John McCain are strongly at odds.
"He's not a war hero," said Mr Trump at a Family Leadership Summit in Iowa. "He was a war hero because he was captured. I like people who weren't captured."
He later distanced himself from the remark and said: "If somebody's a prisoner, I consider them a war hero."
Mr McCain was a Navy pilot who spent about five years in a North Vietnamese prison where he was repeatedly tortured.
Mr Trump also accused the senator of doing very little for veterans.
A day later, Mr Pence released a pointed statement: "Senator McCain has provided the kind of leadership throughout his career that has stood up for our military, stood up for a strong America."
Register for free to continue reading
Registration is a free and easy way to support our truly independent journalism
By registering, you will also enjoy limited access to Premium articles, exclusive newsletters, commenting, and virtual events with our leading journalists
Already have an account? sign in
Register for free to continue reading
Registration is a free and easy way to support our truly independent journalism
By registering, you will also enjoy limited access to Premium articles, exclusive newsletters, commenting, and virtual events with our leading journalists
Already have an account? sign in
Join our new commenting forum
Join thought-provoking conversations, follow other Independent readers and see their replies