Bill to ban gay conversion therapy doesn't shy away from its target, spelling out PENCE
Pence going to White House is galvanising the LGBT community to protect progress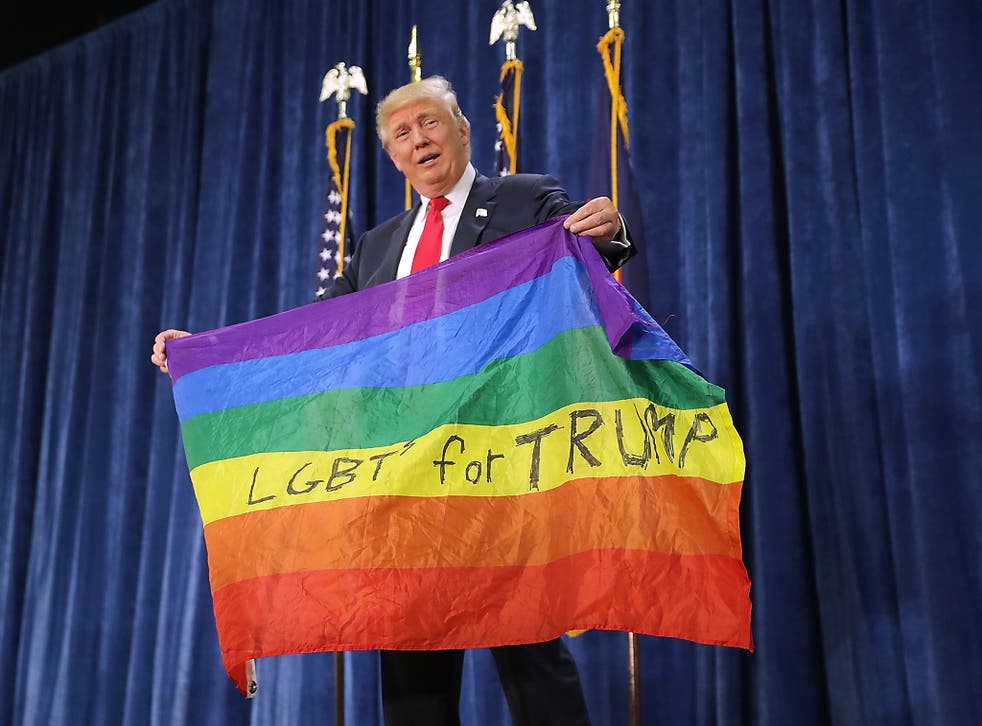 A proposed new law in upstate New York that would ban using conversion therapy on minors is causing more controversy than might be expected because of its name.
Pat Burke, a country legislator in Buffalo, New York, is advocating the passage locally of a bill he has named the Prevention of Emotional Neglect and Childhood Endangerment'. Reduced to its acronym it spells out the last name of the Vice President-elect, Mike Pence.
Mr Burke, a Democrat, is making no bones about his choice of name. Mr Pence, who joined the Trump ticket while serving as Governor of Indiana, has a record or resisting national progress to end all last vestiges of discrimination against the gay, lesbian and transgender community.
Last year, he signed a 'religious freedom' law in Indiana that would have allowed businesses to turn away LGBT customers. Days later, he back off the law amidst a firestorm of criticism.
His record of supporting the widely discredited practice of conversion therapy, at one time thought as appropriate for "curing" homosexuality, is a bit more sketchy. However, a web site supporting his first run for Congress in 2000 certainly gave some indication of his supporting it.
It included a call by Mr Pence on Congress to amend the Ryan White Care Act which had already been passed to provide indigent HIV/AIDS patients with funding for treatment so that some of the money could be spent on helping those "seeking to change their sexual behaviour"
"Congress should support the reauthorization of the Ryan White Care Act only after completion of an audit to ensure that federal dollars were no longer being given to organizations that celebrate and encourage the types of behaviors that facilitate the spreading of the HIV virus," his campaign site admonished. "Resources should be directed toward those institutions which provide assistance to those seeking to change their sexual behavior."
It is one part of Mr Pence's record that is now sowing alarm in the LGBT community, which is galvanising itself to resist any attempt the new administration might make to roll back measures passed during the eight years of President Barack Obama expanding their rights.
"Mike Pence is probably going to have the most power of any vice president in the history of our country and he has openly advocated for conversion therapy," Mr Burke told WBFO, a local Buffalo news station. "I want that to sink into people. I want them to realise it's a serious issue of abuse of children. Flatly, whether they are gay or not, it's abuse. Then you have a man who is going to have enormous power over all of us, who advocates for it."
The Governor of New York, Andrew Cuomo, has already issued an executive order banning the exposure of minors to conversion therapy, which used to involve inflicting discomfort on patients while they saw homo-erotic images with electric shocks or induced vomiting.
But so far, attempts to pass a statewide ban by law has fallen short in the New York Senate. It is his frustration with that blockage that led Mr Burke to introduce his ban, which would apply to all of Erie County, which includes Buffalo. He admits that the name has ruffled some feathers.
"I had some, maybe a few folks who were maybe a little upset about the acronym and thought I was just trying to be cute, but no. These are serious times that we live in," he said.
As much as they fear the influence of Mr Pence, members of the gay and lesbian community are also concerned about the appointment by Mr Trump of Ken Blackwell, a former Secretary of State of Ohio, to head domestic policy during the transition. He has made past statements that homosexuality is a sin, a choice and can be rehabilitated.
"I think it's a transgression against God's law," Mr Backwelll told the Columbus Dispatch in 2006. "And I think you make good choices and bad choices in terms of lifestyle. Our expectation is that one's genetic makeup might make one more inclined to be an arsonist or might make one more inclined to be a kleptomaniac. Do I think they can be changed? Yes."
Join our new commenting forum
Join thought-provoking conversations, follow other Independent readers and see their replies