Gay Olympian Adam Rippon attacks choice of Mike Pence to lead US Olympic delegation
'You mean Mike Pence, the same Mike Pence that funded gay conversion therapy? I'm not buying it,' says first openly gay US winter Olympian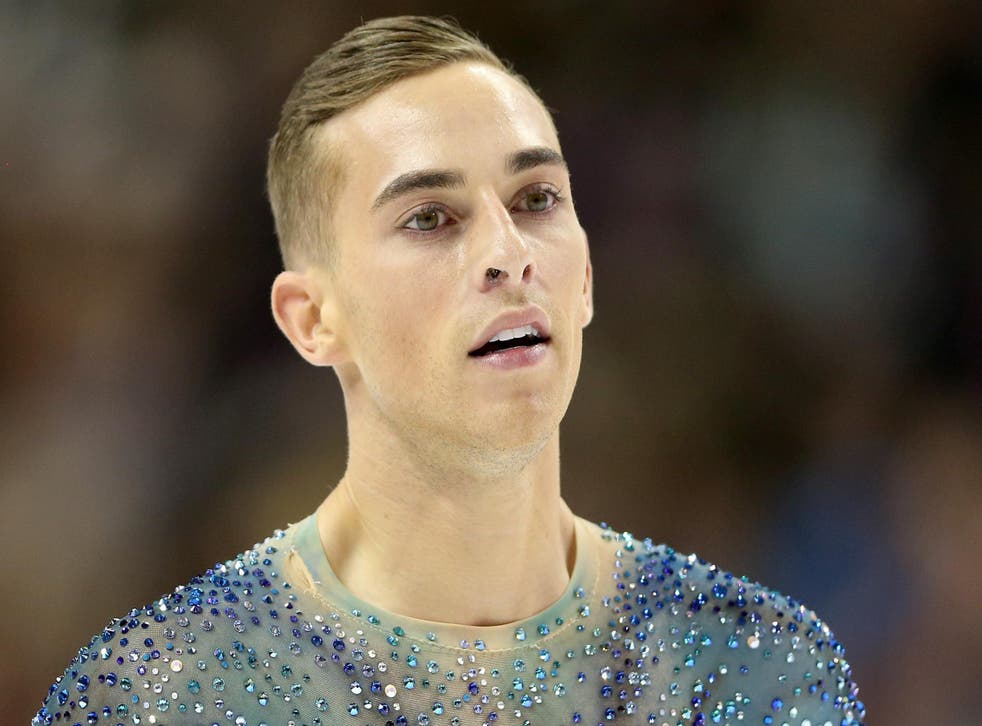 The first openly gay US winter Olympian has condemned the decision to use Vice President Mike Pence to lead the 2018 US Olympic delegation to South Korea.
Adam Rippon, the 2016 US men's figure skating champion, said he was "not buying" the plan to get the ultra-conservative Republican to head up the prestigious ceremony.
Mr Pence, who is known for his profoundly conservative views on marriage equality and LGBT rights, has a record of supporting the widely discredited practice of gay conversion therapy.
"You mean Mike Pence, the same Mike Pence that funded gay conversion therapy? I'm not buying it," the first-time Olympian said in an interview with USA Today on Tuesday.
Rippon, who came out as gay in late 2015, said he was not keen to meet Mr Pence during the official meet-and-greet which takes place between the official delegation and the US athletes just before the opening ceremony.
The 28-year-old said: "If it were before my event, I would absolutely not go out of my way to meet somebody who I felt has gone out of their way to not only show that they aren't a friend of a gay person but that they think that they are sick. I would not go out of my way to meet somebody like that."
He added: "If I had the chance to meet him afterwards, after I'm finished competing, there might be a possibility to have an open conversation. He seems more mild-mannered than Donald Trump... But I don't think the current administration represents the values that I was taught growing up. Mike Pence doesn't stand for anything that I really believe in."
Rippon, who was selected for the Olympic team earlier this month after coming fourth at the US figure skating championships, said he felt Mr Trump's rhetoric and position on many issues were incompatible with the Christian values Mr Pence says he holds dear.
Donald Trump's first year: in pictures

Show all 29
"I don't think he has a real concept of reality. To stand by some of the things that Donald Trump has said and for Mike Pence to say he's a devout Christian man is completely contradictory," he said. "If he's OK with what's being said about people and Americans and foreigners and about different countries that are being called 's***holes,' I think he should really go to church."
On Wednesday, Alyssa Farah, press secretary for the Vice President, denied the allegation Mr Pence supports conversion therapy.
"The accusation is totally false with no basis in fact. But despite these misinformed claims, the vice president will be enthusiastically supporting all the US athletes competing next month in Pyeongchang," Ms Farah said in a statement.
"Resources should be directed toward those institutions which provide assistance to those seeking to change their sexual behaviour," Mr Pence wrote on his congressional campaign website back in 2000.
Many argued the statement was evidence he supported gay conversion therapy, but a spokesperson for Mr Pence told the New York Times in November 2016 that the Indiana-born Republican does not support the practice.
Mr Pence, a devout Christian, is also famed for his anti-abortion views. He has previously vowed to relegate Roe vs Wade - the landmark Supreme Court decision which legalised abortion nationwide in 1973 – to the "ash heap of history, where it belongs".
Unlike Mr Pence, the president himself is not a regular churchgoer and his references to Christianity tend to revolve around political issues and talking points.
Nevertheless, Mr Trump has made efforts to court the Christian vote and 81 per cent of white evangelicals voted for him.
Join our new commenting forum
Join thought-provoking conversations, follow other Independent readers and see their replies