Montreal man charged after 'Joker' threatens to kill one Muslim every week in video
Jesse Pelletier's mother-in-law insists he is a good husband but concedes he is "a bit racist"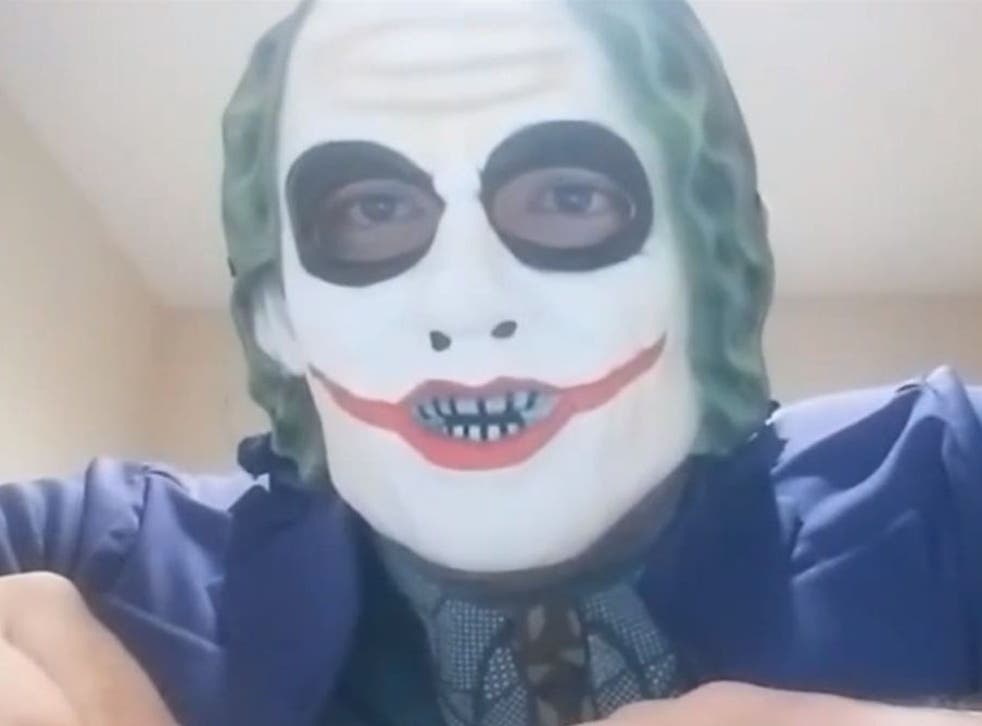 Canadian police have charged a man in connection with a YouTube video featuring a man in a Joker mask threatening to kill Muslims in Montreal.
Jesse Pelletier has been charged with issuing threats, inciting hatred against an identifiable group, making a declaration to incite fear among an identifiable group and using a fake firearm.
In the video, the 24-year-old wears a mask resembling the Joker from the Batman movies, and threatens to "shoot an Arab in the head, once each week, starting next week".
During the footage, he appears to use the terms "Arab" and "Muslim" interchangeable
He said he had a gang of "more than 10" people who would be carrying out the attacks with him to "clean the province of Quebec".
He waved a gun - which later turned out to be fake - at the camera as a baby could be heard crying in the background.
Mr Pelletier's lawyer, Audrey Amzallag, said he meant the video as a joke.
She said he took it down once he realised the impact of it but "unfortunately it stayed on the internet", CBC News reports.
His mother in law, Chantal Plante, told CTV News he was a good husband and father to an 11-month-old boy but conceded he was "a bit racist".
In pictures: Paris attacks

Show all 25
If convicted he could face up to five years in prison.
In the wake of the terror attacks in Paris last week, there has reportedly been a rise in the number of hate attacks against Muslims in Canada.
On Monday, police in Peterborough, Ontario said they were treating a fire at a mosque - where a family had gathered to celebrate the birth of a child - as arson.
In separate incidents, a woman in a hijab was attacked in Toronto and the windows of a Hindu temple in Kitchener, Ontario were smashed.