Mother of boy with autism and Down's Syndrome posts open letter to find Apple employee who helped him
The Apple employee helped to comfort the child after he accidentally ran into a glass wall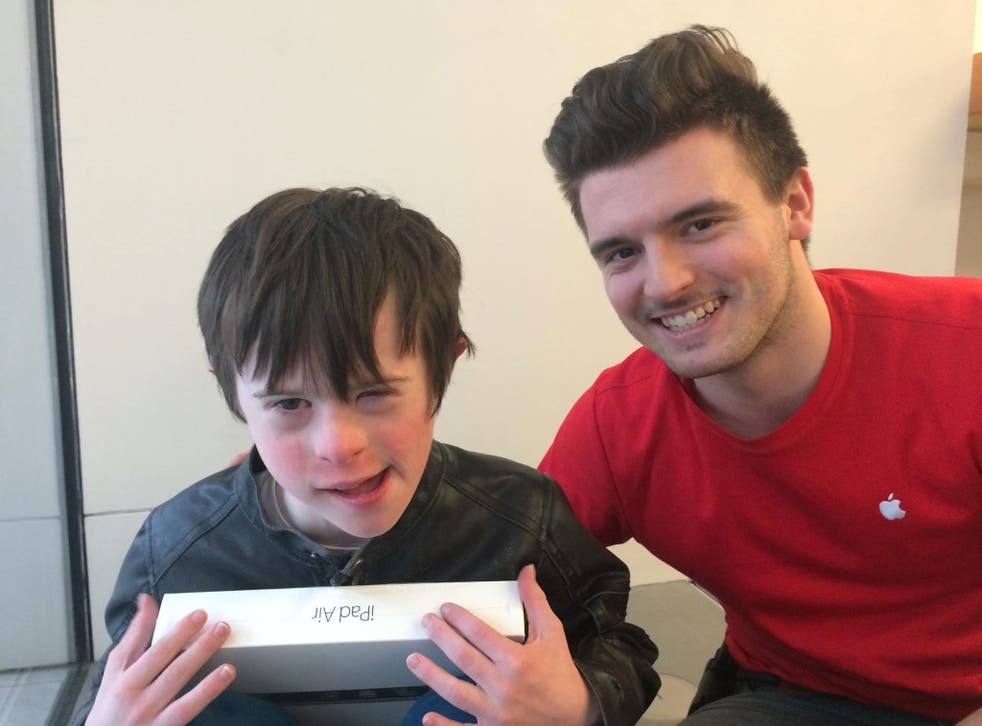 A mother in Nashville has managed tracked down an Apple employee through social media and thank him for helping comfort her disabled son, after posting an open letter on Facebook.
Lynn Marie Rink posted an letter of thanks with a picture of her son James and the employee in the hope of tracking him down after she was taken aback by his kindness.
The employee, now known as Andrew, had helped comfort Ms Rink's son after he ran head first into a glass wall, thinking it was an open door.
Ms Rink and her son James, who has Down's Syndrome and was diagnosed with Autism at the age of six, had been in the Apple store to collect and set up a new iPad, which James uses to help with his communication.
In her letter, Ms Rink explained that while picking up a new iPad for James he "must have seen something that sparked his interest in the mall," because he ran full speed at what he thought was a door, but which turned out to be a glass wall. After James crashed to the floor and his mother ran to help him, the Apple store employee came to help.
"Your awesome employee sat with James on the floor of the store and set up the new iPad.
"There are no words to accurately describe how grateful I am that he took the time to 'meet us right where we were.' He didn't have to sit down on the floor with us. He could have easily waited for us to stand. Could have easily waited for us to come back another day. But he hung out with us in the midst of our pain.
"He even got a fist bump from James, and I snapped this photo," she wrote.
Ms Rink has since posted on Facebook that she has managed to contact Andrew, who emailed her to say the incident had made his day.
Andrew wrote: "Hey Lynn, I want to say thank you so much for those kind words! I began working at Apple in hopes of having fulfilling moments like this. Post Apple my hopes are to work within the realm of youth counseling. Thanks again for making my day!"
Join our new commenting forum
Join thought-provoking conversations, follow other Independent readers and see their replies