Mother drowns holding toddler son above water until he is rescued from lake in Utah
'She was holding the baby out of the water the best that she could,' says the county sheriff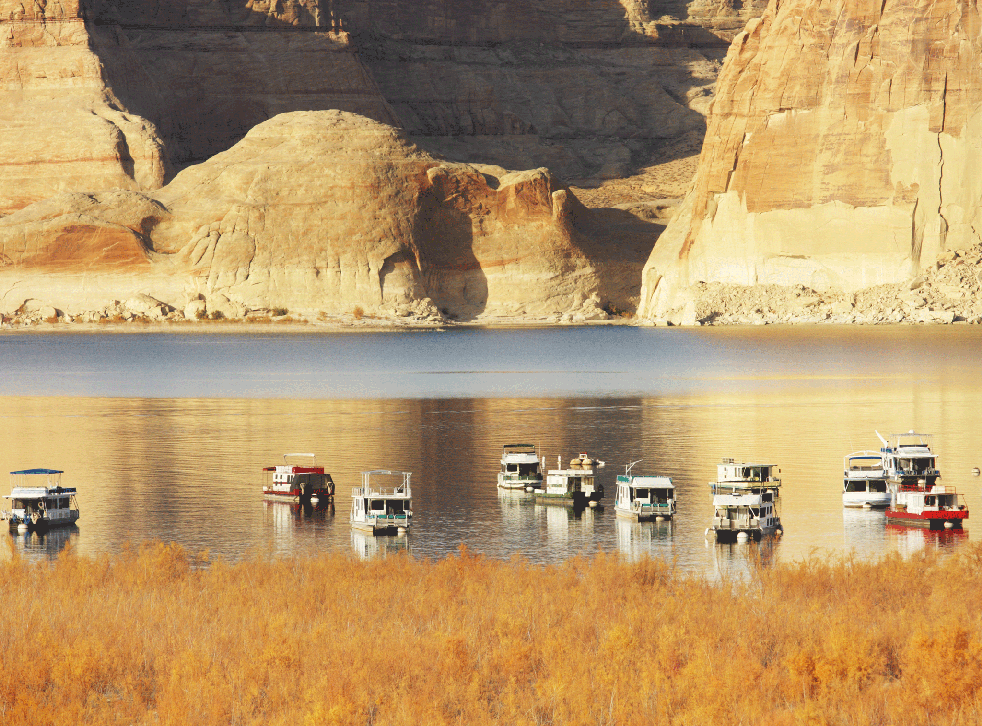 A mother has drowned after diving into a lake to rescue her two-year-old son.
Chelsey Russell jumped from her houseboat after her son fell overboard during a family trip across Lake Powell in Utah.
The 33-year-old from Colorado dived in to rescue her child, while onboard her brother stopped the motor as soon as he could.
Travelling at eight miles per hour, he said the boat was already some distance from the struggling pair. Realising he was too far away to swim to his sister, he returned to the houseboat to fetch a smaller motorboat they were towing.
Neither Ms Russell nor her son had lifejackets on, and her brother had to retrieve a knife to cut the motorboat loose as the minutes passed.
Ms Russell managed to keep her son afloat on her chest for at least five minutes before her brother reached her.
When she was pulled from the water, Ms Russell was unconscious, while her son in a stable condition. Bystanders and officials performed CPR on Ms Russell, but could not revive her.
Rick Eldridge, the San Juan county sheriff, said according to CBS News: "She was holding the baby out of the water the best that she could."
He added he suspected the cause of death was drowning, but said the medical examiner would rule exactly on the case soon.
Boaters aged under 12 are required to wear life jackets on Lake Powell in the Glen Canyon National Recreation Area, a site of natural beauty which has seen six deaths this year.
A legal associate at law firm Welborn, Sullivan, Meck & Tooley, Ms Russell was highly regarded by her employers.
The firm posted a statement saying: "Chelsey was an amazing mother, an exceptional legal talent, an extraordinary athlete, a loyal and generous friend, and left us all better for knowing her.
"She is sorely missed."
Lake Powell is a reservoir, embraced by towering sandstone rock, on the border of Utah and Arizona in the US.
Join our new commenting forum
Join thought-provoking conversations, follow other Independent readers and see their replies