Mother grizzly bear may face death if DNA test proves she killed hiker in Yellowstone National Park
Lance Crosby, 63, was found dead in the park last week
Serina Sandhu
Wednesday 12 August 2015 18:53 Comments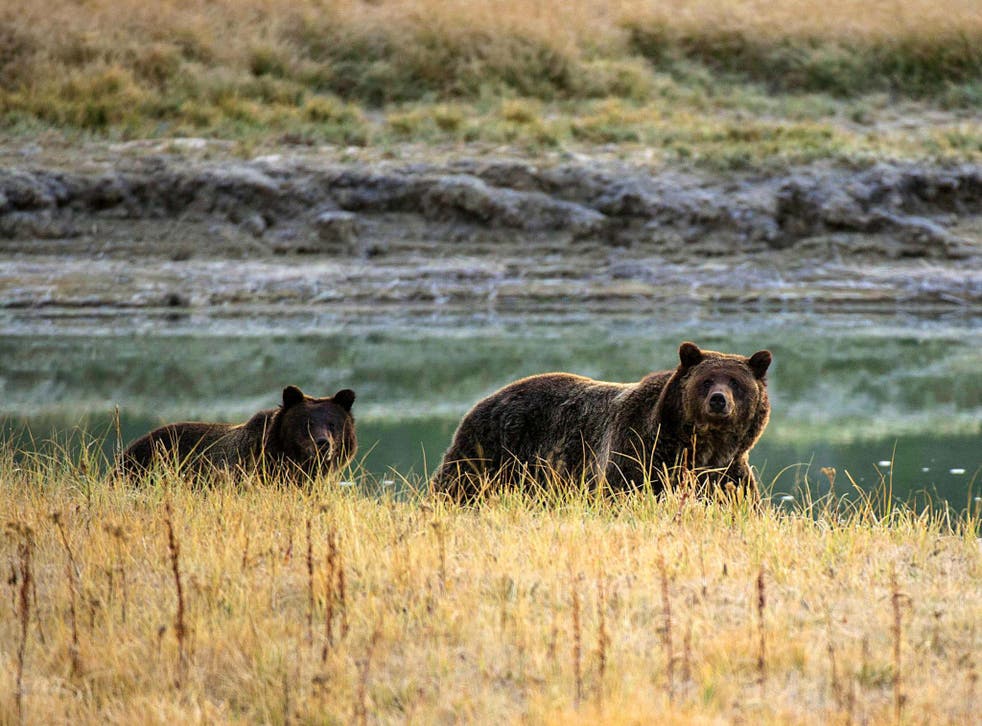 A mother grizzly bear - and her two cubs - could be put to death if DNA tests prove that she killed a hiker at Yellowstone National Park.
The body of Lance Crosby, 63, was found partially eaten at the park last Friday. The adult grizzly was captured soon after nearby when biologists took DNA evidence, scat samples and paw measurements.
Her two cubs, the second of which was found at the scene where was Crosby attacked, may also be killed if a place is not found for them at a zoo or animal rehabilitation facility.
Crosby, from Montana, had been hiking alone in the park, which sprawl across Wyoming, Montana and Idaho. The experienced hiker was not carrying any bear spray.
The National Park Service said his "body was found partially consumed and cached" by a park ranger around five miles from the Elephant Back Loop Trail.
It said that an adult female grizzly bear and at least one cub were likely to be involved in Crosby's death.
If identified, the park said the adult bear would be euthanised to keep the public safe.
Dan Wenk, a Yellowstone National Park Superintendent said: "The decision to euthanize a bear is one that we do not take lightly. As park managers, we are constantly working to strike a balance between the preservation of park resources and the safety of our park visitors and employees."
Endangered animals and plants at UK border

Show all 10
But some people have criticised the park's decision.
Barbara Gallagher wrote on Facebook said: "This bear was in it's habitat and a person was also in it. The bear protected her cubs as is natural. So the bear gets euthanized for doing a natural act? And if you do kill her, you'll probably kill the cubs too. WRONG WRONG WRONG!"
But the park responded by saying: "We know the bear fed on the hiker's body and we do not want bears considering humans as food."
"Unfortunately, balancing visitor safety with resource protection leads to some very difficult decisions for park managers, and this is one of them."
A Change.org petition has also been launched, urging the park to release the bear.
According to the National Park Service, there could be up to 839 grizzly bears in the Greater Yellowstone Ecosystem, with around 150 occupying ranges within the park.
And last year, there were 28 "known and probable grizzly mortalities" in the Greater Yellowstone Ecosystem. No deaths were recorded within the park in 2013.
Additional reporting by AP
Register for free to continue reading
Registration is a free and easy way to support our truly independent journalism
By registering, you will also enjoy limited access to Premium articles, exclusive newsletters, commenting, and virtual events with our leading journalists
Already have an account? sign in
Join our new commenting forum
Join thought-provoking conversations, follow other Independent readers and see their replies