Ms Senior California pageant: The contest that proves beauty knows no (age) limits
The Ms Senior California pageant is all about about elegance, say its entrants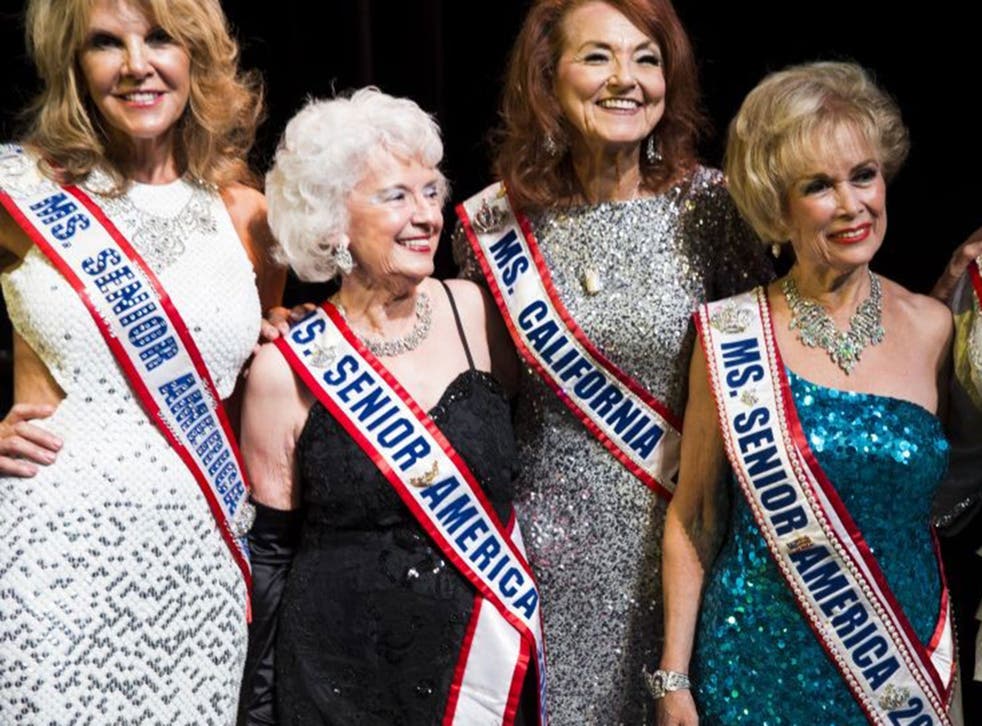 On a recent Saturday at the Rose Centre Theatre in Orange County, California, Dr Gayla Jackson – 67 years old, bombshell blonde and resplendent in a shimmering blue mermaid dress – stepped to the front of the stage to offer her philosophy of life.
"On days when I don't feel happy or grateful for anything, I read the obituaries column," she said. "If my name isn't there, I'm happy – and boy, am I grateful!"
Last year Dr Jackson, a family therapist, came second at the Ms Senior California pageant, an annual contest for women aged 60 and over. This year, her eye was on the winner's tiara. She never competed at beauty pageants as a child or a young woman, but in 2012, egged on by her daughter, she decided to enter the lesser-known last leg of America's pageant race. Organiser Pam Wheeler describes Ms Senior California as "not a beauty pageant, but an "age of elegance" pageant."
The 14 contestants, some in their eighties, were vying not only for the state title, but also for the chance to compete at the Ms Senior America pageant, set to take place in Atlantic City, New Jersey, next month. California winners have brought home a record five national pageant crowns since the first Ms Senior California pageant was held in 1986.
The judges score each woman based on a personal interview, their philosophy of life, their gown and their chosen talent. There is no bikini round, said 63-year-old Carolyn Corlew, Ms Senior America 2013. "And if there was," she added, "it would be in the pitch dark."
Ms Senior California pageant 2014

Show all 9
The talents on show included opera singing, tap dancing and baton-twirling. One contestant sang a number from Andrew Lloyd Webber's Phantom of the Opera, wearing a full-bodied Sarah Brightman wig. Dr Jackson delivered an evocative monologue telling the story behind the bugle melody, "Taps", which is played at US military funerals.
The contestants were all keen to share their accomplishments. Judy Lamppu, from Granada Hills was once Doris Day's executive assistant. Syni Champion, Ms Senior Sacramento 2014, is the author of a book of motivational poetry, The ABCs of Self-Esteem. Rebecca Morse, contestant No 14 from Pasadena, began her career as a dancer in the UK – on The Black and White Minstrel Show.
At the pageant's climax, as per the form book, Dr Jackson was crowned Ms Senior California 2014. She intends to use her title to inspire elderly women, she said. "I'm going to be seen as much as I can at women's organisations and senior organisations. I want women to show themselves, be good to themselves, to go against their fear and live! You can be beautiful at any age."
Victory at the pageant appears to correlate with longevity: of the 29 women crowned Ms Senior California since 1986, 26 are still alive. "Every year on my birthday," Dr Jackson said, "I take a huge metal pot and a big metal spoon into the back yard and I beat the hell out of it and scream, 'Yes! I made it again!'"
Join our new commenting forum
Join thought-provoking conversations, follow other Independent readers and see their replies