Lafayette shooting: Three dead and seven injured after gunman opens fire in theatre
3 dead, including gunman, at least 7 victims injured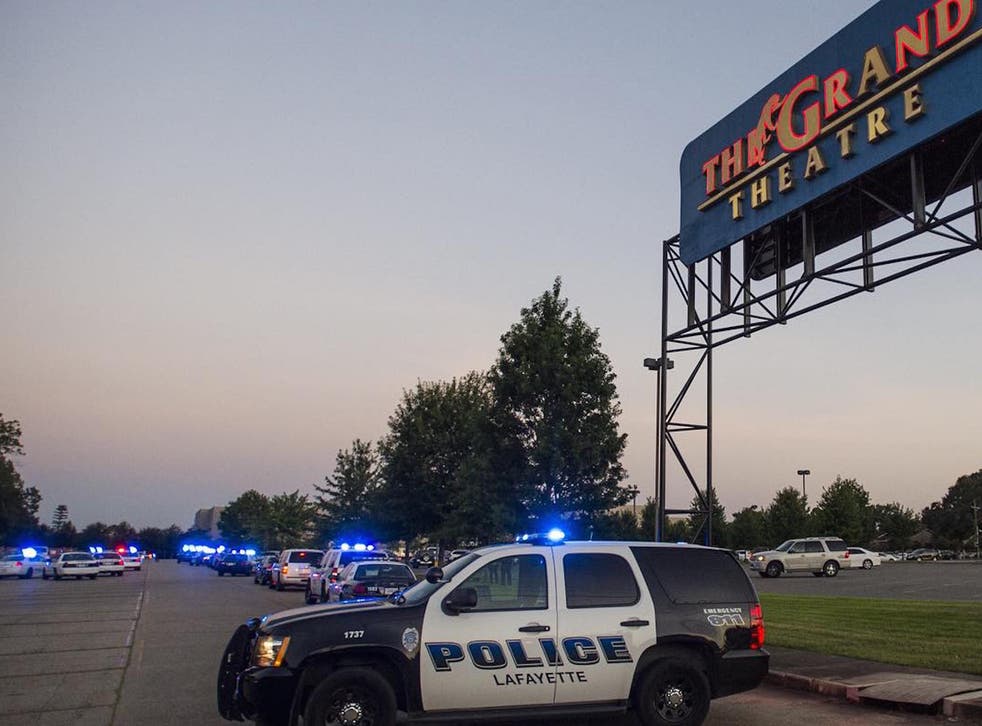 Three people have died and seven were injured after a gunman opened fire in a Louisiana movie theatre, police have said.
The gunman, who has been described as a 58-year-old "lone white male", killed two people after firing his weapon "numerous times" at the Grand Theatre in Lafayette before shooting himself, Police Chief Jim Craft said.
The gunman was later identified as John Russell Houser.
The injuries of those hurt in the incident ranged from non-life threatening to critical, he said.
Col Mike Edmonson of the Louisiana state Police said about 100 people were in the theatre at at the time of the shooting.
He said police believed shots were only fired at the theatre and the gunman had not attacked anywhere else.
He said: "We have no reason to believe that this individual acted beyond this location here."
Lafayette City Marshal Brian Pope told The Daily Advertiser that a gunman had opened fire before killing himself.
In pictures: Lafayette shooting

Show all 7
Katie Domingue, a witness, told the newspaper that about 20 minutes into the showing of the film "Trainwreck," an "older white man" stood up and began shooting.
"We heard a loud pop we thought was a firecracker," she said. "He wasn't saying anything. I didn't hear anybody screaming either."
The Acadian Ambulance Service later tweeted a statement saying that seven other people were being transported to area hospitals.
Louisiana Governor Bobby Jindal released a statement saying he was monitoring the situation before arriving to the scene. Police and FBI agents are also at the theatre to investigate.
Governor Jindal said one teacher jumped in front of a bullet to protect another person from being shot. The teacher was then able to pull a fire alarm.
One young witness told KATC TV-3 that he safely escaped the scene but couldn't believe what he had witnessed in his hometown. He said he saw one woman with a gunshot wound in her stomach.
"There was a woman standing in a dress full of blood. She was looking right at me. That woman probably never did a bad thing in her life — what did she do to deserve that?"
Amy Schumer, the star of the film "Trainwreck," tweeted her condolences after the news broke.
Join our new commenting forum
Join thought-provoking conversations, follow other Independent readers and see their replies