Women's March In Tennessee forced to change route after neo-Nazis vow to hijack it
Activists forced to change planned route and heighten security measures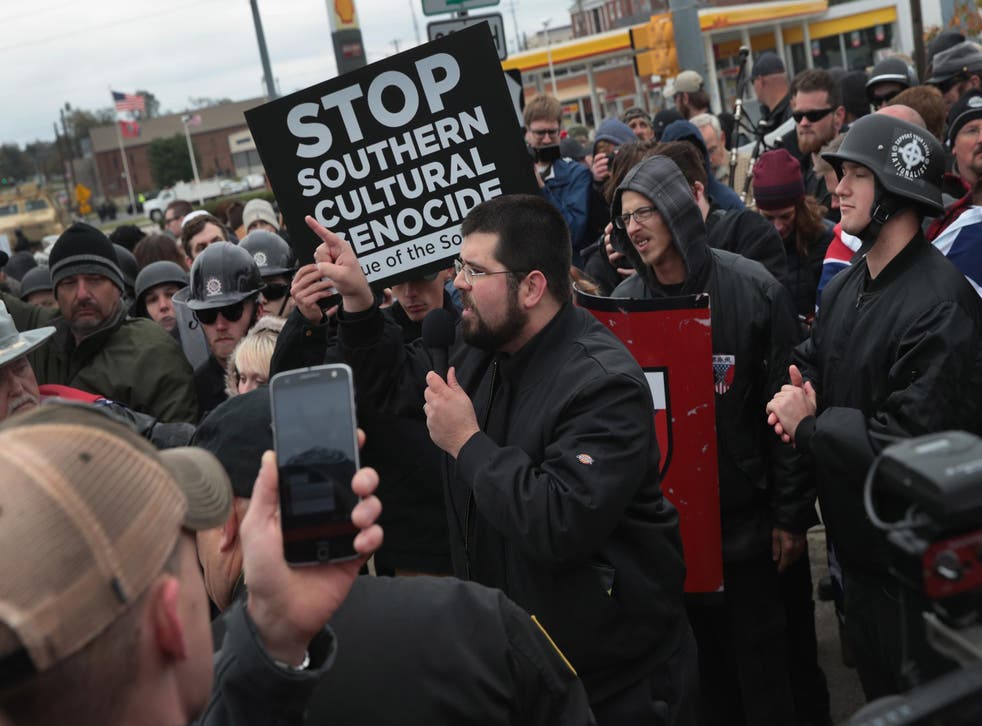 Activists behind the Women's March in Knoxville have been forced to change their route and ramp up security measures in the wake of neo-Nazi plans to hijack the event.
The march, which takes place on Sunday, coincides with similar events across the US this weekend which mark the first anniversary of the Women's March against Donald Trump.
Activists took to the streets in 60 countries and on seven continents to promote equal rights for women and defend marginalised women after the US president's inauguration a year ago.
But the second annual Women's March in the Tenessee city has faced resistance from a self-avowed nationalist socialist group aligned with the so-called "alt right" – a political movement widely accused of racism, antisemitism, and misogyny.
The Traditionalist Worker's Party (TWP), a far right group in favour of a white-only nation state, has planned a counter-demonstration to the Women's March.
Matthew Heimbach, who leads the organisation the Southern Poverty Centre classifies as a hate group, told Newsweek they estimated the turnout at the protest to be around 50 to 60 members.
The 26-year-old, who openly expresses his respect for Adolf Hitler and is a holocaust denier, played a role in promoting the "White Lives Matter" rally which took place in Tennessee in October. But his speech at the event was drowned out by counter-protesters playing Martin Luther King Jr's "I Have A Dream" speech.
Women's March 2018 across the world: in pictures

Show all 35
Writing in a blog post on the TWP's site published earlier in January, the far right activist who has been christened "The Little Fuhrer" said: "As the defenders and advocates of women and our children, the Traditionalist Worker Party is taking a stand in Knoxville Tennessee on Sunday January 21st against the proposed feminist march and in support of the March for Life being held the same day.
"Any movement that doesn't defend the sanctity of life is not a movement worth having. If we are to build a free nation for our children, we must first secure life for our children."
This stands in stark contrast to the aims of the Women's March which Kimberley Peterson, spokeswoman for the Women's March Coalition of East Tennessee, describes the goal as being a "celebration" and a "positive upbeat event".
While the Women's March had initially been planned to kick off at 1pm on Sunday from Market Square, it has been moved to an enclosed area in Krutch Park and will follow a different route to last year due to the security concerns. Ms Peterson said they were working in conjunction with the Knoxville Police Department to make sure demonstrators were safe.
Local anti-racist groups The Holler Network and Nashville Anti-Racist action lambasted Mr Heimbach and his "hoard of human garbage followers". Explaining their reasoning for confronting the counter demonstrators, they urged people to join forces to "help us take this trash the f*** out of East Tennessee".
"From indigenous resistance to militant maroon communities, to multiracial labour strikes and prisoner uprisings, to the very existence of tight-knit black and brown communities across these hills, we know Appalachia has never been and will never be their all-white vision - as long as we continue to resist," they said in a statement on It's Going Down, a platform for anti-fascist activism.
Despite the TWP saying they plan to join anti-abortion activists in Knoxville, the activists behind the March To Life have rejected the far right group's plans.
"Any group or individual that promotes white supremacy or other dehumanizing world views, are not in tandem with the position of Tennessee Right to Life on the value of every person's dignity and life," Ed Albin, a Tennessee Right to Life leader, said in a Facebook post.
"Our organisation's march has a single agenda to support the rights of mothers and the unborn, and we don't agree with the violent agenda of white supremacists or Antifa."
The threat of far right violence in the US has grown in recent years and could be seen in full force at a white supremacist rally in Charlottesville over the summer which saw anti-fascist activists clash with neo-Nazis, Ku Klux Klan members and far right supporters.
Clashes turned deadly after a 20-year-old man, who officials say had Nazi sympathies, mowed his car into the crowd of peaceful anti-fascist demonstrators and killed a female civil rights activist.
Register for free to continue reading
Registration is a free and easy way to support our truly independent journalism
By registering, you will also enjoy limited access to Premium articles, exclusive newsletters, commenting, and virtual events with our leading journalists
Already have an account? sign in
Register for free to continue reading
Registration is a free and easy way to support our truly independent journalism
By registering, you will also enjoy limited access to Premium articles, exclusive newsletters, commenting, and virtual events with our leading journalists
Already have an account? sign in
Join our new commenting forum
Join thought-provoking conversations, follow other Independent readers and see their replies