Bejamin Netanyahu speech: Far-right blogger calls for Black Congressional Caucus Democrats boycotting speech to be hanged
King called those who voted for Black Congressional Caucus members 'clucks'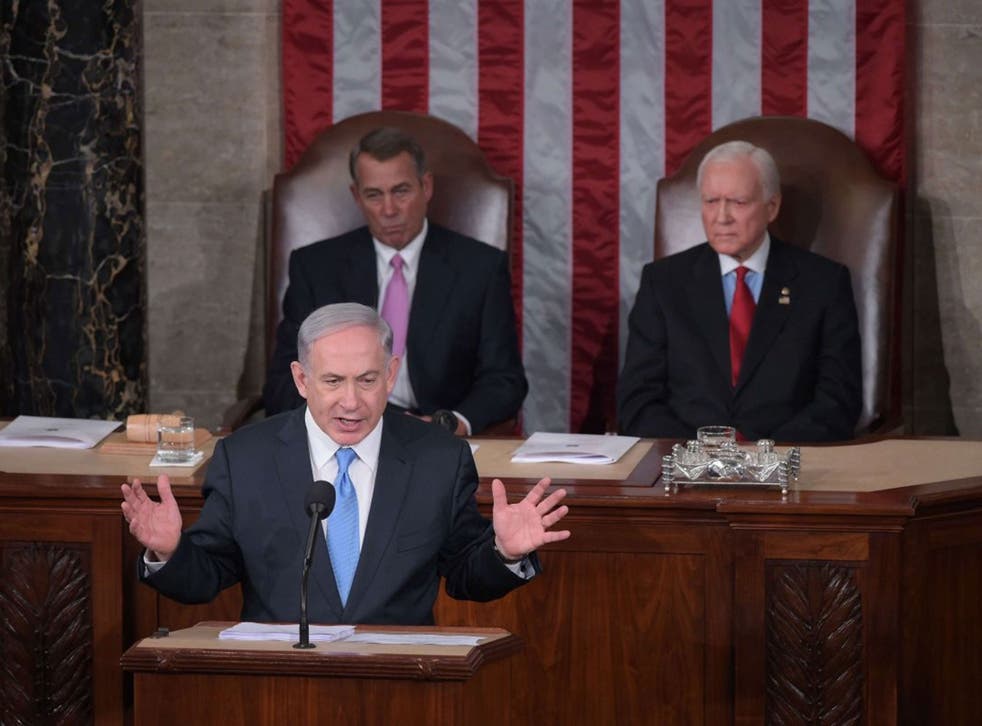 A far right-wing radio host has sparked a race row, after she called on Democrat politicians, including members of the Black Congressional Caucus, to be hanged if they boycotted a controversial speech by Israel's Prime Minister Benjamin Netanyahu to Congress today.
More than four dozen House and Senate Democrats said in advance they would not attend the event in a highly unusual move given historically close ties between the two allies.
Andrea Shea King, a member of the populist Tea Party movement, said in her weekly talk-radio show: "I would like to think that these guys [Congressmen boycotting the speech] could pay with their lives, hanging from a noose in front of the US Capitol Building."
"Because what they are doing is they are putting their own interests above that of America.
"And to me, that is criminal. Criminal!" she continued in a clip from her show re-published by Right Wing Watch on Monday.
King added that most of the members choosing not to attend the speech are members of the Congressional Black Caucus - an organisation which represents the African-American members of Congress - and went on to label their voters "dumb clucks".
"Because the dumb clucks wouldn't be electing these people if they knew better."
She added that several members of the Black Congressional Caucus have told the media "that they see the speech as disrespectful to the president."
"How do people like this get elected to rep us in Congress? Because there are stupid people out there in those congressional districts that are so ignorant that its dangerous.
In pictures: Anti-Israel demonstrations

Show all 9
"I don't know who I'm angrier with, these heinous people who occupy the halls of congress or the dumb clucks that put them there.
Referring to an Isis video showing the murder of a Jordanian pilot and the threat posed by Isis, she told listeners: "Stupid, stupid, people. Our lives are on the line and all they can think of is skin colour. You know, all of us are going to turn black if we end up in a cage on fire."
Falling short of an apology, Ms King published a response to her comments on her blog today, in a post entitled "In retrospect…a mea culpa".
"In one of my recent radio programs, I said something in the heat of passion that in retrospect, should have been more tempered. My comments were about those members of Congress who announced they would not attend Israeli Prime Minister Benjamin Netanyahu's address to a joint session of Congress," she wrote.
Netanyahu's appearance in Congress has stirred controversy because House Speaker John Boehner, a Republican, invited the leader without consulting the White House or Democratic leaders in the House and Senate.
The speech comes at a time when relations between the US and Israel are already low.
The White House expressed its displeasure with Netanyahu's appearance by word and deed, dispatching Vice President Joe Biden on an overseas trip that meant he did not fill his customary seat behind the House rostrum during the speech. Nor did the Israeli leader meet at the White House with Obama on his trip to the United States.
Additional reporting by
Join our new commenting forum
Join thought-provoking conversations, follow other Independent readers and see their replies