The new battle for Wounded Knee: Sale of massacre site divides tribe
As a patch of their native land is offered for £2.5m, the Lakota people have been left split by what to do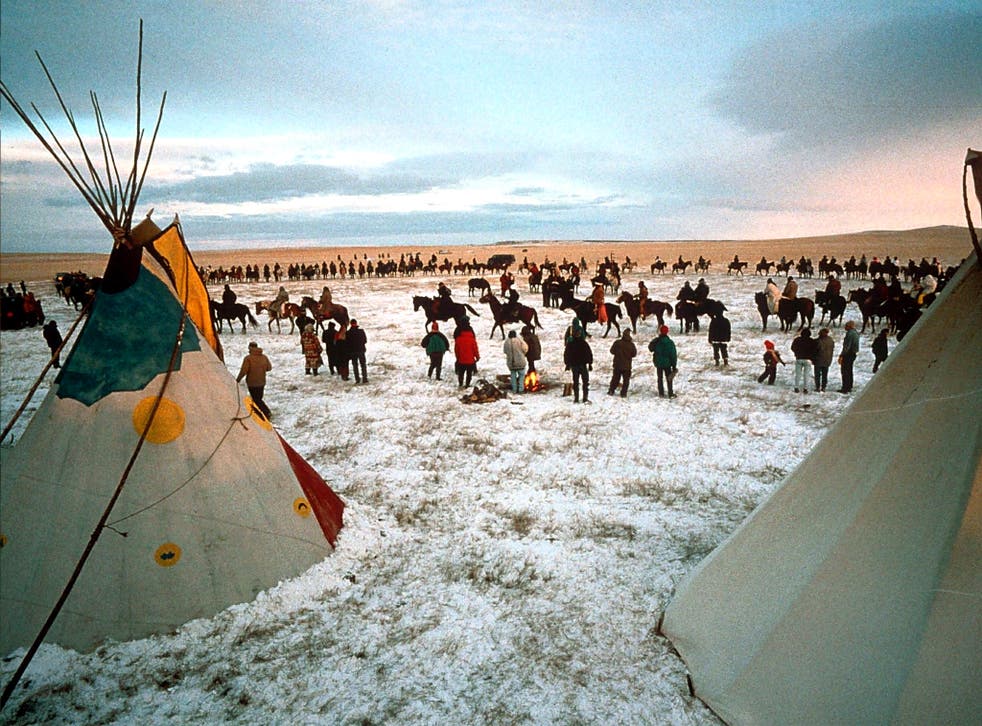 Some of the Native American Indians living on the Pine Ridge reservation in South Dakota can still recall first-hand accounts of the massacre at Wounded Knee in December 1890, when American soldiers killed up to 300 men, women and children of the Lakota Sioux in the last bloody engagement of the American Indian wars.
The soldiers were praised as heroes by the then-President Benjamin Harrison, but the New York Times disagreed, opining at the time that the American Indians had been "robbed when at peace, starved and angered into war, and then hunted down by the government."
Today, a 40-acre patch of the land where the massacre occurred is for sale, after the region's impoverished Sioux descendants failed to raise the $3.9m (£2.5m) demanded by its owner to retain it under their ownership. James Czywczynski, 74, says he will now open it up to commercial buyers, who could develop the site as a tourist attraction. The impending auction has sown divisions within the tribe and raked over painful memories of past injustice.
In 1973 the massacre site again became the focus of American Indian anger, after the militant American Indian Movement (AIM) chose the historic location to stage a protest against government abuse.
In the 71-day siege with federal agents that followed, one FBI agent and several Native Americans were killed. Mr Czywczynski, who has held the deed since the 1960s but now lives 100 miles away in Rapid City, watched his home destroyed during the standoff.
The Wounded Knee Memorial and Sacred Heart Cemetery, where some 150 victims of the 1890 massacre are buried, are not included in the land for sale. However, Mr Czywczynski's 40 acres do include the site of the killings themselves, as well as the location of a former trading post that featured in the 1973 AIM occupation. He told the Native American-run Native Sun News: "We would really like to see the land returned to the Lakota people, and that is why I am giving them an opportunity to purchase [it] before I open it up to others for sale."
But the local Lakota Sioux, who remain deeply in debt, say the price tag is preposterous for grassland that would be worth less than $10,000 if not for its historic significance. And within the tribe there has been debate over what should be done with the land, even if they could raise the funds to acquire it. Pine Ridge remains one of the poorest counties in the US, afflicted by crime, alcoholism and an unemployment rate of 80 per cent. Yet some remain opposed to any economic development, preferring to let their ancestors rest in peace. Others, however, want to create a permanent official memorial to the Wounded Knee massacre, and to encourage responsible tourism in the area.
Brandon Ecoffey, managing editor of the Native Sun News, said: "You have the Holocaust Museum in Washington DC, the 9/11 Memorial in New York City, the Gettysburg monument. There are sites like that across the world, and there's no reason Wounded Knee couldn't be one, too. The people from the community who are saying they don't want any commercialisation are locking the next generation into poverty... If the tribe really wanted to raise the money, it could."
Join our new commenting forum
Join thought-provoking conversations, follow other Independent readers and see their replies