New Hampshire primary: What would victory mean for Donald Trump and Bernie Sanders and why is the vote so important?
Opinion polls before the vote predicted the pair would win the second state primary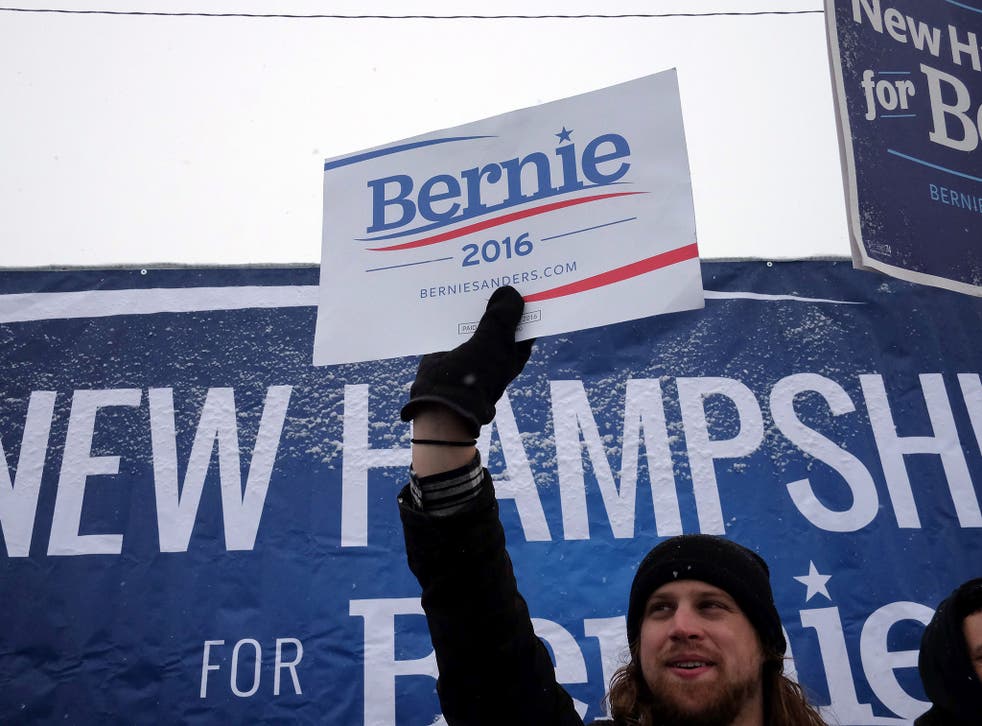 Donald Trump and Bernie Sanders are on course to win the crucial New Hampshire primary, if opinion polls are to be believed.
The pair were considered Republican and Democrat outsiders at the start of the nomination campaign but have emerged as serious competition to their "establishment" rivals.
So what would winning the vote in New Hampshire mean?
New Hampshire is only the second US state to hold its primary for the presidential elections but it traditionally plays a pivotal role.
As well as providing momentum to the winners heading into the next contests in South Carolina and Nevada before the end of February, New Hampshire's vote has a striking record at foreshadowing the eventual candidates.
In the last 10 elections, the winner of the Republican primary went on to become the eventual nominee eight times, while on the Democratic side, seven winners went on to become nominees.
During the last primary in 2012, President Barack Obama was nominated by New Hampshire Democrats, while his eventual rival Mitt Romney was chosen by state Republicans.
Any candidates who fare poorly could also see donations dry up and face pressure to withdraw from the race.
How much will New Hampshire's 'independent' voters impact the US elections?
What are the results so far?
The polls have opened in some areas at midnight local time on Tuesday, with most due to close by 7pm local time (12am GMT).
The first voters in Dixville Notch chose John Kasich for the Republicans and Mr Sanders for the Democrats.
He won all Democratic votes, while Mr Kasich sneaked past Mr Trump by three votes to two in the tiny town.
It is one of several communities allowed to hold their polls earlier than the rest of the state because they have fewer than 100 voters.
In nearby Millsfield, Ted Cruz beat Mr Trump 9-3 and Hillary Clinton won for the Democrats by 2-1, CNN reported.
And in Hart's vote Mr Sanders won by 12 votes to seven and Mr Kasich narrowly beat Mr Trump by five votes to Trump's four, with four other Republican candidates winning one vote each.
Mr Trump had the support of 31 per cent of Republican voters, leading Marco Rubio on 17 per cent and Ted Cruz on 14, according to a WMUR-CNN poll released on Monday.
John Kasich, the Ohio governor, had a tenth of the votes, while Jeb Bush was on seven and Chris Christie on four.
Mr Sanders had a strong lead over former Secretary of State Hillary Clinton, who narrowly beat him in Iowa despite polls showing him with a 2-1 lead.
The WMUR-CNN survey put Mr Sanders' backing from Democrat voters at 58 per cent, ahead of Mrs Clinton on 38 per cent.
Why are there so many more Republican candidates?
While Mrs Clinton and Mr Sanders are the last Democrats standing in the race, a total of nine Republicans are still technically in the running.
A lack of a clear front-runner in the early days of the election, combined with deep divisions within the Republican Party (GOP) and the huge funding allowed for campaigns has ignited hopes for a range of contenders.
GOP analysts were hoping that New Hampshire would be the proving ground to narrow the unwieldy field, with Mr Rubio's surge into third place in Iowa a week ago raising him as a prospective mainstream rival to ultra-conservatives Mr Trump and Mr Cruz.
But a poor debate performance in the Saturday before the vote put the rise of Mr Rubio – a Florida senator, in doubt.
Carly Fiorina and Ben Carson are languishing at the bottom of bookmakers' predictions, while the odds for Jeb Bush and New Jersey governor Chris Christie show they are not currently perceived as a serious threat.
Dante Scala, an analyst on local politics at the University of New Hampshire, said that if Mr Rubio did not do well in Tuesday's primary, "it isn't fatal necessarily, but it makes the road to the nomination longer and riskier."
What are primaries and caucuses?
The votes are held in each state to allow America's two main political parties, the Republicans and Democrats, to pick a candidate to run as President.
The methods vary by state, with polls running from around January to June, peaking as 11 states vote on Super Tuesday, which will fall on 1 March this year.
By the end of April, most states have cast their votes and the pair who will eventually compete is usually clear, although the results are not official until party conventions are held in July.
In a primary election, the public vote for "delegates" supporting their chosen presidential candidate.
Each state has a certain number of delegates, which are all awarded to the winning candidate. The person from each party with the most delegates runs for President.
In pictures: US Elections 2016

Show all 15
Open primaries are open to all registered voters in a state, who can vote for any candidate, whatever their political allegiance or membership.
In a "closed" primary, only registered voters affiliated with each party in that state can vote, and there are also "semi-closed" primaries, where registered members of an opposing party cannot vote but independents can.
Some states use a caucus - a local meeting system - instead of holding primaries.
Voters usually show their support with an open show of hands or by walking into a designated area.

Additional reporting by agencies
Join our new commenting forum
Join thought-provoking conversations, follow other Independent readers and see their replies