NFL owners, team presidents and chief executives react to President Trump's comments
NFL reacts to Trump's vulgar remarks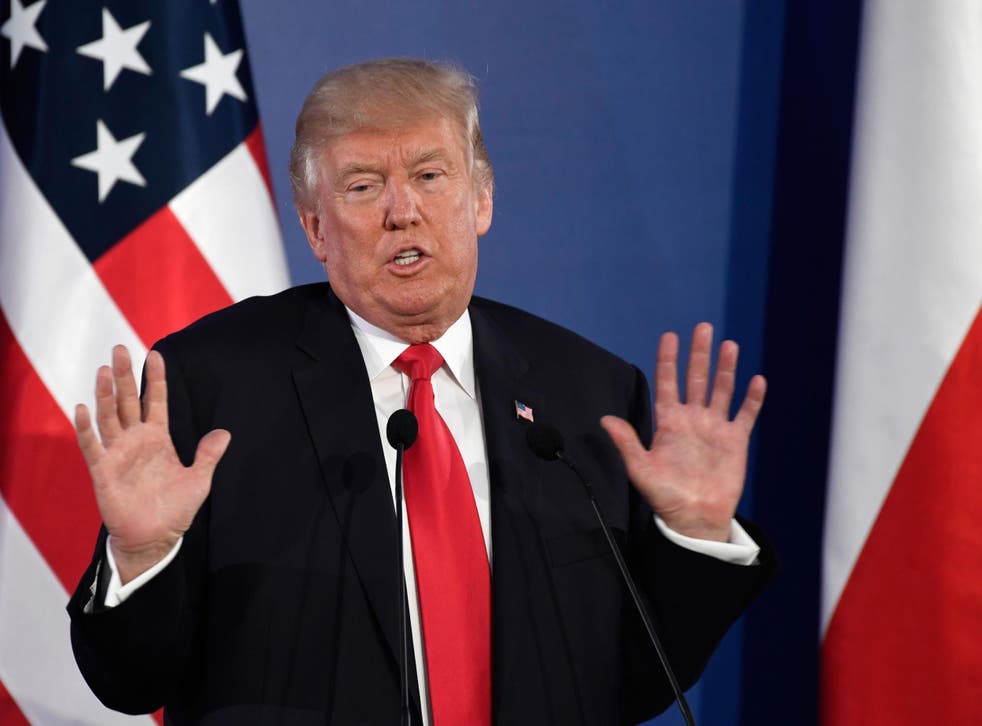 President Trump's wish that NFL owners fire players who kneel during the national anthem is unlikely to come true. In fact, his vulgar and inflammatory remarks about players such as Colin Kaepernick, who chose to kneel for the national anthem to peacefully protest, might end up having the opposite effect.
"Wouldn't you love to see one of these NFL owners, when somebody disrespects our flag, to say, 'Get that son of a bitch off the field right now. Out! He's fired. He's fired!' " Trump said at a political rally in Alabama on Friday. "You know, some owner is going to do that. He's going to say, 'That guy that disrespects our flag, he's fired.' And that owner, they don't know it [but] they'll be the most popular person in this country."
On Saturday, Trump didn't let up. In between tweets about health care reform and North Korean nuclear threats, Trump tweeted three more times about the NFL.
Trump, of course, doesn't have exclusive rights to social media. As of Saturday night, nine owners, chief executives or team presidents had fired back at Trump, posting at times strongly worded statements to Twitter and their team's websites.
Among them were Eagles owner Jeffrey Lurie, Bills owners Terry and Kim Pegula, Dolphins owner Stephen Ross, Packers President Mark Murphy, 49ers CEO Jed York, Broncos President Joe Ellis, Chargers owner Dean Spanos, Colts owner Jim Isray and Seahawks President Peter McLoughlin.
Notably not among that list were the eight known team owners who donated to Trump's presidential campaign, Jets owner Woody Johnson, Redskins owner Daniel Snyder, Patriots owner Robert Kraft, Cowboys owner Jerry Jones, Jaguars owner Shad Khan, Texans owner Bob McNair, Buccaneers owner Edward Glazer and Rams owner Stan Kroenke.
Save for Lurie and Ross, however, who have overtly associated themselves with Democratic objectives, many of the others, much like the majority of the NFL power set, have demonstrated more conservative leaning.
Stephen Ross, Dolphins
Ross was one of the first to speak out, releasing his statement via the Dolphins' Twitter account.
Ross staunchly defended players' rights to kneel, calling the Dolphins players who've knelt in the past "smart young men of character."
"Our country needs unifying leadership right now, not more divisiveness," Ross said. "We need to seek to understand each other and have civil discourse instead of condemnation and sound bites. I know our players who kneeled for the anthem and these are smart young men of character who want to make our world a better place for everyone. They wanted to start a conversation and are making a difference in our community, including working with law enforcement to bring people together. We all can benefit from learning, listening and respecting each other. Sports is a common denominator in our world. We all have the responsibility to use this platform to promote understanding, respect and equality."
Jeffrey Lurie, Eagles
Lurie's statement echoed much of the sentiment of Ross's, noting sports have the ability to heal divisions in society.
"The best of us lend our compassion and determination to the aid of others," he said. "Every day I see the genuine dedication and hard work of our players. And I support them as they take their courage, character and commitment into our communities to make them better or to call attention to injustice. Having spoken with our players, I can attest to the great respect they have for the national anthem and all it represents. We at the Philadelphia Eagles firmly believe that in this difficult time of division and conflict, it is more important than ever for football to be a great unifier."
Kim and Terry Pegula, Bills
The Pegulas called Trump's remarks "divisive and disrespectful" in a statement released late Saturday after meeting with the team.
"Several of us met tonight — players, coaches, staff, and ownership. Our goal was to provide open dialogue and communication. We listened to one another. We believe it's the best way to work through any issue we are facing- on and off the field," the statement read. "President Trump's remarks were divisive and disrespectful to the entire NFL community, but we tried to use them as an opportunity to further unify our team and our organization."
It continued: "Our players have the freedom to express themselves in a respectful and thoughtful manner and we all agreed that our sole message is to provide and to promote an environment that is focused on love and equality."
Mark Murphy, Packers
Murphy called Trump's statement "offensive," before noting the importance of supporting peaceful protest in a statement posted to the team's website.
"It's unfortunate that the President decided to use his immense platform to make divisive and offensive statements about our players and the NFL," Murphy said. "We strongly believe that players are leaders in our communities and positive influences. They have achieved their positions through tremendous work and dedication and should be celebrated for their success and positive impact. We believe it is important to support any of our players who choose to peacefully express themselves with the hope of change for good. As Americans, we are fortunate to be able to speak openly and freely."
Jed York, 49ers
York referred to Trump's remarks as "callous" in a statement he posted to his personal Twitter account.
"The callous and offensive comments made by the President are contradictory to what this great country stands for," York said. "Our players have exercised their rights as United States citizens in order to spark conversation and action to address social injustice. We will continue to support them in their peaceful pursuit of positive change in our country and around the world. The San Francisco 49ers will continue to work toward bringing communities, and those who serve them, closer together."
Joe Ellis, Broncos
Ellis was slightly more diplomatic in his response. Not mentioning Trump's remarks in particular, he still lauded Broncos players for their dedication to the team and bringing awareness to "important societal issues."
"Our players have shown a tremendous commitment to raising awareness for important societal issues by using their platform in a positive way,'' Ellis stated. "In addition to their hard work off the field, we have great admiration for their dedication to making our team the absolute best it can be. They've made incredible sacrifices to reach this level, and we recognize they give their all to our team and our fans each and every day.
He continued: "As an organization, we could not be more proud, appreciative and grateful for our players. We'll continue to support them and work together to advocate for values of respect, diversity and inclusion."
Dean Spanos, Chargers
Spanos, who has supported several conservative candidates in the past, used his statement to stand behind NFL Commissioner Roger Goodell, who fired back at Trump earlier in the day, calling the president's comments "divisive."
"I wholeheartedly agree with the commissioner's statement," Spanos said in statement posted to the team's website. "The NFL and its players, more than anything, have been a force for good. What our country needs right now is a message of unity, civility and mutual respect."
He continued: "The NFL and our players are at our best when we help create a sense of unity in our country and our culture. There is no better example than the amazing response from our clubs and players to the terrible natural disasters we've experienced over the last month. Divisive comments like these demonstrate an unfortunate lack of respect for the NFL, our great game and all of our players, and a failure to understand the overwhelming force for good our clubs and players represent in our communities."
Jim Irsay, Colts
Irsay said he was "troubled" by Trump's remarks, before listing a litany of positive contributions NFL players have made to society.
"I am troubled by the President's recent comments about our league and our players. Sports in America have the unique ability to bring people from all walks of life and from different points of view together to work toward or root for a common goal, and the Indianapolis Colts are proud to be a part of that tradition in our home city and state," he said. "The vast majority of players in the NFL — especially those who have worn and continue to wear the Horseshoe — have donated millions of dollars to charities, raised money for those affected by recent hurricanes, created charitable foundations, visited schools, mentored students, worked in homeless shelters, cleaned up parks, and put in hours of their personal time toward improving their communities and the lives of those around them."
He continued: "That's the spirit in which this nation was founded, and we all need to work tirelessly to bring people together to take on the challenges that face us and give back to the people of our communities. More so than any result on the field, that is a common goal worth rooting for."
Peter McLoughlin, Seahawks
McLoughlin kept his statement short, noting the team supported the players' right to "peaceful action."
"We fully support our players' use of their freedom of speech and peaceful action to highlight the existing racial and other divides in our country. Our players completely respect the military and veterans of our country; however, they believe these issues need to come to the forefront," he said.
(C) Washington Post
Join our new commenting forum
Join thought-provoking conversations, follow other Independent readers and see their replies