Nigel Farage claims Donald Trump will sign US-UK trade deal within 90 days to speed up Brexit
Former Ukip leader says incoming US President could have agreement 'done and dusted in 90 days'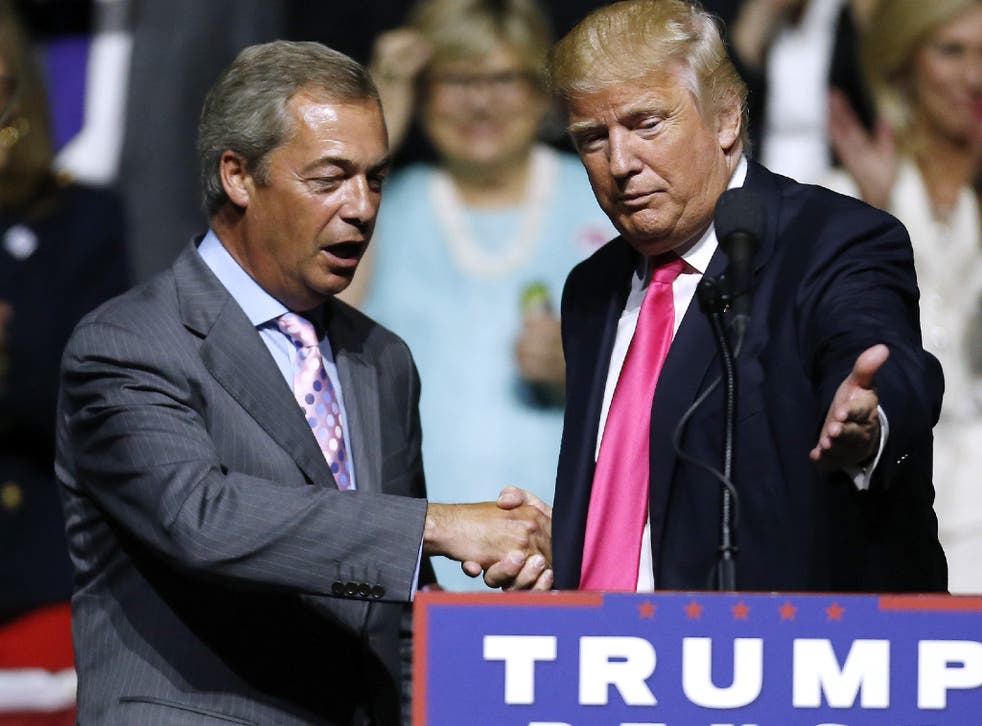 Ukip MEP Nigel Farage has claimed incoming US President Donald Trump will sign a trade deal with the UK in 90 days.
Mr Farage said Trump's team was offering Britain a "great gift", which could be used for "negotiating with the European Union".
The claim means negotiations between the US and UK would begin before the UK has triggered article 50 – the formal process by which it will begin to exit the EU.
Such a move is prohibited under EU legislation. Formal negotiations can only commence once the UK is no longer an EU member, and the earliest the UK is expected to leave the bloc is 2019 – at least 700 days away.
But Mr Farage explicitly said Mr Trump's team had told him it could be done in just three months.
He said: "What I saw with the Trump team were people who came from the private sector, not the public sector, where time is money.
"They said, 'do you know what? We could get this done and dusted in 90 days'."
Trump administration wants UK trade deal within 90 days, says Farage
He added: "This administration has a can-do attitude, of people who are not public sector, they're not 9-5, they are people who are going to work 24/7 to get things done.
"The Trump presidency, his incoming administration, is offering our country a gift. A great gift – not just for business, not just for trade, not just for investment – but actually to strengthen our hand in negotiating with the European Union."
A spokesman for Prime Minister Theresa May said the UK would abide by EU rules regarding the negotiations for a deal.
"When she visits the States she can have an early discussion, but we will abide by our obligations with the EU," the spokesman said.
While the opportunity for a rapid trade deal with the US is a tantalising prospect for those wishing to see a swift end to European influence over Britain, a rushed deal could be disastrous for the UK and hand the nation as much political influence over Britain as the EU currently has, albeit without the high standards the EU demands.
A hasty US-UK deal could mean a raft of compromises for Britain, involving a diverse array of industries and rules, from food and farming through to drug production and environmental legislation.
For example, in the UK, standards and regulations in the food industry are tightly controlled. But a free trade deal allowing US food into the UK market would seriously undermine those standards and would throw UK farmers into direct competition with American producers.
Likewise, an amalgamation of UK and US drug markets could mean the current low prices for pharmaceuticals in Britain could come to an end.
World reaction to President Trump: In pictures

Show all 29
In the US, drugs are prohibitively expensive and intellectual property rights more burdensome – preventing unbranded alternatives from being made more cheaply. If the NHS was opened up to competition from American medical firms it would spell disaster for the health service's finances.
A new trade partnership between the US and Britain would have to grapple with these complex issues, and many more, making major demands on Mr Trump's team as well as Ms May's Government.
Join our new commenting forum
Join thought-provoking conversations, follow other Independent readers and see their replies