North Korea calls US ambassador Nikki Haley a 'prostitute swishing her skirt'
The comments come in response to Ms Haley's criticism from earlier this week
Emily Shugerman
New York
Friday 08 September 2017 19:57 Comments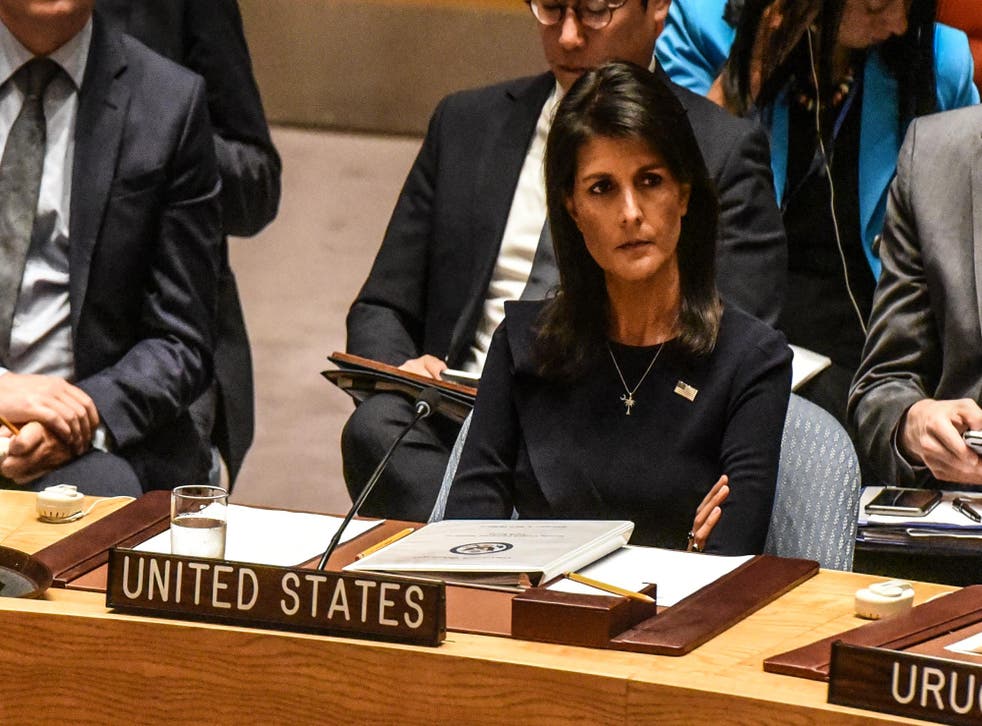 North Korea has responded to criticism from a US ambassador by calling her a "prostitute" who is "swishing her skirt".
"She is crazily swishing her skirt, playing the flagship role in Trump administration's hideous sanctions and pressure racket," the state-run Korean Central News Agency said of Ambassador to the UN Nikki Haley.
The agency added: "Nikki should be careful with her tongue though she might be a blind fool. The US administration will have to pay a dear price for her tongue-lashing."
The tirade appears to be a response to Ms Haley's remarks at a UN Security Council meeting, in which she accused the North Korean regime of "begging for war" in the wake of their sixth-ever nuclear test. Ms Haley pressed the Security Council to impose even stricter sanctions, on top of the estimated $1bn in sanctions they imposed against the country last month.
"Enough is enough," Ms Haley said at the meeting. "We have taken an incremental approach, and despite the best of intentions, it has not worked."
Ms Haley is pushing for an oil embargo on North Korea, as well as a ban on its exports of textiles and the hiring of North Korean workers, according to a draft resolution obtained by Reuters. Even China, the North's largest ally, has agreed that the UN must take more action.
Kim Jong-un inspects weapon North Korea says is powerful hydrogen bomb

Show all 6
US President Donald Trump, meanwhile, has threatened a military solution to the conflict. At one point, he promised to send "fire and fury" to North Korea if the country continued to escalate its threats. The US recently deployed the USS Ronald Reagan, a nuclear-powered carrier, to waters between Japan and the Korean peninsula.
Mr Trump, however, has toned down his rhetoric in recent days, telling reporters that war with North Korea is not inevitable. US Secretary of State Rex Tillerson has also advocated for dialogue and diplomacy.
North Korea conducted its sixth and most powerful nuclear test on 3 September, just days after test-flying a missile over the north of Japan. The country's increasing displays of military might, coupled with its bombastic rhetoric, have set the international community on edge. Experts now believe the regime is close to developing a powerful nuclear weapon.
Many expect North to launch even larger nuclear test on 9 September. The day marks its founding anniversary, and is usually filled with military displays.The country conducted its last nuclear test on 9 September of last year.
Register for free to continue reading
Registration is a free and easy way to support our truly independent journalism
By registering, you will also enjoy limited access to Premium articles, exclusive newsletters, commenting, and virtual events with our leading journalists
Already have an account? sign in
Join our new commenting forum
Join thought-provoking conversations, follow other Independent readers and see their replies