Notorious Mexican drug lord Miguel Angel Trevino who 'stewed' his victims alive captured in raid
The capture of Los Zetas capo Miguel Angel Treviño Morales takes a terrifying killer off the streets. But with the trade worth $13bn a year, there are plenty more like him waiting to take over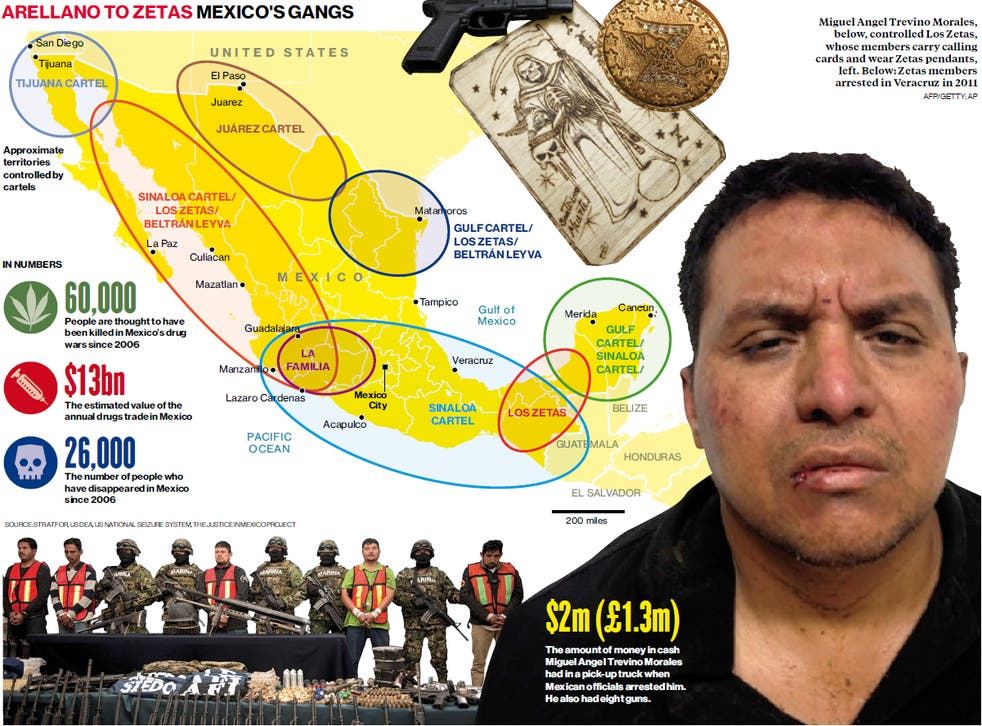 It's possible that he just liked the adrenaline of crossing the desert at the dead of night in a pick-up truck carrying $2m in cash and assorted weapons. Or maybe the seemingly laid-back strategy of the new federal administration in Mexico City had lulled him into seeing himself as simply untouchable. What ever it was – the fun of the ride or sheer arrogance – Miguel Angel Treviño Morales should have stayed at home.
Click image to enlarge graphic
A lot changed at 3am on Monday, when the road being taken by Trevino was abruptly blocked by a black-painted helicopter of the Mexican marines. As they took him into custody, they were not only decapitating one of the cruellist drug cartels the country has ever seen, Los Zetas, they were also delivering a stark political message. Seven months after taking office, President Enrique Peña Nieto had finally saddled up.
Today, Trevino, 40, who only took over command of the Zetas last year after his predecessor, Heriberto Lazcano, was killed in a gun battle with Mexican marines, finds himself in a high-security jail in Mexico City awaiting a trial that may not get underway for months or even years. That has left the Zetas leaderless. Reading the wider fall-out from his arrest, however, is a more complicated. An end to Mexico's drug war is not likely to be one early consequence.
Politically, it suggests a few things. Campaigning last year, Mr Peña Nieto hammered his predecessor, Felipe Calderon, who, with support from the United States, had launched an offensive against Mexico's main drug cartels with the removal of their top capos a first priority. Mr Peña Nieto promised to focus instead on quelling the violence spawned by the cartels particularly as it affected the broader population. It was never clear how he would achieve that, however, and there is scant evidence he was succeeding in the seven months he has been President.
That Treviño was caught on Mr Peña Nieto's watch will be celebrated in Washington. It will not go unnoticed that the head of the US Drug Enforcement Agency, Michele Leonhart, was in Mexico City just last Friday for talks, or indeed that some of the leaders of Mexico's drug interdiction services are in Washington DC for the same purpose now. Did the US have a direct hand in the seizing of Treviño? The Americans aren't confirming. They are not denying either.
Few among the Mexican public meanwhile will be mourning the arrest either, putting a feather in the President's cap. Even before he took over Los Zetas last October, Treviño, codenamed Z-40, was among a top circle of commanders that had turned the cartel into an international conglomerate of murder, torture and extortion with tentacles extending across large swaths of northern Mexico but also into the US and neighouring Central American countries like Guatemala. (An elder brother of Treviño was among several men recently convicted of laundering the cartel's money in part by buying American racehorses.)
As part of their campaign to expand their territory and fend off rival gangs, particularly the Sinaloa Cartel, Los Zetas advertised their murderous ways by leaving victims headless beside roads or hanging from bridges. Treviño has been tied to the killing and disappearance of 265 migrants in north-eastern Mexico, including 72 found dead in one spot in August 2010. One of his favoured methods of execution was dubbed "stewing": placing victims in 50-gallon barrels of oil and setting them alight.
He had already been charged with multiple crimes in 2010 by the US authorities who had offered a $5m reward for information leading to his capture. Yet the main criticism of the Calderon approach – that decapitating the main cartels did nothing to quell the violence and in short term may even have fuelled it – still stands. Of the 37 most-wanted cartel leaders identified by the Mexican government in 2009, 25 were either captured or killed while Mr Calderon was in office. Yet not a single one was prosecuted in Mexico using evidence collected by police or gathered from witnesses, and the administration instead resorted to extraditing close to 600 of them to the US. When Mr Calderon took power in December 2006 there were four dominant gangs – the Gulf cartel, the Sinaloa, the Juarez/Vicente Carillo Fuentes and the Tijuana/Arellano Felix Organisation. The decapitation plan, rather than killing the cartels, instead spawned many more in the leadership vaccuum that followed. Four quickly became seven, and there are now thought to be as many as 20 groups controlling the $13bn-a-year trade.
"The arrest is another link in the destruction of Los Zetas as a coherent, identifiable organisation," said Alejandro Hope, formally of Mexico's domestic intelligence agency. "There will still be people who call themselves Zetas, bands of individuals who maintain the same modus operandi. There will be fights over illegal networks."
"There may be temporary interruptions in drug supply because of the arrest," concurred Jamie Haase, a former special agent with ICE, the US Immigration and Customs Enforcement agency and an advocate for ending the war on drugs. "But as always happens in the drug war, any time you remove a person from an extremely lucrative position, there will be others waiting to take their place. The net result may be more violence as others rush into fill the power vacuum created by law enforcement's intervention."
Join our new commenting forum
Join thought-provoking conversations, follow other Independent readers and see their replies