Now, Old Etonians are storming the White House
'Homeland' star is just one OE invited to dine with the President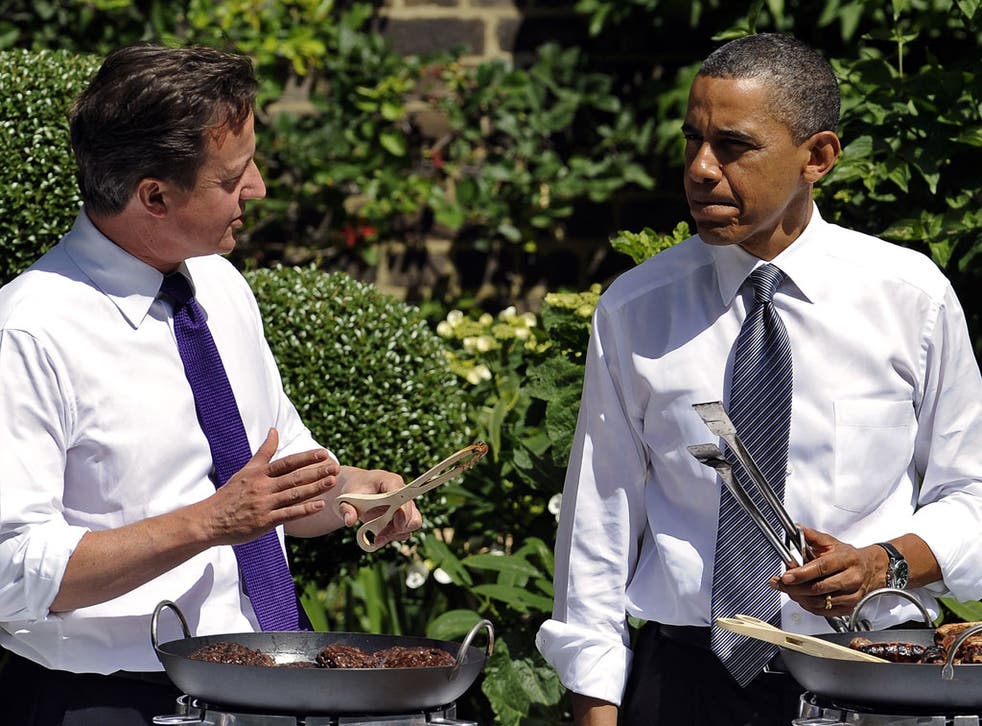 When David Cameron sits down with Barack and Michelle Obama at a lavish state dinner at the White House on Wednesday evening, he won't be the only Old Etonian in the room.
The actor Damian Lewis, who was five years below the Prime Minister at Eton, has been invited as a guest of the President because of his starring role in the terrorism drama Homeland. After decades of domination in the UK, the OEs are finally making a move on the cockpit of American power.
Lewis told Graham Norton, on his BBC chat show on Friday, that the President is a huge Homeland fan. The 41-year-old said: "It's his favourite show. There'll probably be thousands at the dinner, but I don't care."
Lewis, who plays a marine and suspected terrorist in the Golden Globe-winning series, will be a guest with his actor wife, Helen McCrory.
If the Prime Minister is not already a fan of Homeland he might want to start catching up, given President Obama's enthusiasm for the series.
Mr Cameron flies to the US on Tuesday for a two-day visit. His wife, Samantha, will accompany her husband to Washington for the first time since he took office.
The two leaders will visit Ohio to watch a college championship basketball game at the University of Dayton Arena – clearly a carefully chosen location as Ohio is a key state in the presidential election.
In private talks on Wednesday, the two men are expected to discuss Afghanistan – an issue where UK and US strategies are diverging. Washington is indicating a speedier withdrawal than the 2014 deadline, while No 10 advocates a more cautious drawdown.
Meanwhile, Mrs Cameron and the First Lady will take part in a mini-Olympics competition, with children, in celebration of the London Games and Mrs Obama's Let's Move! initiative.
Eton mess
Confidential
From Louis Susman, US Embassy London to President + First Lady of the United States
Subject Scenesetter for the 14 March State dinner for Prime Minister David Cameron + Samantha Cameron
(1) Personnel
PM Cameron wishes to use the trip to show he is an ordinary Brit so is bringing some guys from school: Eton. This is a small village school, famous for its alumni, casual vandalism and meringue-based dessert. At dinner, the redhead soldier off Homeland that Flotus wants to sit next to is a British actor: Damian Lewis. The doctor in House is also a British actor: Hugh Laurie. Like Cameron, they all went to Eton and achieved success by disguising their posh accents. Steve Hilton is having problems with his US visa.
(2) Talking points
At the basketball game, PM will likely talk about wickets, bogeys and hurdles. This has nothing to do with Eton. He is an idiot.
PM Cameron is not bringing his "fag" Nick Clegg, so may ask VP Biden to polish his shoes and "take the blame for furking". After dinner PM Cameron might suggest he "nip through Judy's passage". This is a short cut at Eton. Potus might want to mention cricket as Cameron and Lewis were both "dry-bobs" (cricketers) at school. Cricket is like baseball with fewer hotdogs.
(3) Presents
We passed on the message to No 10 that Malia and Sasha would like a horse as have heard PM can get them for free. This did not go down well. Mrs C sent out for some Marni at H&M dresses for the First Daughters instead.
(4) Popular culture
My Big Fat Gypsy Wedding is not the matrimonial ceremony of William and Kate; Downton Abbey is a fly-on-the-wall documentary capturing the essence of PM Cameron's Britain; Wallace & Gromit is a popular stop-motion animation which has been made into a TV series, film and Labour leader.
(As imagined by Matt Chorley and Jane Merrick)
Join our new commenting forum
Join thought-provoking conversations, follow other Independent readers and see their replies