Obama travels back in time on the bus where Rosa Parks made history
President stops off on his campaign trip to consider how far the US has come on its civil rights journey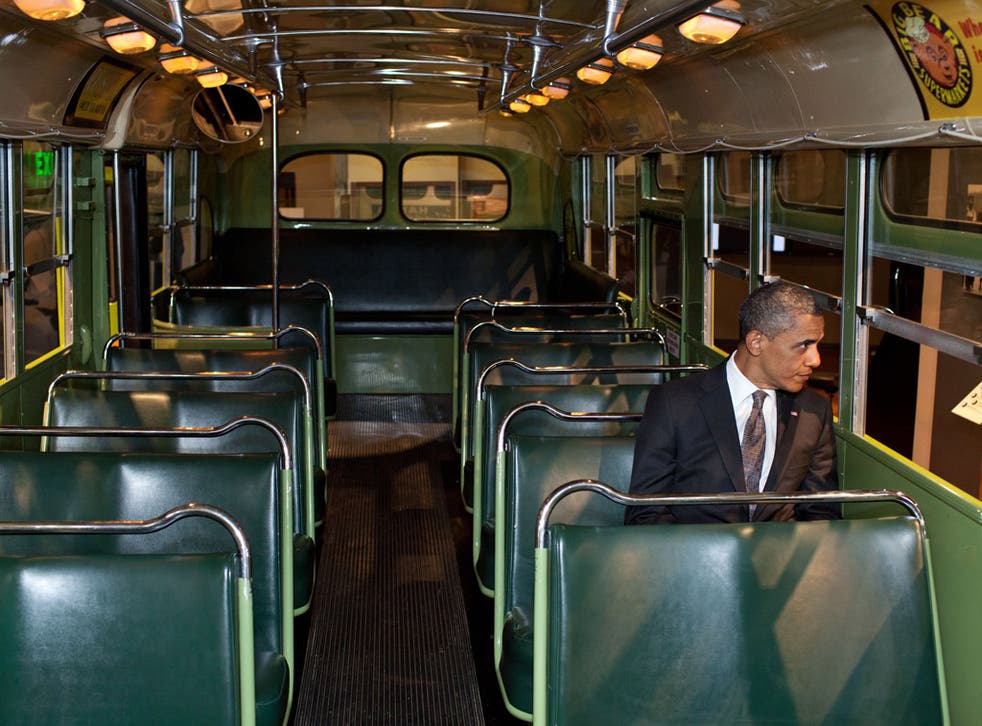 The President gets to sit where he likes. But the same hasn't always been true of passengers who attempt to place their backsides on the very leather seat where the civil rights movement began.
America's first black Commander-in-Chief took time out from a fundraising trip to Michigan to step onboard the GM vehicle that Rosa Parks made famous when she refused to vacate her seat for a white passenger one evening in December 1955.
"I just sat in there for a moment and pondered the courage and tenacity that is part of our very recent history," Barack Obama said during Wednesday night's fundraiser at the Henry Ford Museum in Detroit, where the bus is on display.
Mr Obama described the late Parks, a seamstress, as "part of that long line of folks who sometimes are nameless, oftentimes didn't make the history books, but who constantly insisted on their dignity, their share of the American Dream".
Her arrest and subsequent prosecution, in Montgomery, Alabama, served as a catalyst for widespread protests and a successful boycott of the city's segregated bus system. It is now seen as the first major victory in a long-running campaign which would eventually culminate in the abolition of racist Jim Crow laws, across the Deep South, together with the signing of the Civil Rights Act in 1964. Parks died in 2005, aged 92.
At the Henry Ford Museum, President Obama spoke to 600 guests who had each paid either $250 to attend, or $1,000 to shake his hand. He was photographed on the bus by Pete Souza, a White House photographer, who made the image public via Twitter yesterday.
Speaking at a later campaign stop, Mr Obama added: "It takes ordinary citizens to bring about change, who are committed to keep fighting and keep pushing, and keep inching this country closer to our highest ideals."
Join our new commenting forum
Join thought-provoking conversations, follow other Independent readers and see their replies