Rio 2016: Olympic security tell Iranian woman to leave after she holds sign calling for women's equality
'Because it hurts,' she reportedly cried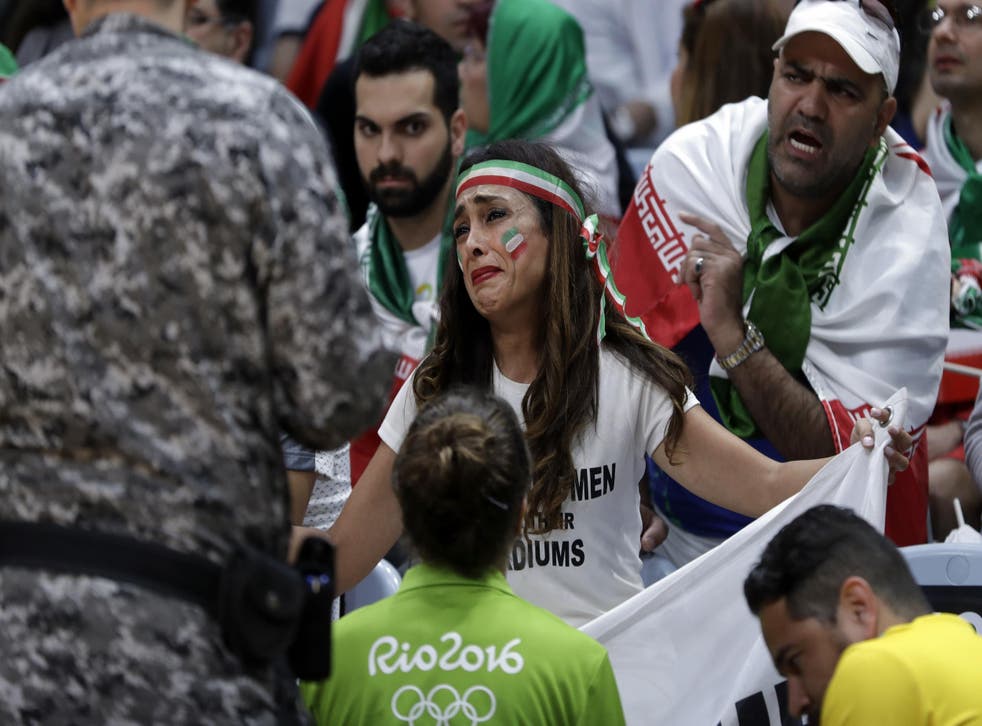 A woman was questioned by Olympic security staff after holding up a sign during a men's volleyball match in Rio.
Darya Safai, founder and creator of a campaign 'Let Iranian women enter their stadiums', said officials pushed her to leave the Maracanazinhi arena when she held up the banner.
But she refused to move from her front-row seat at a match between Egypt and Iran, where she stood holding up the sign and wearing a T-shirt branding the same message.
During the ordeal Ms Safai, 35, reportedly cried because she said "it hurts".
After several minutes she was told she was allowed to stay.
The gender equality activist said this wasn't the first time she had been told to leave a venue after making a stand for gender rights.
Rio 2016: Yesterday's Highlights
She told The Independent: "They said us they didn't want the sign in front of the cameras and they asked us to leave. They even tried to impress me with military people.
"This is not the first time I had this experience, but I won't give up because that's what Iranian women do, they keep fighting for their rights.
"The Olympic Spirit, which is against discrimination, is what Iranian women need in their country.
"It should the right of everyone, men AND women, to attend a sports game. It is a pity that women have to travel to Brazil to watch and cheer for their national team."
Ms Safai, who was born in Tehran but now lives in Belgium, campaigns for the rights of women to attend all-male sports events in Iran, which is generally banned or heavily restricted in the country.
In 2012 the ban on women from soccer matches in Iran was extended to volleyball.
The campaign's official Facebook page states: "Women's presence in a stadium is a basic human right.
"Unfortunately this is not the case for Iranian women. Fighting for this right means fighting against gender discrimination.
"Hopefully by obtaining this right, Iranian women will gain their other rights."
Rio 2016 Olympics - in pictures

Show all 74
Following the ordeal in Rio, Ms Safai was flooded with support on social media. One Facebook user wrote: "No woman should be treated like that. I admire you and everything you do."
Another woman said: "Thanks for going to Brazil, thanks for being an Iranian voice, you are a winner and we are proud of you."
Ms Safai will try to bring her cause to Maracanazinho arena again. She said: "For the next game on Monday we also have tickets and we are going to do the same."
Iran's men's volleyball team, in its first Olympics, beat Egypt in 3-0 in its second victory in Rio.
There is no women's volleyball team for Iran. Of the 63 total Olympic athletes that Iran has sent to Rio, nine of them are women.
USA Volleyball chairwoman Lori Okimura has publicly supported Ms Safai, and reportedly brought her own "Let Iranian Women Enter Their Stadiums" T-shirt to Brazil.
Ms Okimura said: "This is not a political statement. This is not a political issue. This, to me, is not about politics, it's about gender.
"Volleyball has always been about equality, why now are we not sending that same consistent message?"
Join our new commenting forum
Join thought-provoking conversations, follow other Independent readers and see their replies