Ottawa shooting: Canadian soldier dies after being shot at National War Memorial – with one gunman killed inside parliament
The soldier has since been named as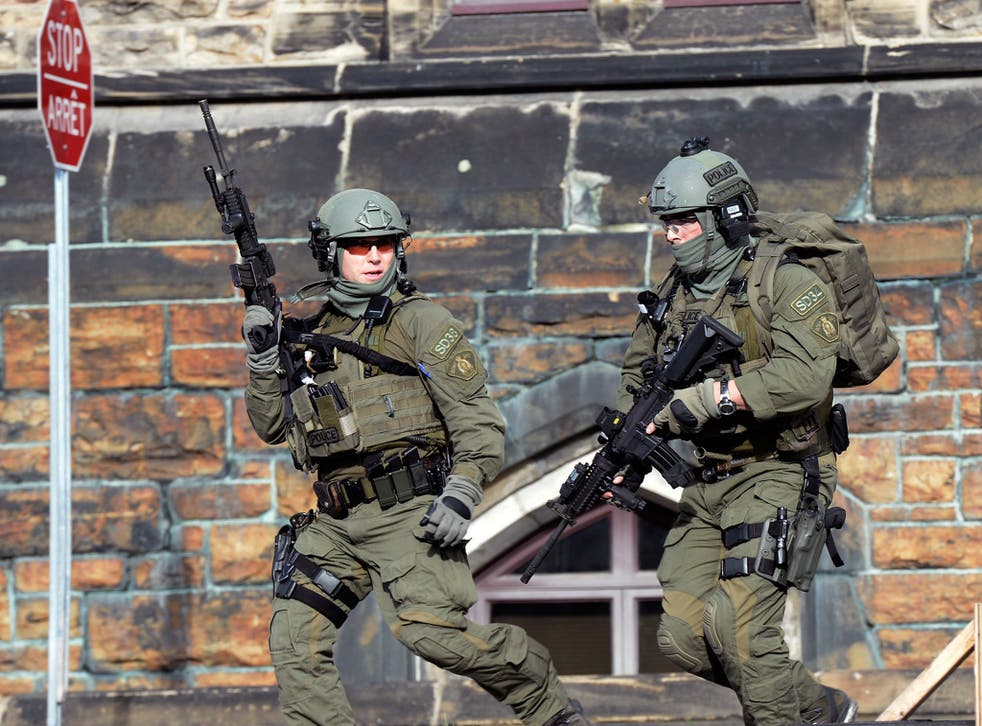 A Canadian soldier has died after being shot at the National War Memorial in Ottawa, as one gunman was killed in parliament and police hunted for at least one other assailant.
Eyewitnesses said they saw one man with a long rifle get into a car after shooting the guard at the memorial in the chest. Ottawa Police have confirmed that the member of the Canadian Armed Forces "succumbed to injuries".
He has since been named as Nathan Cirillo, while one of the gunmen - it is still unclear whether any more attackers were at-large - was killed as he entered parliament. A suspect has also been identified as Michael Zehaf-Bibeau, 32.
The gunman was believed to have hi-jacked a car and driven to nearby Parliament Hill, where he was chased inside the building by officers.
In a press conference tonight, police chiefs confirmed that the shooting "caught us by surprise", happening a day after officials raised the terrorism threat level from low to medium.
Video footage from within the main Parliament building, Centre Block, showed armed officers engaging the suspected assailant in a gunfight, with around 30 shots heard.
One gunman has now been confirmed shot and killed in that exchange, but at least one other is believed to be on the loose, though police tonight would not confirm nor deny this. Nobody is in custody.
In pictures: Ottawa shooting

Show all 43
Treasury Board Minister Tony Clement told Reuters that the gunman had run straight past a room in which the Prime Minister was giving an address to legislators.
"PM was addressing caucus, then a huge boom, followed by rat-a-tat shots. We all scattered. It was clearly right outside our caucus door," he said.
A hospital in Ottawa said it received three patients - two of them are in a stable condition but the third, the soldier, has died.
A statement from Prime Minister Stephen Harper said that he has "condemned this despicable attack".
He has also, according to Reuters, "reiterated the importance of the continued functioning of the government and our parliament".
British Prime Minister David Cameron has offered his condolences, tweeting: "I'm appalled by today's attack in Ottawa. I offer my full support to @pmharper and the Canadian people as they deal with this incident."
Canadian Prime Minister Stephen Harper's Spokesman, Carl Vallée, has said that a brief phone conversation has happened between Mr Harper and President Barack Obama, who in turn has condemned the "outrageous attacks" and said "We're all shaken by it".
A Canadian journalist, Bruce Cheadle, reported that the gunman in Parliament was shot by Sergeant At Arms Kevin Vickers - an official ordinarily tasked with keeping order in the House of Commons.
Reporters and MPs inside the building said that they could smell gunpowder in the hallways, while there were unconfirmed reports that a security guard and a member of parliamentary staff may have been injured during the exchange.
After further gunfire was heard downtown, officers issued a warning for all members of public to stay away from windows and roofs. Much of the city remained on lockdown. Officials have said the operation is ongoing.
A press conference attended by police chiefs tonight and Ottawa's Mayor Jim Watson revealed that the situation is "fluid", that the incident could be described as being a "surprise", and that they could not comment on the identity of the deceased gunman nor a potential motive.
Watch: Multiple shots fired as police move into Parliament's Centre Block
Parliament has been on lockdown since the initial shooting at the war memorial, while the Canadian Prime Minister Stephen Harper was reported to have been successfully evacuated from the building as police converged.
His director of communications, Jason MacDonald, tweeted after the incident that Mr Harper was "safe and has left Parliament Hill".
Ottawa's Mayor Jim Watson said in a statement this afternoon: "I am shocked and saddened by what has happened in the last hour here in the nation's capital.
"Our thoughts are prayers are with those injured.
"Ottawa Paramedics and Fire Services provided first response to those injured and Ottawa Police Services are engaged with other law enforcement agencies at this time in pursuit of the criminal or criminals who have carried out this vicious and unwarranted attack."
The war memorial itself has been sealed off as a crime scene since officers responded to the incident at 9.52am.
Eyewitness Matthew Blaise told reporters: "I head a bunch of pops first; I thought it was firecrackers, so I looked over at the war memorial and I saw a man with a rifle shooting at a bunch of people. As soon as I saw him shooting, I ducked for cover."
Maintenance worker Barry Willis said he was on Parliament Hill when he heard shots fired. He told The Wall Street Journal he was standing by his work van when a man pointed a rifle in his direction.
"I said 'holy s***'," Mr Willis said, as he hid behind his van.
Mr Willis said he witnessed the gunman approaching a car, saw the driver get out and then watched as the gunman drove it towards the main Parliament building.
"He scared the c*** out of me," Mr Willis said, adding that he served in the military in the 1980s. "I have never had a rifle pointed at me, at least not 10 feet away."
Tony Clement MP was among the senior politicians tweeting about the shots fired in Centre Block, which appear to have taken place near where cabinet was meeting at the time. He said he was safe but still at risk.
Political reporter Josh Wingrove, tweeting from inside the House of Commons building, said he "saw one motionless body outside the library of parliament" and heard dozens of shots from Parliament Hill.
Speaking to reporters, Ottawa police Constable Marc Soucy had said there had been shots fired at three places in the Canadian capital: at the war memorial, on Parliament Hill and near the Rideau Centre Mall. Ottawa Police have since stated that no shots were fired in the mall.
All three sites are within less than a mile from each other and while the incident definitely started at the war memorial, it remained uncertain whether there was more than one shooter. No arrests have been made.
"Most of downtown Ottawa is in lockdown," Soucy said.
While the police operation to find any remaining suspects was ongoing, Mr Harper's office released a statement saying: "Earlier today there was an attack at the National War Memorial and on Parliament Hill.
"Our thoughts and prayers are with the families of those who were attacked. The Prime Minister is safe and not on Parliament Hill and being briefed by security officials. The police continue to do their important work and we are still gathering the facts."
Prior to the attack, Canada increased its threat level from low to medium in response to an increase in "general chatter" online from jihadist groups including Isis.
The incident comes just two days after two Canadian soldiers were run over — and one of them killed — in Quebec by a man suspected to be an Islamist extremist.
Join our new commenting forum
Join thought-provoking conversations, follow other Independent readers and see their replies