Ottawa shooting: Deadly attacks force Canada to face up to a global terror threat
Canadians are determined to protect their way of life from terrorism in what has been traditionally a liberal and safe society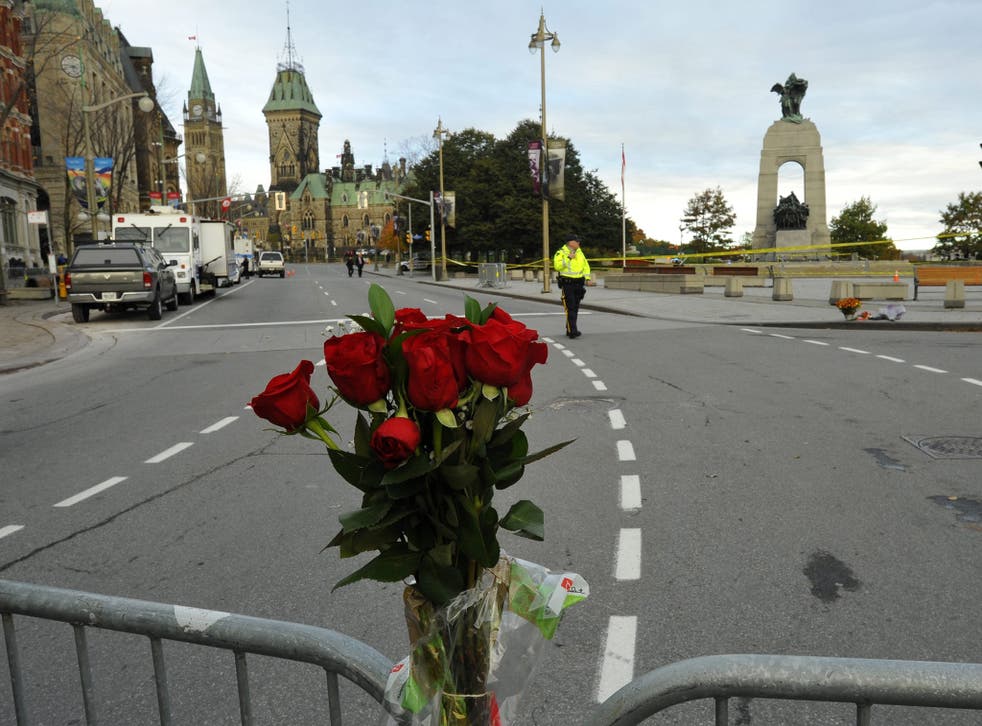 For almost 30 years, Ivaylo Stoianov has sold hot dogs from a cart on the corner of Metcalfe and Wellington streets, just a few yards from the Canadian Houses of Parliament in the heart of Ottawa.
In that time he has seen five prime ministers come and go, and served at least one of them lunch. He emigrated from Bulgaria in 1980 and chose to settle in Canada, he said, because of the country's particular reputation for "safety and democracy".
Yet on Wednesday morning, Mr Stoianov was unable to set out his stall in his regular spot, after police put central Ottawa on lockdown as a gunman rampaged through the area. Canada has long prided itself on being a place safe enough to leave one's doors unlocked, but now there will likely be a few more latches left on.
"It was a big surprise for people," Mr Stoianov said. "This is a little warning of what is going on elsewhere in the world." For a national capital, Ottawa is quiet and almost provincial. Canada's capital city had, until this week, suffered just four homicides in 2014.
Yet shortly before 10am on Wednesday, this orderly seat of government was plunged into chaos as a man wielding a double-barrelled shotgun shot and killed the 24-year-old Corporal Nathan Cirillo, an army reservist acting as an honour guard at the National War Memorial in Confederation Square, mere steps from parliament.
The shooter then raced to the nearby government buildings, where after a gun battle with police officers he was finally shot dead at the doors of the caucus rooms where MPs had been meeting. Despite early fears of multiple gunmen, it eventually became clear the attack was the work of a "lone wolf" jihadist, later identified as the 32-year-old Islamic convert Michael Zehaf-Bibeau. Born in Quebec in 1982, Zehaf-Bibeau had a string of convictions for assault, robbery and drug offences.
In pictures: Ottawa shooting

Show all 43
His was the second deadly terror attack to strike Canada in as many days. On Monday, 53-year-old Warrant Officer Patrice Vincent was killed when he was run over in a car park near Montreal by another recent convert to Islam, Martin Rouleau, who was later shot dead by police.
Rouleau, 25, was among a group of 90 Canadians being monitored by authorities after they were deemed a potential threat to national security. He reportedly had his passport seized to prevent him from travelling to the Middle East to fight for Isis.
The twin attacks may have been inspired by online Isis propaganda, in which the extremist group has encouraged its supporters worldwide to strike against those countries that have joined the US-led air campaign targeting its forces in Iraq and Syria. Canada, which declined to participate in the Iraq war in 2003, announced three weeks ago that it would send fighter jets and several hundred special forces troops to help in the fight against Isis.
Today, the usually sleepy city awoke in a daze of trauma, with Confederation Square still cordoned off and parliament closed to the public. Marty Poncsak, an engineer from out of town, had brought his six-month-old daughter to see the capital for the first time. Standing close to the spot where Zehaf-Bibeau vaulted a fence to the parliamentary lawns, he said he hoped that the incident would not have too deep an effect on Canada's open, liberal society.
"I'm from small-town Saskatchewan and I often leave my keys in my vehicle," said Mr Poncsak, 49. "I have no fears about leaving my doors open. That's a reality in Canada, it's a wonderful society that way. We've grown accustomed to that and I hope it doesn't change. I hope my daughter will get to experience it, too."
Speaking inside parliament this morning, Canadian Prime Minister Stephen Harper said he would push for new terror legislation and wider surveillance of suspected radicals, promising greater powers for the country's police and intelligence services. "The objective of these attacks was to instill fear and panic in our country," Mr Harper told MPs. "Canadians will not be intimidated. We will be vigilant, but we will not run scared. We will be prudent but we will not panic."
During the session in the House of Commons, parliamentarians gave a lengthy standing ovation to the Sergeant-at-Arms, Kevin Vickers, who was widely hailed as a hero after being credited with shooting the gunman dead in a hallway not far from the chamber. Dressed in his ceremonial garb, Mr Vickers, 58, a former veteran officer with the Royal Canadian Mounted Police (RCMP), reportedly fought to contain his emotions under the onslaught of applause.
MPs also observed a minute's silence in memory of Cpl Cirillo, a reservist from the Argyll and Sutherland Highlanders, based in Hamilton, Ontario. Earlier in the day, as Mr Harper and his wife arrived at the National War Memorial to lay a wreath commemorating the dead soldier, a man was arrested at gunpoint as he appeared to be "disturbing the crime scene", according to Ottawa police. "He crossed the tape. We told him not to. He didn't listen," a police officer at the scene told Reuters.
The public was nonetheless permitted to join politicians and other dignitaries in adding tributes at the memorial site. Devon Henderson, a 22-year-old Ottawa student who came to lay flowers, said: "I wanted to pay my respects because I was heartbroken and shocked that something like this could happen in my home town. I was born and raised in Ottawa, and I've always considered it a safe place. It's devastating."
Join our new commenting forum
Join thought-provoking conversations, follow other Independent readers and see their replies