Paul Walker death: Star of Fast & Furious films killed in Los Angeles car crash
The other victim of the crash was professional race car driver Roger Rodas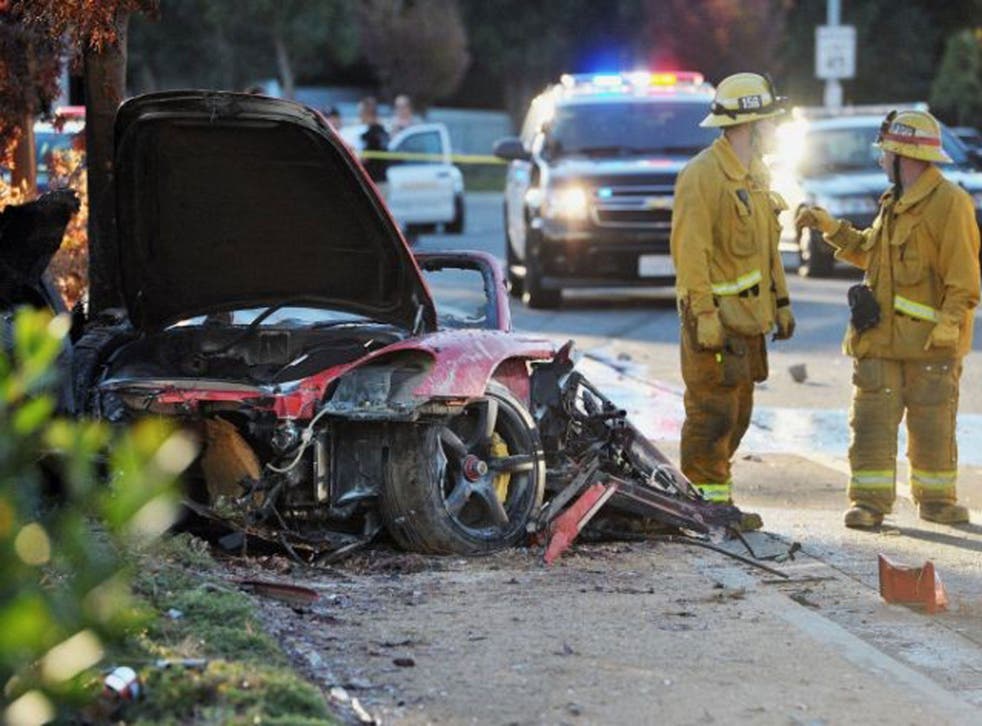 Hollywood was in mourning this weekend following the untimely death of actor Paul Walker, who was killed in a car accident in California on Saturday afternoon. The 40-year-old star of the hugely popular Fast and Furious franchise died when the Porsche he was in hit a lamppost in Santa Clarita, just north of Los Angeles.
Walker's Fast and Furious co-star Vin Diesel was one of many film industry friends and colleagues to pay tribute on Twitter, saying he was "totally heartbroken," but "honoured and blessed to [have] known such a wonderful guy."
Universal Pictures, which produced the films, released a statement saying, "Paul was truly one of the most beloved and respected members of our studio family for 14 years, and this loss is devastating to us, to everyone involved with the Fast and Furious films, and to countless fans."
Profile: The life and career of US actor Paul Walker
Walker's other co-stars echoed those sentiments in their messages to the late actor. The rapper Ludacris wrote, "wherever you blessed your presence you always left a mark," while wrestler-turned-actor Dwayne 'The Rock' Johnson said simply, "Love you brother."
Paul Walker: A career in pictures
Walker was born in 1973 and brought up in Los Angeles, where as a child he acted in commercials, earning his first recurring TV credit in 1985, in the series Highway to Heaven. In his twenties, he took supporting roles in several teen films such as Varsity Blues and She's All That. In 2000, on the set of The Skulls (2000), he met director Rob Cohen, who the following year cast him in The Fast and The Furious, as Brian O'Conner, an undercover cop who infiltrates a car racing gang led by Diesel's character, Dom Toretto.
Walker played O'Conner in all but one of the six Fast and Furious films, which have collectively grossed around $2.4bn (£1.5bn) worldwide. A seventh movie is currently in production, but Walker had been on a break from shooting over the Thanksgiving holiday. He performed many of his own stunts in the films, describing himself on his Twitter page as an "adrenaline junkie".
He had also recently completed Brick Mansions, an English-language remake of the 2004 French action thriller District 13, while his drama Hours, set during the aftermath of Hurricane Katrina, is expected in cinemas later this month.
Walker was a passenger in the 2005 Porsche Carrera GT owned and driven by his friend Roger Rodas, who was also killed when the car crashed and burst into flames at around 3.30pm on Saturday. Rodas, 38, was the CEO of Always Evolving, a car customisation shop in Santa Clarita, reportedly co-owned by Walker. The pair were taking part in an event organised by Walker's charity, Reach Out Worldwide, in support of the Philippines typhoon relief effort.
Bill Townsend, a friend of Walker's who attended the event, told AP Radio that Walker was "very happy. He was smiling at everybody, just tickled that all these people came out to support this charity. He was doing what he loved. He was surrounded by friends, surrounded by cars."
Walker is survived by his 15-year-old daughter.
Video: Tyrese Gibson remembers Paul Walker
Join our new commenting forum
Join thought-provoking conversations, follow other Independent readers and see their replies