Pentagon tries to tackle anger and stress among military veterans after Baton Rouge and Dallas shootings
Anywhere up to 40 per cent of soldiers are returning from deployment with anger issues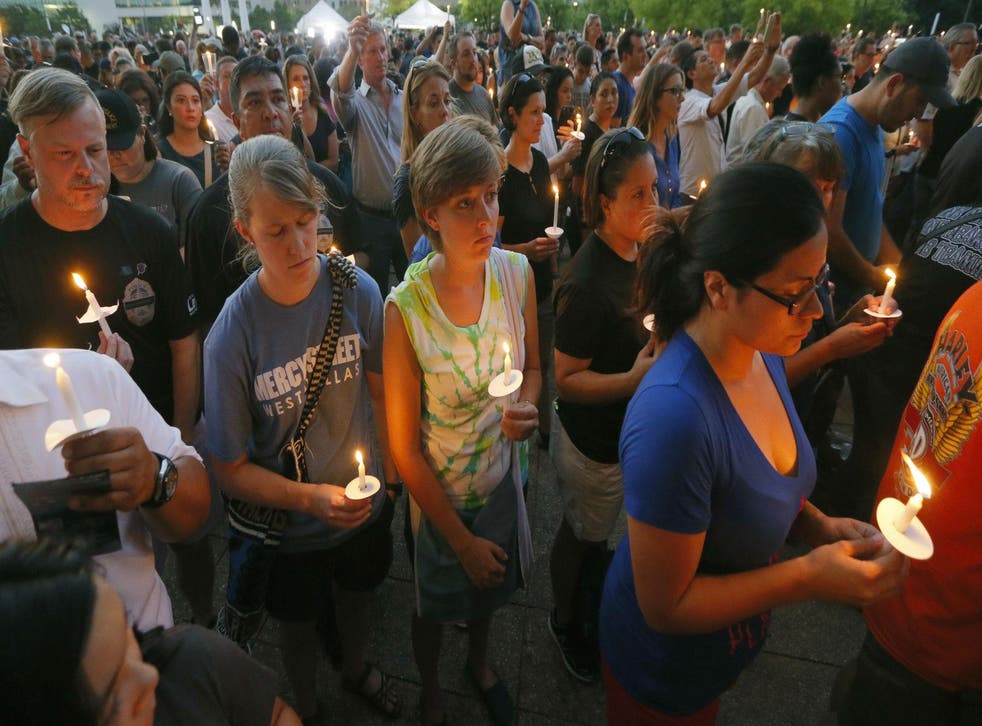 The US military has a huge problem with the mental health of the soldiers it sends to war.
Research suggests that anywhere up to 40 per cent of soldiers that have returned from combat deployment overseas experience psychological problems that can affect their work and social life. Their post-deployment experience is often associated with anger and aggression.
As the US reels from the shooting deaths of police officers in Louisiana and Texas - incidents that were carried out by military veterans who had served in Afghanistan and Iraq - the Pentagon is trying to better understand the extent of the problems, and find solutions.
"We're trying to nail down who is prone to aggressive behaviour. We think it affects a small number of people who are predisposed," Phil Quartana, an Army research psychologist at the Walter Reed Army Institute of Research, told The Independent.
"It's a tendency to become angry under stressful situations. If we can identify those people earlier…"
Police investigating the shooting deaths in Baton Rouge and Dallas say that the gunmen - Gavin Long killed three officers in Louisiana and and Micah Johnson killed five policemen in Texas - were apparently motivated by rage and anger.
It it not yet clear whether their military service contributed to that anger. But reports have said both Long, who served five years in the Marine Corps, and Army reservist Johnson, both suffered with mental health problems. On Wednesday, CNN said that investigators in Louisiana had determined that 29-year-old Long was suffering from post traumatic stress disorder.
The news channel said that Long had filled a prescription for Ativan, an anti-anxiety drug, as recently as June. He also had prescriptions for Valium and the sleep aid Lunesta.
USA Today said that Long, who was deployed to Iraq for eight months in 2008 and rose to the rank of sergeant, had previously posted a video on the internet, describing protests against police as futile.
He said he wanted to follow in the footsteps of Nat Turner, who led a slave revolt in 1831, and Malcolm X, the black Muslim civil rights leader.
Meanwhile, Johnson, a black Army reservist who served seven months in Afghanistan, told a negotiator that he was angry over recent police shootings of black people and wanted to kill white officers.
George W. Bush Dances to Battle Hymn at Dallas Memorial
In May 2014, six months into his Afghanistan tour, he was accused of sexual harassment by a female soldier and the army sent him back to the US. His lawyer, Bradford Glendening, told the Associated Press that the case was highly unusual and the woman he was accused of assaulting requested that he "receive mental help"
The US military has been leasing with researchers in Israel who have been looking at ways of tackling PTSD in Israeli soldiers. Researchers at Tel Aviv University have been working for several years to see if anger levels in soldiers could be identified and reduced.
Yair Bar-Haim, a professor and research leader, has led the development of a computerised treatment programme that has helped reduce the rate of PTSD among Israeli soldiers by up to two-thirds.
Speaking from Tel Aviv he said: "Obviously, there is a correlation between anger and aggression. But most people have their anger under control.
Join our new commenting forum
Join thought-provoking conversations, follow other Independent readers and see their replies