Peru overtakes Colombia as world's largest coca producer
Success of country's anti-drug strategy less successful than neighbours, only cutting plantation area by 3.4 per cent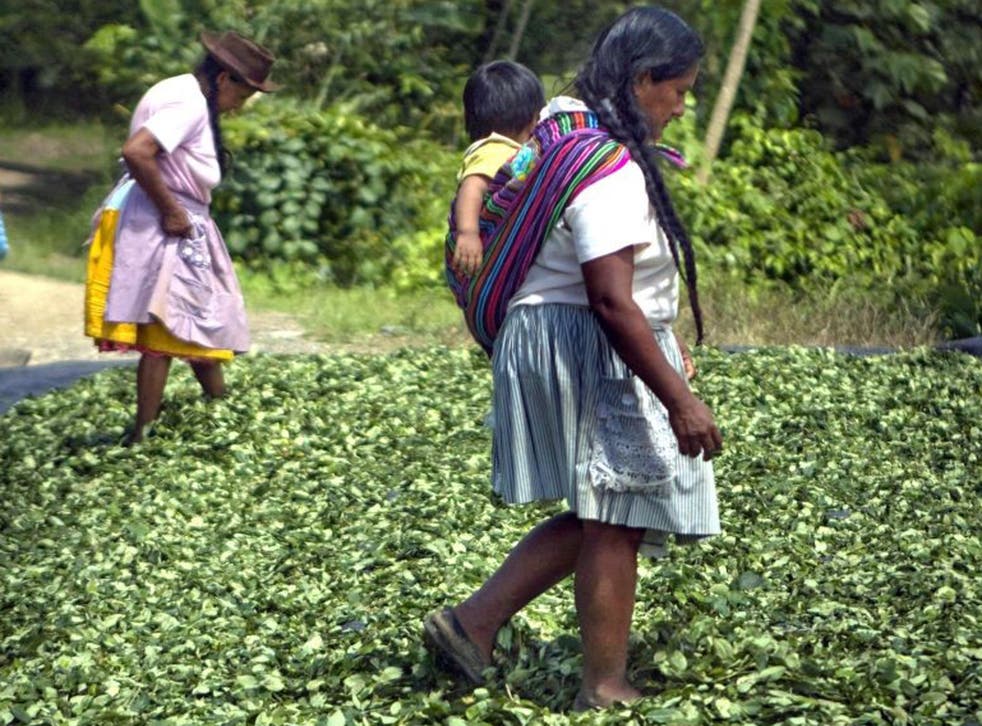 Peru has overtaken Colombia to become the world's largest producer of coca leaves, used in the manufacture of cocaine.
According to a joint report by the UN Office on Drugs and Crime (UNODC) and the Government of Peru, coca plantations in the country covered 60,400 hectares at the beginning of the year, 20 per cent more than the area of coca cultivated in Colombia.
Although it is not clear how much of the crop is being used for medicines and other legal uses, Peru is one of the world's top producers of cocaine, together with Colombia and Bolivia.
All three countries have crop eradication schemes to combat drug smuggling, but while Colombia was able to reduce coca plantations by 20 per cent last year to 48,000 hectares, the success of Peru's National Anti-Drug Strategy has been more modest, reducing crop production by just 3.4 per cent.
The greatest success has been seen in the regions of Alto Huallaga and Aguaytia where just over 14,000 hectares of coca has been destroyed, coupled with programmes to provide farmers with alternative means of income from coffee, cocoa or palm oil instead.
These areas, together with Apurímac-Ene and the Mantaro River Valley (VRAEM) have a strong link with drug trafficking and terrorism, particularly by the Maoist guerrilla group Shining Path. However, the arrest in February 2012 of "Artemio", one of the leaders of the group, has allowed farming communities in those areas to become involved in alternative development programmes.
Flavio Mirella, head of UNODC in Peru, said: "Shining Path needs to finance itself – cocaine is a quick source of finance. But once Artemio was captured, the whole structure of the group was affected in the area of Alto Huallaga and the pressure Shining Path exerted on populations to grow coca was removed."
He added: "There is still a military presence in the VRAEM region and [Shining Path] has the ability to exert great pressure on local farmers, but it is hard to know how much of the crop passes through their hands."
But as the Peruvian authorities have begun to tackle the major centres of coca crop production, plantations have increased in other parts of the country, in particular in the Lower Amazon area, which borders Brazil and Colombia and has seen coca plantations rise by 73 per cent.
"Growth is Lower Amazon is mainly due to closeness to Brazil, and the access this gives to the international market," said Mirella. "Drug trafficking constantly moves to areas where there will be less interference from authorities."
Join our new commenting forum
Join thought-provoking conversations, follow other Independent readers and see their replies