Pink dolphin spotted swimming in Louisiana river
Video of the dolphin was filmed by a surprised local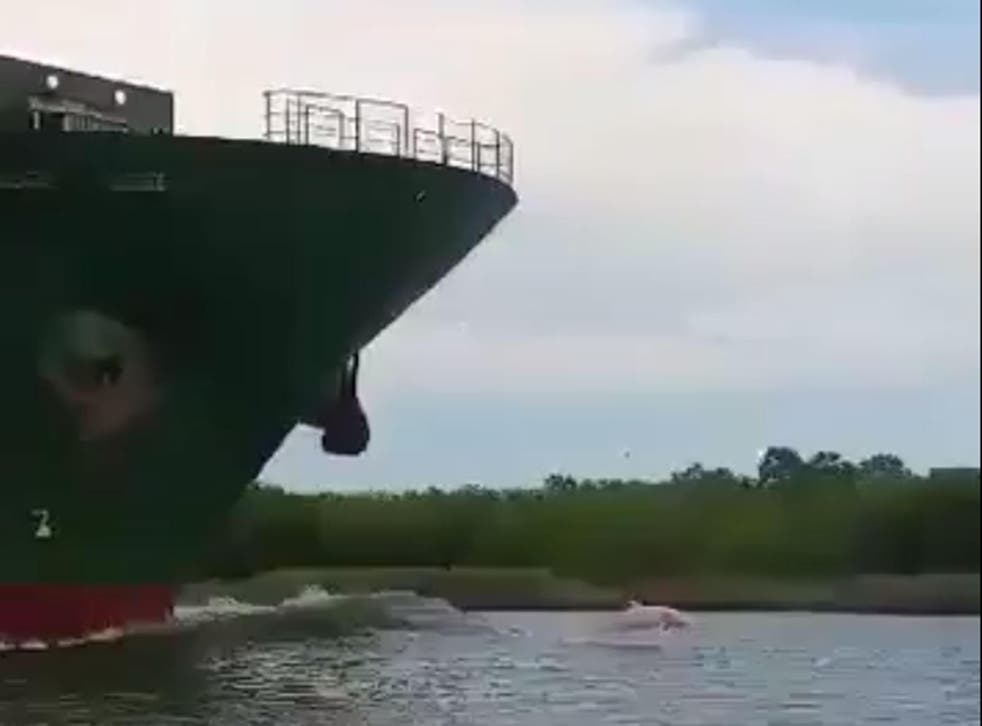 A rare pink dolphin has been spotted in a Louisiana ship channel.
Bridget Boudreaux was on a boat cruise with her husband in the Calcasieu Ship Channel when she saw a group of dolphins swimming and playing in the water, two of which were pink.
"I about fell about the boat," she told KHOU-TV. "I was like, wow, that's not a regular dolphin, that's a pink dolphin."
"It was an awesome experience," she told CTVNews.ca, adding that "the pictures don't do it justice".
Ms Broudreux told the broadcaster there were two pink dolphins in the river, but she was only able to capture an image of one of them.
Louisiana is no stranger to pink dolphins. Two years ago, a pink bottle-nosed dolphin, locally known as "pinky", was spotted by Captain Eric Rue, who runs a chartered boat service on the Calcasieu River.
He first spotted the dolphin 10 years ago when she was a baby, but when she appeared again in 2015 Captain Rue thought she could be pregnant.
"We still see her swimming almost every day in the summertime," he said at the time. "She looks so happy and healthy."
Pinky is believed to be an albino dolphin, which is missing the pigment melanin that gives colour to skin, hair and eyes.
Join our new commenting forum
Join thought-provoking conversations, follow other Independent readers and see their replies