Racism levels in US communities predict how many black people police will kill there, study shows
'The results indicate this is not specifically a problem of police officers'
Andrew Buncombe
New York
Thursday 27 July 2017 16:41 Comments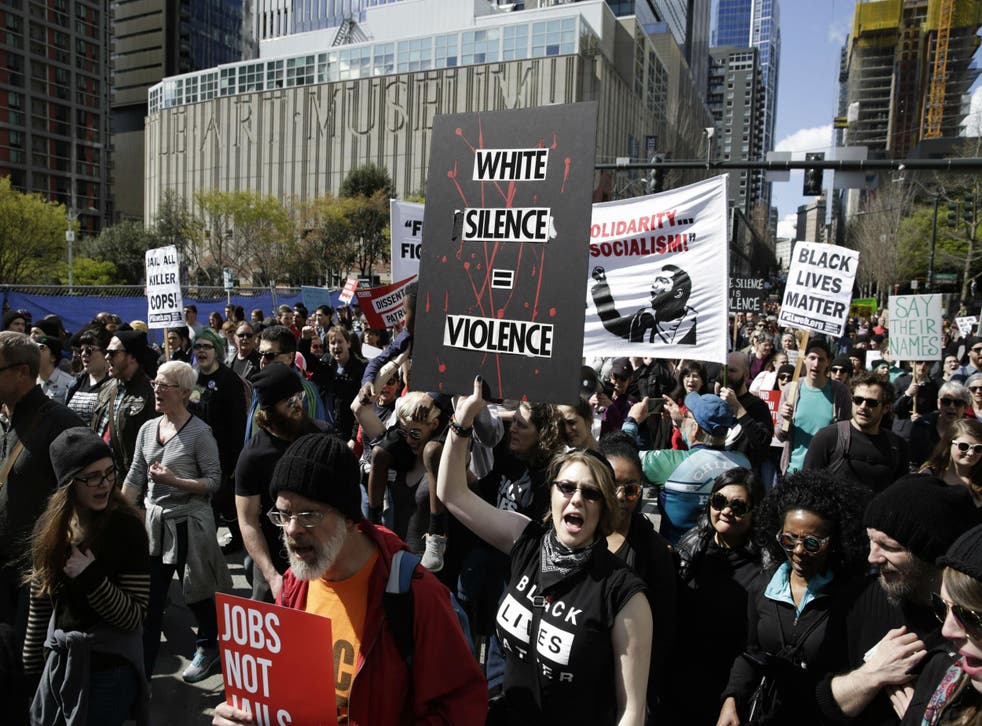 The racial biases of white members of a community have a direct link to the number of black people shot and killed by police officers in that same area, new research indicates.
A study published last year found that African Americans are almost three times more likely than white people to be killed by the police's use of force. Indigenous Americans are also almost three times as likely to suffer such a fate, while Hispanic men are twice as likely.
Now, a new report suggests the biases and prejudices held by white residents in an area has a close correlation to the number of black people who will lose their lives at the hands of officers.
Black Lives Matter March Thousands Strong Through Manhattan
"We expected many economic or demographic variables such as the overall wealth of an area, residential segregation, average levels of education in the area, or overall crime levels, to be involved," said the report's lead author, Eric Hehman.
Yet the researchers - Mr Hehman from Ryerson University in Toronto, Jessica Flake from Toronto's York University, and Jimmy Calanchini of Germany's Albert Ludwigs University of Freiburg - found implicit bias, or the strength of someone's association between specific social groups and threat, was the primary indictor as to the level of lethal force.
Specifically, they added, regional implicit biases toward black people, or the implicit stereotypical association between black people and weapons, predicted African Americans being more likely to be killed by police. Where these biases were stronger, African-Americans were more likely to be killed by police.
"[The results] indicate that this is not specifically a problem of police officers, but reveals that there is something about the broader communities and contexts in which these officers make speeded, life and death decisions that is associated with killing more African-Americans," said Mr Hehman.
World news in pictures

Show all 50
The report, published in the journal Social Psychological and Personality Science (SPPS), considered the ways in which attitudes and stereotypes can spread through conversations, facial expressions and even body language.
"To the extent that police officer are exposed to the biases of their fellow residents in their region, they may adopt those attitudes themselves," the report says.
"Accordingly, one possibility is that prevailing regional biases might shape police officers own attitudes and their behaviour on the job are a result of those attitudes."
As part of their research, Mr Hehman and colleagues looked at use of lethal force against whites and blacks, and linked it with bias data from Project Implicit at Harvard, a non-profit group attacked to the university that seeks to educate the public about hidden biases and to provide a "virtual laboratory" for collecting data, and demographics from the 2010 US Census.
In all, they looked at 875 deaths from January 1, 2015 to September 30, 2015. Among these data, black people represented 22.76 per cent of all deaths, but made up just 11.76 per cent of the population.
The research is likely to be seized on by those working to reform a criminal justice system that has been shown to discriminate against men and women of colour.
Yet the researchers say their work needs to be the trigger for more research. They also raise issues that are likely to be controversial.
"One interpretation of these results is that white people's biases create a racially charged atmosphere that contributes to police killing black people disproportionately," they write.
"Alternatively, black people in some regions may be more violent when interacting with police, resulting in more justifiable lethal force, in turn influencing the prejudice and stereotypes about black people held by people in the region."
They added: "Because of the correlational nature of the analyses, we cannot rule out either interpretation."
Register for free to continue reading
Registration is a free and easy way to support our truly independent journalism
By registering, you will also enjoy limited access to Premium articles, exclusive newsletters, commenting, and virtual events with our leading journalists
Already have an account? sign in
Join our new commenting forum
Join thought-provoking conversations, follow other Independent readers and see their replies