Politicon: How US political debate found its natural home in Los Angeles at a new kind of convention
With a TV personality topping the polls the worlds of US politics and entertainment are more intimate than ever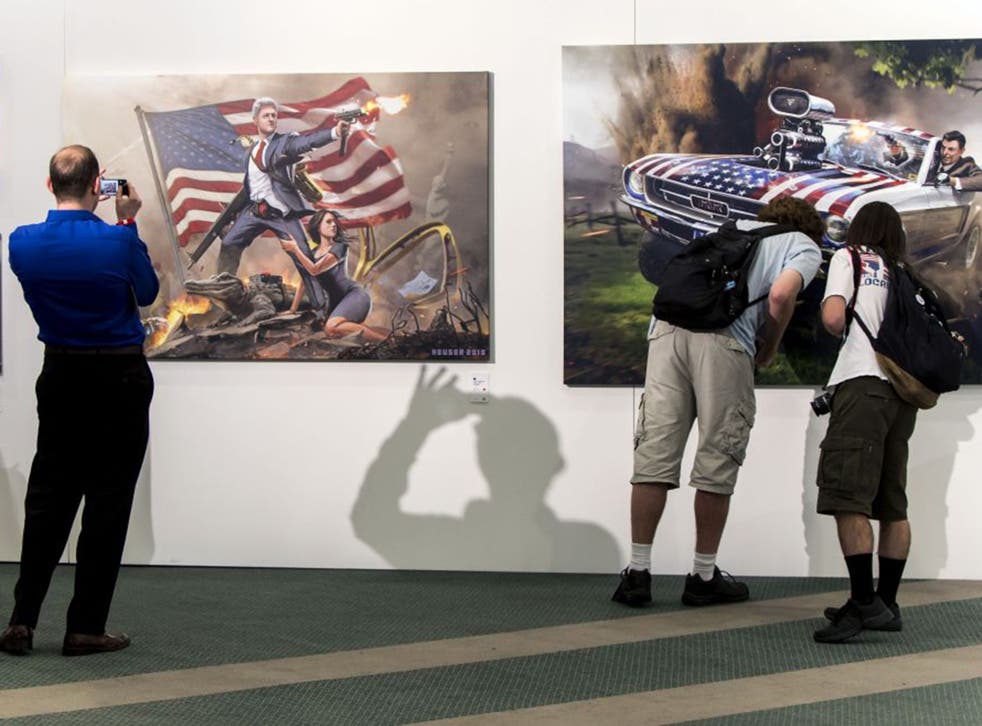 With a television personality topping the polls, and with more than 23 million people tuning in to watch the most recent Republican debate, you might say the worlds of US politics and entertainment have never been quite so intimate.
No better moment, then, for the first ever Politicon, a "non-partisan Comic-Con-style event for politics and entertainment" taking place this weekend. Its venue was not within the stuffy beltway of Washington DC but in the capital of entertainment: Los Angeles.
The two-day event, which organisers described as the first of its kind, comprised debates, panels, documentary screenings and podcast recordings, all featuring politicians, pundits, entertainers and other public figures. Among them were The Daily Show host Trevor Noah; former Republican House Speaker Newt Gingrich; President Obama's former adviser David Axelrod; Veep actor Tony Hale; presidential historian Doris Kearns Goodwin; and the mother of Michael Brown, Lesley McSpadden, whose son's death at the hands of police in Ferguson, St Louis, sparked mass riots.
Their audience, meanwhile, were political junkies almost on a par with the passionate pop-culture geeks of Comic-Con, though it should be noted The Independent on Sunday did not encounter any fans dressed as Donald Trump during a circuit of the LA Convention Centre floor on Friday afternoon. Politicon founder Simon Sidi said: "We have put it out there that if anybody turns up in full political cosplay, they will get in for free."
British-born Mr Sidi is a rock-show producer who has organised tours for The Stone Roses, Eurythmics and Roger Waters. The idea for Politicon came to him while listening to a live edition of the Slate Political Gabfest podcast, as the hosts discussed something as unglamorous as a US Supreme Court decision.
"I heard the intensity of the audience reaction and I thought, 'I know that sound – it's the same sound I've heard every day of my working life,'" he said.
The relationship between politics and entertainment goes back at least as far as the Kennedy administration, but today the back channels are wider than ever.
Of the former Obama White House operatives on the Politicon line-up, speech writer Jon Favreau is developing screenplays, Ronnie Cho heads MTV's public-affairs department, Mr Axelrod presents podcast The Axe Files, while the President's former body man Reggie Love was recently made sports editor-at-large for Vice.
Jon Macks, a political consultant-turned-comedy writer who has written speeches for Bill Clinton and talk-show monologues for Jay Leno is aware of the cross-over. "Politicon is where politics and entertainment have sex. They're not two different worlds. When an actor comes to Washington DC, people are like, 'Oh my God, it's Harrison Ford!' Out here, people are like, 'Harrison Ford? Who cares? Oh my God, there's Elizabeth Warren!'," he said, referring to a Democrat senator from Massachusetts.
Mr Macks traced the current love affair between late-night television and politics to the years when Mr Clinton was in the White House and Mr Leno was hosting The Tonight Show. "Jay was fascinated with politics, Clinton provided a lot of material and it all coincided with the rise of the 24-hour news cycle," he said.
However, Politicon is not entirely a liberal love-in. On Friday, contributors to conservative website Breitbart.com held a live discussion on Hollywood's liberal bias, featuring actor Robert Davi and Ben Shapiro, author of the book Primetime Propaganda: The True Hollywood Story of How the Left Took Over Your TV. Mr Shapiro, not averse to controversy, described writer, actor, Girls creator and "hardcore leftist" Lena Dunham as "famous for being a fat lady who gets naked".
Dara Parsi, 21, a politics student at the University of Southern California, came to see right-wing personalities such as the firebrand Ann Coulter and the British journalist Milo Yiannopoulos. "I like the theatrical element of politics," Mr Parsi said. "I consider myself a leftist but people on the left are so boring. I want to see the guys that piss people off." Cenk Uygur, founder and host of The Young Turks, an online news and politics show, said he hoped the event would become an annual fixture. "What's going to happen at Politicon 2016? I don't know, but it sounds like fun."
Join our new commenting forum
Join thought-provoking conversations, follow other Independent readers and see their replies