President Obama says he will destroy Isis: 'Freedom is more powerful than fear'
'The threat from terrorism is real — We will overcome it'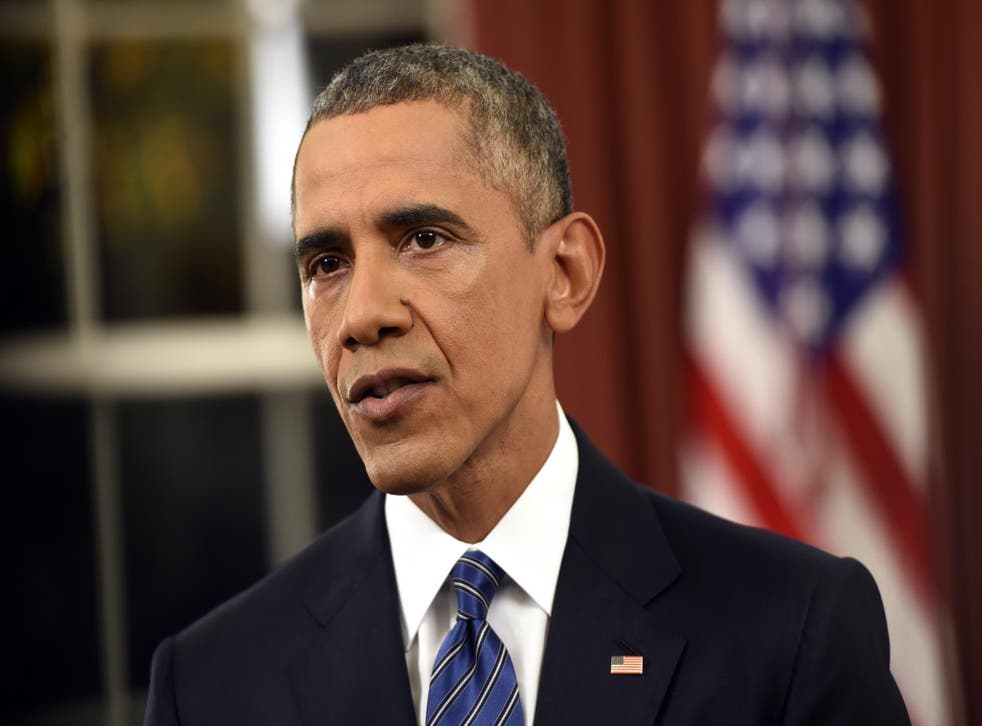 President Barack Obama has spoken out about the growing concerns amongst Americans in the fight against the so-called Islamic State.
Sunday night's speech from the Oval Office - only the third time he has made such an address - comes days after the killings in San Bernardino, California that left 14 dead and many others injured. One suspect praised Isis in a Facebook post and the militant group called the attackers martyrs but did not outright claim responsibility for the massacre. President Obama denounced the shootings as an "act of terrorism, designed to kill innocent people."
"The threat from terrorism is real, we will overcome it. We will destroy Isil and any other organization that tries to harm us," he said, before outlining his administration's plan to combat the militant group overseas. "We're working to stop Isil's operations, to disrupt plots, cut off their financing, and prevent them from recruiting more fighters."
President Obama said that more US troops are not needed on the ground in Syria saying that the American-led coalition of 65 countries constantly adjusts their strategy to determine what steps are needed to ensure victory in the fight against the terror network. He added that the Department of State and Homeland Security will now review the visa waiver program that allowed 27-year-old Tashfeen Malik to travel to the US.
President Obama then turned to the Republican controlled Congress asking them to vote in favor on gun reforms that prevent people who are on a No Fly List from purchasing guns in the states. In the days following the shooting, Congress voted against an amendment that would enact these restrictions.
"What could possibly be the argument for allowing a terrorist suspect to buy a semi-automatic weapon?" the president asked. "We also need to make it harder for people to buy powerful assault weapons like the ones that were used in San Bernardino."
From 2004 to 2014, more than 2,000 Americans on the terror watch list have been able to legally purchase firearms, according to the US Government Accountability Office.
The president also encouraged Americans to stop discriminating against Muslim-Americans: "We cannot turn against one another by letting this fight be defined as a war between America and Islam."
"It is our responsibility to reject proposals that Muslim Americans should somehow be treated differently," he said. "Isil does not speak for Islam; they are thugs and killers, part of a cult of death; and they account for a tiny fraction of Muslims."
More than 40 Islamophobic incidents have been recorded in the US since the terrorist attacks in Paris, according to a November list compromised by the Huffington Post.
"It is our responsibility to reject proposals that Muslim Americans should somehow be treated differently. Moreover, the vast majority of terrorist victims around the world are Muslim," he said.