Protesters detained during pro-Joaquin 'El Chapo' Guzman rally in northern Mexico
The march is the second in a week since the drug lord was arrested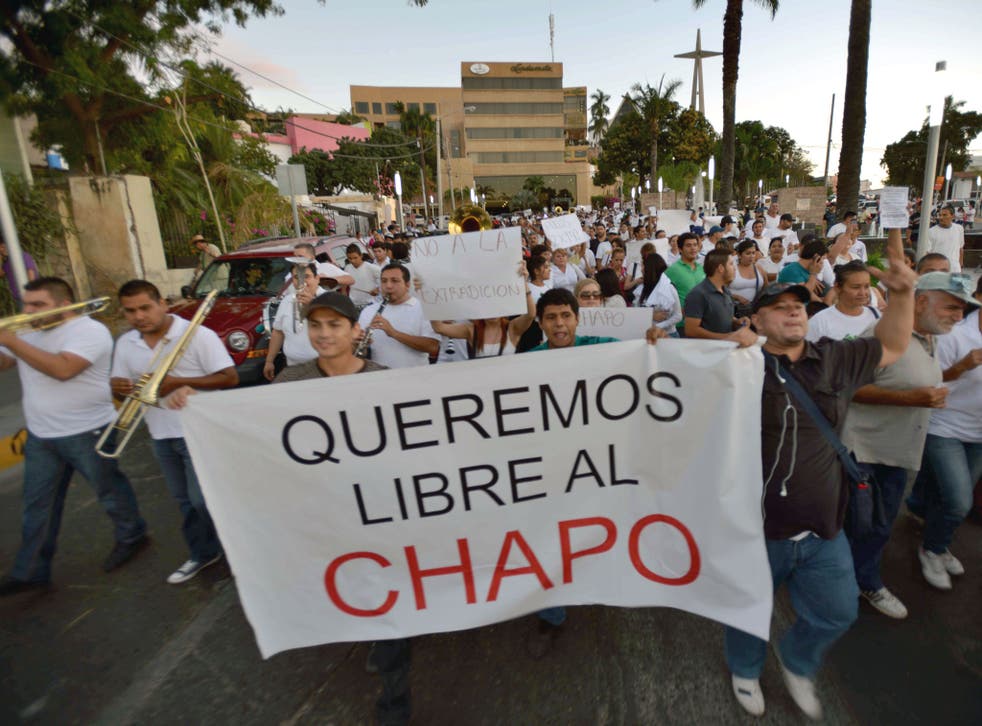 Police in Mexico detained around 100 people on Sunday in a failed attempt to stop a second demonstration in support of the captured drug lord Joaquin "El Chapo" Guzman.
The 150-person-strong rally in the city of Culiacan followed a march on Wednesday, where approximately 1,000 demonstrators demanded Guzman's release.
Protesters on Sunday crowded around a shrine to Jesus Malverde, a folk saint viewed as the patron of people involved in the drugs trade, and chanted "Long live Chapo!"
Daniel Gaxiola, a spokesman for the Sinaloa state public safety department, said 40 people were detained for disturbing the peace after refusing police orders to disperse.
Later, several hundred people evaded the heavy police presence by splitting into groups and marching downtown.
The event was organised using social media websites, where people were called to gather at the shrine in support of El Chapo.
He is alleged to be the hemisphere's most powerful drug lord and some local residents say has provided jobs, money and security for inhabitants.
Some of the marchers had travelled from Badiriguato, the township in the mountains near Culiacan where Guzman is from.
As the march reached the centre of Culiacan, shots rang out and protesters scattered.
It was unclear who fired the shots, but Francisco Cuamea, editor of the Noroeste newspaper in Culiacan, said two of the paper's photographers were allegedly roughed up by police when they tried to photograph shell casings left behind.
It is alleged that demonstrators they had been promised 700 pesos (£30) for attending the protest, and some women and men could be seen at the end of the march writing down participants' names in notebooks.
In Wednesday's march, norteno musicians played trumpets while high school students in uniforms held up signs reading "We want Chapo free" and "We love Chapo."
After that march, authorities said they would not seek to limit freedom of expression, but would not tolerate marches that disturbed the peace or provided support or justification for criminals.
Guzman was arrested 22 February in the Pacific Coast city of Mazatlan.
Mexican federal judges have said he will have to stand trial on separate drug-trafficking and organized-crime charges in Mexico. The Attorney General's Office said he also faces organized-crime charges in six other cases in four Mexican states and in Mexico City.
Guzman, who escaped from a western Mexico prison in 2001, is to remain in Mexico's highest-security prison. The government has said he will not soon be extradited to the US, where Guzman has been indicted in California, New York and other states.
Additional reporting by AP
Join our new commenting forum
Join thought-provoking conversations, follow other Independent readers and see their replies