Protesters storm Trump Tower in demonstration against immigration policies
Activists chanted 'no ban, no wall,' before being removed from the building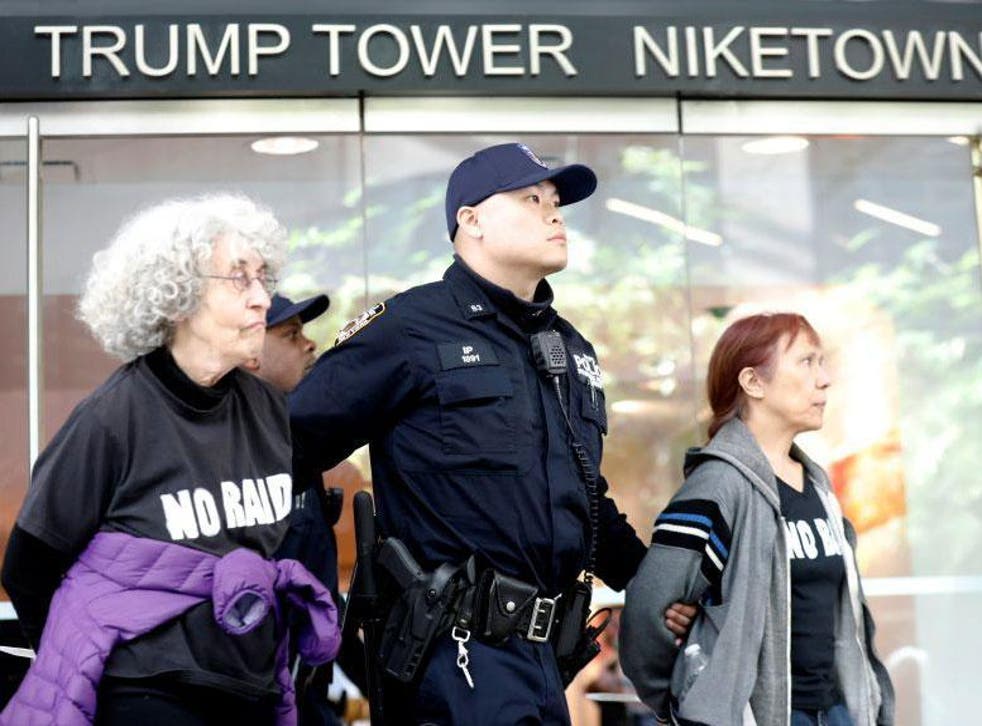 At least 25 protesters have been arrested after storming Trump Tower in New York, in a demonstration against the President's immigration policies.
After entering through the lobby of the building which remains open to the public, they unfurled banners which said "No Ban" and "No Wall".
Others threw leaflets in various languages from a balcony, before a sit-in took place.
The action was organised by a group called 'Rise and Resist', who describe themselves as "committed to opposing, disrupting, and defeating any government act that threatens democracy, equality, and our civil liberties."
One of the organisers, Jamie Bauer, told AM New York: "My grandparents, who fled Eastern Europe looking for both religious freedom and economic opportunity, taught me to respect all people regardless of their race, nationality, or religion.
"I'm honouring them today by saying loud and clear that all immigrants are welcome in the United States."
Donald Trump has moved into the White House, but the luxury skyscraper is still home to First Lady Melania Trump and their son, Barron.
Ms Trump has said she intends to stay in the building until he finishes the school year, although the huge security costs of guarding the Tower while they live there has been a source of contention for New York City officials.
Trumped! The best cartoons on 'The Donald'

Show all 28
Between November and January, it cost $308,000 (£248,000) per day to secure the tower, according to the city's police force.
However, the cost dropped after Mr Trump left for the White House, though is still believed to be substantial.
Join our new commenting forum
Join thought-provoking conversations, follow other Independent readers and see their replies