£33bn added to UK blue chips' value as US fiscal cliff deal sends London's FTSE 100 Index soaring through 6000 barrier
FTSE 100 rose 2.2%, with Germany's Dax up 2% and the Cac 40 in France up 2.6%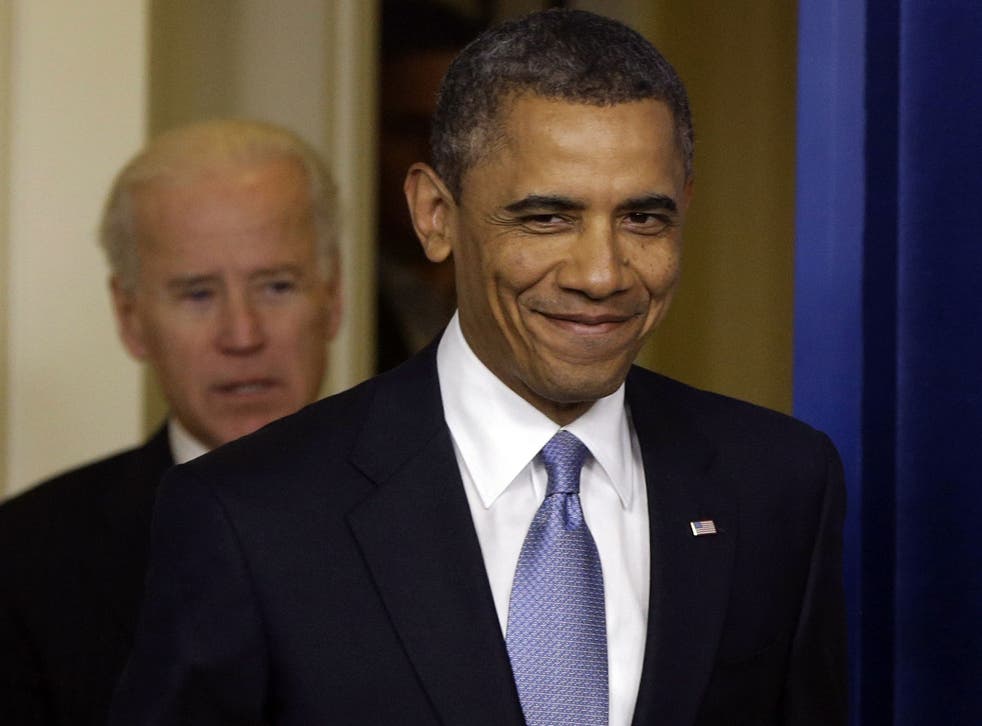 Relief over America's last-minute deal to avert a budget crisis has sent London's FTSE 100 Index though the 6000 barrier for the first time since 2011, adding around £33bn to the value of UK blue chips.
The FTSE 100 closed 2.2 per cent higher– up 129.6 points at 6027.4 – while the Dow Jones Industrial Average on Wall Street rallied 1.7 per cent in early trading.
A surprise boost for Britain's manufacturing sector added to the rally in London after a closely-watched survey revealed a return to growth in December.
The latest Markit/CIPS purchasing managers' index (PMI) showed a headline reading of 51.4 in December, marking the highest for 15 months and the survey's first indication of increased activity since March.
Markets across Europe also powered ahead, with Germany's Dax up 2 per cent and the Cac 40 in France rising by 2.6 per cent.
Last night, President Barack Obama claimed victory in the battle to avert the swingeing cuts and soaring tax rates of America's so-called "fiscal cliff" late last night, after an exhausted House of Representatives approved new budget legislation by 257 votes to 167.
Speaking at a White House press conference, however, Mr Obama said the hard-won deal was merely "one step in the broader effort to strengthen the economy."
Following yet another long day of drama in Washington, the vote finally took place at around 10.45pm, with the Senate-backed bill earning the support of 172 Democrats and 85 Republicans in the Lower House. Lawmakers were keen to calm the financial markets as they reopen today. Among the Republicans who voted in favour of the measures were 2012 Vice Presidential candidate Paul Ryan, and House Speaker John Boehner, who abandoned his party's longstanding requirement that a bill could only come to the floor if it was supported by a majority of GOP Representatives.
The agreement sees tax rates rise for individuals earning more than $400,000 per year, and families earning more than $450,000 per year – a defeat for Republicans, but higher than the $250,000 threshold originally demanded by Democrats including the President. It is the first time Republicans have approved a rise in income tax for two decades, since President George W Bush famously broke his "Read my lips" campaign promise. The new deal also raises the Estate Tax on inheritances to 40 per cent for estates worth more than $5m. The spending cuts threatened by the fiscal cliff will be postponed for two months.
The President hailed the legislation, which, he said, "raises taxes on the wealthiest 2 per cent of Americans... while preventing a middle-class tax hike." But the deal does spell the end of the payroll tax holiday, which means that taxes on 160 million Americans, many of them middle class or poor, will indeed rise: by two per cent, from 4.2 per cent to 6.2 per cent.
Congress passed its official deadline for an agreement on new budget legislation at midnight on New Year's Eve, thus sending America over the fiscal cliff. But after Vice President Joe Biden and Republican Senate minority leader Mitch McConnell brokered the last-minute compromise, the Senate approved it overwhelmingly at 2am on New Year's day, by 89 votes to eight.
House Republicans, though, still threatened to derail the deal. After emerging from a meeting with party colleagues yesterday afternoon, House Majority Leader Eric Cantor told reporters he could not support the Senate's bill as it stood, increasing fears that the legislation would be amended by the Lower House and sent back to the Senate. A statement issued by Mr Cantor's spokesman said, "the lack of spending cuts in the Senate bill was a universal concern amongst members in today's meeting."
Republican Congressman John Campbell, of California, said of the legislation, "I personally hate it." Steve LaTourette, a retiring GOP Representative from Ohio, dismissed the Senators who'd passed the bill as "sleep-deprived octogenarians." But, in the end, enough Republicans were reluctant to be blamed for the hefty middle-class tax hikes that a 'no' vote would likely have engendered.
Under the new law, the debate on spending cuts will be drawn out for a further two months, during which time Congress must also resolve the question of the debt ceiling, which was notionally breached at the end of 2012. Republicans are expected to demand deep cuts to entitlement programmes such as Medicare and Social Security, in return for agreeing to a rise in the ceiling, which currently stands at $16.4 trillion.
Join our new commenting forum
Join thought-provoking conversations, follow other Independent readers and see their replies