Record bust in Cambodia signals Thai dollar counterfeiting boom
How one $7.16m haul shows the enduring power of the almighty dollar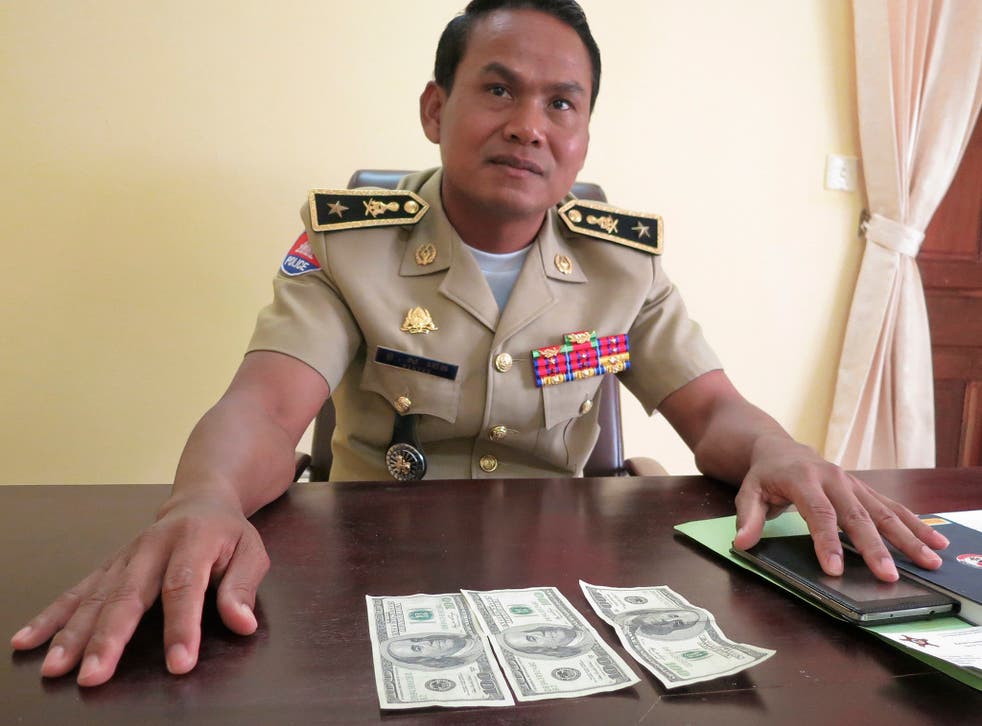 He's the seven million dollar man of Cambodia.
When Brigadier General Sar Theth officers tracked three Thai men in a pick-up truck as it passed through a remote border checkpoint from Thailand, what they found surprised even them. Inside, he found three cardboard boxes packed with $7.16m (£4.5m) in counterfeit hundred-dollar bills, the largest seizure of fake U.S. notes in Southeast Asia for about a decade and the biggest ever in Cambodia.
"If I close my eyes and touch it, I wouldn't know it was fake," Sar Theth, the police chief of Battambang, said of the 19 September haul, as he rubbed one of the seized notes between thumb and forefinger at Battambang police headquarters
According to the US Secret Service, whose agents investigate financial crime worldwide alongside their better-known role as presidential bodyguards, the huge bust points to a well-oiled and growing counterfeit operation in neighbouring Thailand, where identical notes had previously been seized.
The alleged involvement of Thai military personnel - the three men arrested were serving or former officers of the Royal Thai Navy - could also embarrass Prime Minister Prayuth Chan-ocha. A former general, Prayuth seized power in a 22 May military coup and has vowed to crack down on organised crime.
The men deny any wrongdoing, and the Thai navy said it was awaiting the conclusion of the investigation before deciding whether to take any action.
There is more than $1trn cash in global circulation, three quarters of it outside the United States, according to the Secret Service. Tackling counterfeiting is key to maintaining the dollar's credibility as the de facto world currency.
Less than a quarter of one percent of that $1trn - or about $2.5bn - are fakes, said J. Kevin Traylor, a Secret Service agent based at the U.S. Embassy in Bangkok.
"For the amount of currency out there, we have very little counterfeiting," he told Reuters. "That's why the dollar is trusted."
By comparison, global losses from credit, debit and prepaid card fraud in 2012 totalled about $11.3bn, according to the Nilson Report, an industry newsletter.
In South America, where narco-trafficking and counterfeiting often go hand in hand, big seizures of fake bills are not uncommon. In June, the Secret Service helped the Peruvian police arrest a suspected forger along with $4.5mn in fakes.
But such seizures are rare in south-east Asia. The Cambodian bust could suggest both an upsurge in counterfeiting and better cooperation between the Secret Service and local police.
For the Secret Service, seizing notes is secondary to finding the printing presses and shutting them down.
The agency was created in 1865 as a branch of the US Treasury to tackle rampant counterfeiting after the Civil War. It was another 36 years before its agents began protecting presidents, vice-presidents and other VIPs. Even today, most of its 3,200 special agents are busy investigating financial crime.
Traylor, who visited Battambang to inspect the $7.16m haul in early October, said $1m of the same "better-than-average" fakes had already been seized in Thailand. One person has been arrested in the Thai investigation.
"It is a note that is starting to be manufactured in larger quantities and our investigation points to Thailand as the origin," he said. "We will continue our efforts to locate the plant."
In 2013, with Secret Service help, Thai police made 67 arrests and seized $3.7m in fake dollars. This year's tally is already at 76 arrests and $5.6m seized, not including the Cambodia bust.
The special inks and paper used by the U.S. Treasury to print dollar bills are tightly controlled. This has helped eradicate offset printing of fakes in the United States, where counterfeiters rely on methods such as inkjet printing or colour photocopying.
But offset printing - in which the inked image is "offset" from a plate to a rubber blanket and then onto the paper - is still commonly used outside the United States to produce convincing fakes in greater volume. The process requires expensive inks and presses, as well as skilled artists.
"You need talented people to do this," said Special Agent Traylor. And time: he reckoned $7.16m could take perhaps two months to make.
In the Navy
Royal Thai Navy spokesman Rear Admiral Kan Deeubol confirmed to Reuters that the three Thai men arrested on 19 September were serving or former naval officers.
They were arrested after allegedly trying to change fake bills with a Cambodian contact who was actually a police informant, said Battambang police chief Sar Theth.
One of them - Chamras Pongsart, 52, a navy captain - was released after two days. "He was not involved," said Sar Theth.
The two suspects still in custody are: Pramote Raisiri, 48, described in Thai media reports as a navy sub-lieutenant; and Kittithamet Meethekulsawat, 47, who Rear Admiral Kan said had resigned from the navy before the incident.
"They have not been suspended, because the investigation... is under way and we don't know if they really committed wrongdoing," said Kan.
The two Thai suspects have been charged with storing and transporting counterfeit currency, and face between five and 20 years in jail if found guilty. Their Cambodian lawyer, Chim Dara, told Reuters they denied any wrongdoing.
The criminal group making the fakes in Thailand is well organised and linked to other scams, said Traylor. Ongoing investigations disrupted their operations and forced them "to try Cambodia as a new market".
The dollar is widely used in Cambodia, and preferred to the domestic riel currency for high-value transactions such as paying rents and salaries.
Elsewhere in the world, criminals often use fake dollars to pay other criminals for narcotics, illegal timber or other contraband.
But Sar Theth said it was "impossible" to shift so many bills on Cambodia's fake-savvy black market. Even farmers might find the notes suspect, he said, never mind banks or owners of currency-exchange booths.
Chi Kimcheav, 47, a money changer at Battambang market, said she relied on touch to detect fakes, which were often betrayed by poor quality paper. "I've been doing this job for many years," she said. "If someone gave me a fake, I'd know it."
Join our new commenting forum
Join thought-provoking conversations, follow other Independent readers and see their replies