Republican debate: Carly Fiorina is star performer as The Donald Trump Show winds down in second GOP clash
Recent addition outlines clear strategy on foreign policy, Planned Parenthood and drug legislation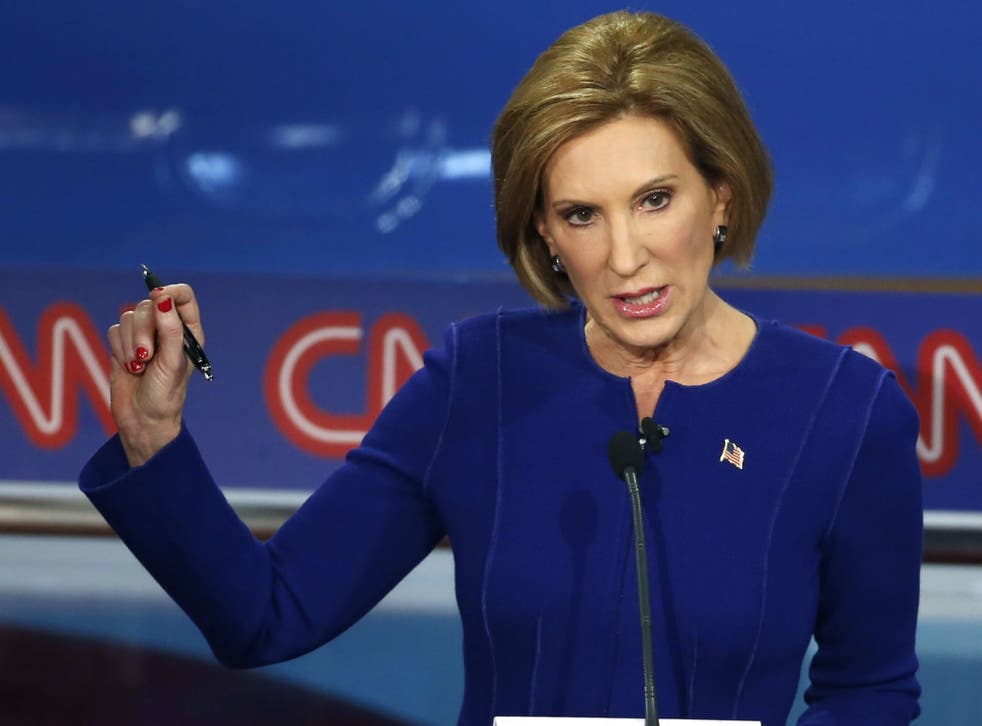 Most Republican presidential hopefuls entered last night's GOP debate hoping to halt the rise of Donald Trump, but in the end it was another political outsider who proved most effective on the crowded stage. Carly Fiorina, who had earned promotion to the top tier of candidates with a strong showing at last month's first debate, had the best of a long night.
Ms Fiorina demonstrated an impressive grasp of foreign policy, outlining her plans to expand the military, contain Russia and arm US allies in the Middle East. Dismissing Democrat Hillary Clinton's experience as US Secretary of State, she said: "Like Mrs Clinton, I have travelled thousands of miles around the globe, but unlike Mrs Clinton I know flying is an activity, not an accomplishment."
Her condemnation of Planned Parenthood was red meat to conservatives, and she spoke with authority on drug legislation as a parent who lost a child to addiction. The former Hewlett-Packard CEO even landed blows on Mr Trump as the two sparred over their respective business résumés. Whether her performance will translate into a poll boost remains to be seen.
Mr Trump, who recently disparaged Ms Fiorina's appearance in an interview with Rolling Stone, clarified his remarks, saying: "I think she's got a beautiful face, and I think she's a beautiful woman."
In its early minutes, the three-hour debate threatened to devolve once more into the Trump Show, with the mogul and TV personality introducing himself as the author of bestselling business tome The Art of the Deal. "I say that not in a braggadocious way," he said, "I made billions and billions of dollars." (Mr Trump later suggested his presidential codename ought to be "Humble".)
Mr Trump flung insults at some of his rivals, including Kentucky Senator Rand Paul – "Rand Paul shouldn't even be on this stage... He's got 1 per cent in the polls!" – and former New York Governor George Pataki, a participant in the earlier, "kids' table" debate: "A failed governor... he wouldn't even be elected dog-catcher now!"
Establishment favourites Scott Walker and Jeb Bush went after Mr Trump with limited success. "We don't need an apprentice in the White House, we have one already," said Mr Walker, a reference to Mr Trump's hit show The Apprentice. The Donald hit back, attacking Mr Walker's economic record as Governor of Wisconsin, and pointing out his plummeting poll numbers.
Mr Bush, the former Florida Governor, described Mr Trump's "lack of understanding about how the world works" as "really dangerous". He also demanded an apology from Mr Trump for having mentioned his Mexican-born wife Columba in comments regarding their disagreement on immigration policy. Mr Trump declined to apologise, but said he'd heard Mrs Bush was "a lovely woman".
Yet in spite of the occasional whiff of circus sawdust, the debate progressed quickly to spirited exchanges over the issues.
The candidates all agreed that the recent nuclear deal with Iran was disastrous, though they differed over what to do next. No stranger to hyperbole, Texas Senator Ted Cruz repeated his claim that the Obama administration is now "the world's leading financier of radical Islamic terrorism," and vowed to tear up the deal on his first day in the White House. Mr Bush, on the other hand, suggested shredding the deal was "not a strategy" and that the more sensible course would be to further arm Israel as an antidote against Iran's nuclear ambitions.
Mr Bush's fellow Floridian, Senator Marco Rubio, also distinguished himself in discussions of his specialist subjects, immigration and foreign policy. In response to Mr Trump's declaration that "This is a country where we speak English, not Spanish," Mr Rubio eulogised his Spanish-speaking grandfather's pursuit of the American Dream. When delivering policy news that affected Spanish-speaking Americans, Mr Rubio said, "I want them to hear that news from me, not from a translator at Univision."
New Jersey Governor Chris Christie, whose diminutive poll numbers put him at risk of being left out of the debate altogether, elbowed his way into the conversation with forceful answers on foreign policy and Planned Parenthood.
By contrast, Mr Trump's closest poll rival, former neurosurgeon Dr Ben Carson, appeared thin on policy and exposed in the spotlight, saying he was still formulating his tax and immigration plans. Dr Carson did at least earn a high-five from Mr Trump over their shared opposition to the Iraq War.
During the candidates' exchange over drug legislation reform, Mr Bush admitted that he had smoked marijuana while in high school. Some observers wondered whether he might be under the influence later in the debate when, asked which American woman ought to be on the $10 bill, he suggested instead former British Prime Minister Margaret Thatcher. "It's probably illegal," he said. "But what the heck."
Join our new commenting forum
Join thought-provoking conversations, follow other Independent readers and see their replies