Republican debate: Marco Rubio and Ted Cruz come out on top as candidates clash for third time
Strong performances from Mr Rubio and Mr Cruz see them rise to top of respective fields in GOP's conflicting camps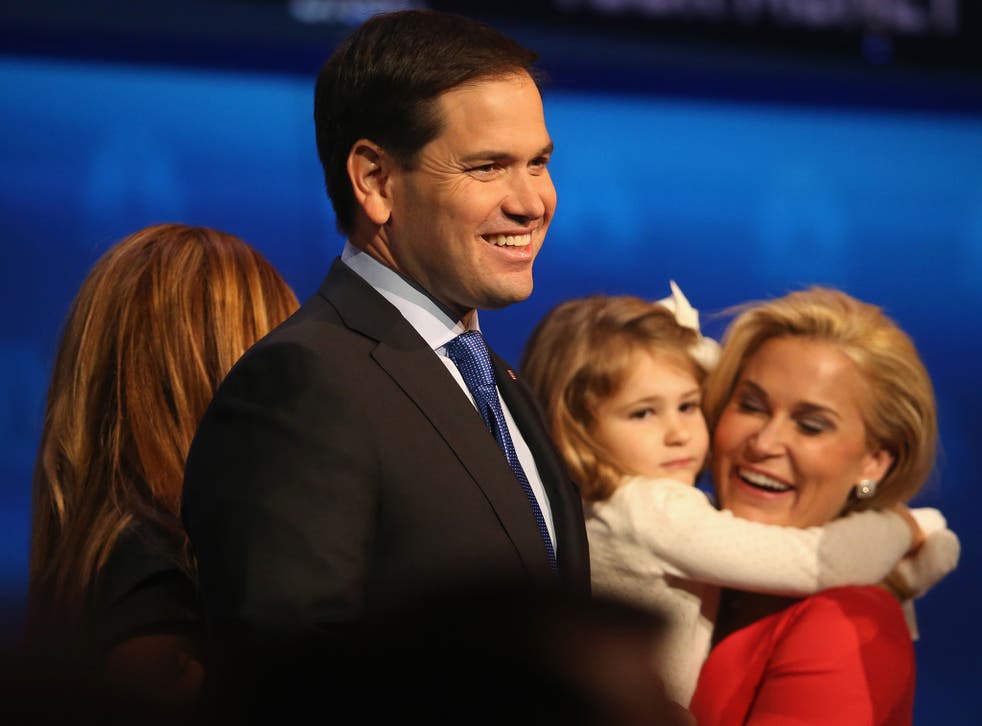 Party leaders fulminated at what they saw as shabby questioning by moderators at the latest clash between presidential contenders in Boulder, Colorado, which witnessed the battering of Jeb Bush and a slow fade-out by Donald Trump.
Needing a stand-out moment at the debate hosted by CNBC on Wednesday night, Mr Bush, already struggling, instead managed to mess up with a misbegotten verbal onslaught against his one-time protegé, Mario Rubio, a senator from Florida where Mr Bush was once Governor. "This was a six-year term, and you should be showing up to work," said Mr Bush, accusing Senator Rubio of neglecting his duties on Capitol Hill while running for president.
A clearly well-prepared and honed Mr Rubio fired back: "Someone has convinced you that attacking me is going to help you."
If Mr Rubio won plaudits for his performance so did Ted Cruz, who showed off his photographic memory, ticking off one by one the hostile questions put by the moderators to him and the other candidates and condemning the US media as a whole – to applause – for alleged liberal bias.
"The questions that have been asked so far in this debate illustrate why the American people don't trust the media," Senator Cruz of Texas declared.
As the dust from Boulder was settling, a new Republican star was born – or reborn – in Washington DC as the House of Representatives elected Paul Ryan as the new House Speaker in place of John Boehner, who will now leave politics entirely.
Mr Ryan, who had been serving as the chairman of the powerful Ways and Means Committee, won 236 votes among the 247 Republicans in the chamber, largely quelling the rebellion of members of the right-wing Freedom Caucus who had forced Mr Boehner out and then blocked the election of his chosen successor, Kevin McCarthy of California. The struggle between the right flank of the party and its establishment mainstream in Washington is mirrored in the messy and crowded race for the presidential nomination.
While the men who are currently atop the polls in that contest, Mr Trump and former neurosurgeon Ben Carson, appeared almost to melt like wax under the lights on the debate stage, there were first signs of others emerging who aspire to lead one of those two conflicting camps – Senator Rubio for the establishment and Senator Cruz for the rabble-rousing faction that is bent on shrinking government.
Yet the outbreak of warfare between Messrs Rubio and Bush, with the latter clearly losing his grasp on the front-runner status, will provide a compelling side-plot.
For his part Mr Rubio claimed the high road. Telling NBC News he had "tremendous admiration" for the former Governor, he added: "I'm not running against him or anyone else. I'm not going to change how I run my campaign because of what someone else decides to do. And it isn't going to change my feelings or my views about him."
While the Democrats appeared to be coalescing around Ms Clinton, an older candidate – she is 68 – the Republicans may be favouring a younger cadre. Mr Cruz and Mr Rubio are both 44 years old. Mr Ryan is only one year older.
Join our new commenting forum
Join thought-provoking conversations, follow other Independent readers and see their replies