Republicans are worried about the consequences of Donald Trump repealing Obamacare
'We're telling those people that we're not going to pull the rug out from under them, and if we do this too fast, we are in fact going to pull the rug out from under them,' says New Jersey Republican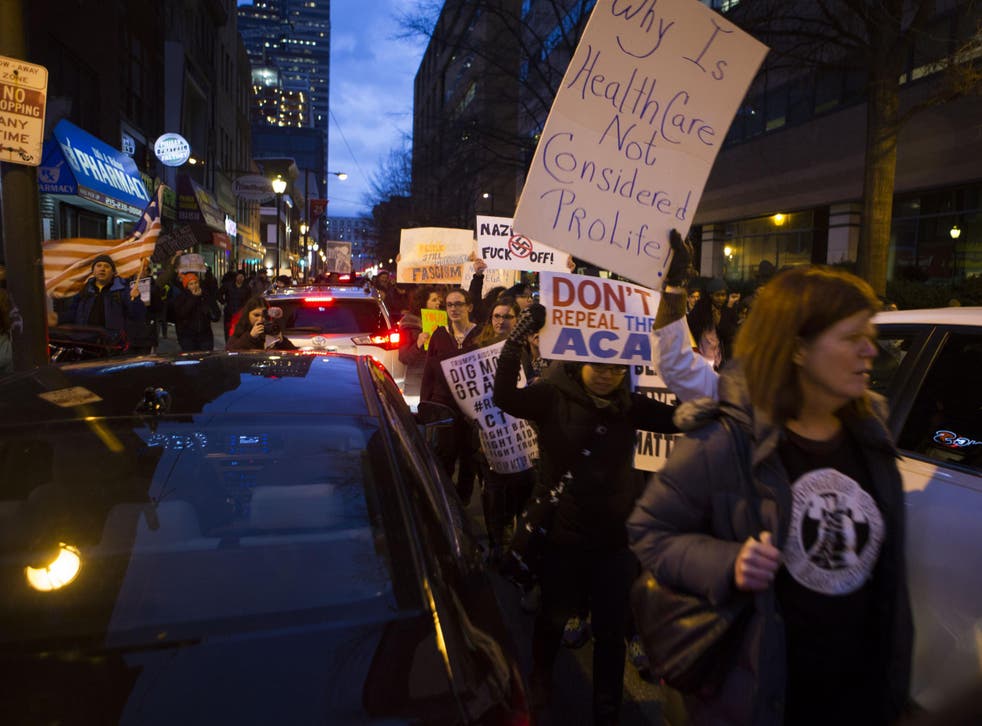 Republican lawmakers are worried about the consequences of repealing the Affordable Care Act and leaving 20 million people in the United States without health insurance, according to leaked audio from a party retreat.
Politicians can reportedly be heard saying they are concerned about the potential political fallout if their policy to replace former President Barack Obama's health law is not adequate.
The recording, is believed to have been made at a private Republican Party gathering by a woman who sneaked into the conference impersonating a lawmakers wife.
The security breach is believed to have occurred on the same day President Donald Trump and vice President Mike Pence attended the event.
"We'd better be sure that we're prepared to live with the market we've created," said Tom McClintock, a representative for California, according to the Washington Post . "That's going to be called 'Trumpcare.' Republicans will own that lock, stock and barrel, and we'll be judged in the election less than two years away."
Mr Pence, who is pushing to repeal Obamacare, said last week the party is "very close" to having developed a replacement policy. But members of his party seemed far less confident.
Tom MacArthur, a New Jersey representative, allegedly said he was worried that Republican plans could strip health insurance from many of the 20 million people who gained coverage through the Affordable Care Act, including through the expansion of Medicaid.
"We're telling those people that we're not going to pull the rug out from under them, and if we do this too fast, we are in fact going to pull the rug out from under them," Mr MacArthur is reported to have said.
The intruder is believed to have been in the same room as Mr Pence at the conference, as there is also audio of a question and answer session with the vice President, which raises serious security concerns.
It is not clear if she was present for the session with Mr Trump, who spoke before Mr Pence but did not engage in a private discussion with lawmakers.
The controversial orders Donald Trump has already issued

Show all 9
Mr Trump admitted last week he had considered turning health care into a political game by waiting two years to dismantle Obamacare, by which time he said it would be destroying people's lives and "the Dems" would be begging him to do something.
He has repeatedly described the 2010 law as a "disaster", saying it is too expensive and eliminates insurance provider competition at the state level.
Instead, he said he decided to "ease the burden" of the act with his first executive order, issued within hours of being sworn. The order seeks to "minimise the unwarranted economic and regulatory burdens" of the act.
Join our new commenting forum
Join thought-provoking conversations, follow other Independent readers and see their replies